Global Fundraising: How the World is Changing the Rules of Philanthropy
ISBN: 978-1-118-37070-4
416 pages
March 2013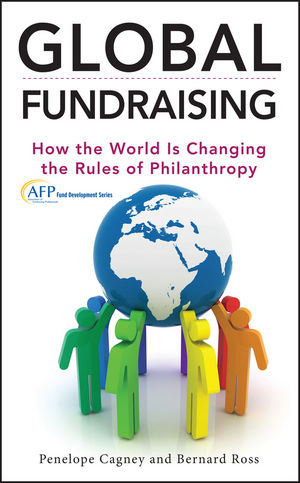 A practical guide to the challenges and successes of global fundraising, written by an international team of highly respected philanthropy professionals and edited by two of the leading nonprofit thinkers,
Global Fundraising
is the first book to genuinely offer a global overview of philanthropy with an internationalist perspective.
As the world becomes more interdependent, and economies struggle, global philanthropy continues to increase. More than that, nonprofits are taking up roles that have traditionally been filled by the government—including social welfare, healthcare, and human rights. Global Fundraising provides complete coverage of the implications of this growth for nonprofit culture and how it drives changes in fundraising practices.
Organized into thematic chapters—a mixture of geographic and topical issues—it places North American philanthropy in a wider context
It features a companion website with a variety of online tools and materials
The book includes contributions by international leading experts Matt Ide, Mair Bosworth, Usha Menon, Anup Tiwari, Paula Guillet de Monthoux, Angela Cluff, Norma Galafassi, Mike Muchilwa, Tariq Cheema, Lu Bo and Nan Fang, Masataka Uo, Chris Carnie, Sean Triner, Andrea McManus, Marcelo Inniarra, Ashley Baldwin, Rebecca Mauger, YoungWoo Choi, R.F. Shangraw, Jr., Sudeshna Mukherjee, and Anca Zaharia.
The book skillfully tracks how the world of fundraising is changing rapidly due to a number of factors including: continuing growth of great wealth; non-profit innovation emerging everywhere; growth of indigenous NGOs; increased professionalism in fundraising; and the value and role of new and social technologies. Written by a team of philanthropy leaders, Global Fundraising offers timely coverage of fundraising around the world. A must-have for INGO leaders and anyone, anywhere, interested in the future of philanthropy and effective fundraising practices.
See More
Foreword
Andrew Watt, President and CEO, AFP International xvii
Acknowledgments xxi
CHAPTER 1 Introduction to Global Fundraising
Penelope Cagney and Bernard Ross 1
What This Book Is About 1
Who This Book Is For 1
About the Editors and Contributors 2
Seven Global Megatrends 3
This Book's Setup 12
Our Global Fundraising Wiki 14
PART I An Overview of Giving by Region 15
CHAPTER 2 China
Lu Bo and Nan Fang 17
A Historic Review of Philanthropy in China 17
A Panorama of China's Nonprofit Sector 21
Framework for Nonprofit Sector 25
Current Fundraising Trends in China's Nonprofit Sector 32
Fundraising Practices in China 37
In Summary 40
CHAPTER 3 Japan
Masataka Uo 43
Japan: Overview of an Island Nation 44
Philanthropy and Other Support 48
Giving Practices 50
Fundraising Practices 52
Challenges and Innovation 56
In Summary 58
CHAPTER 4 Latin America
Norma Galafassi 59
An Overview of Latin America 59
Income from Services 66
Giving by Individuals 68
Getting Money from the Bottom of the Pyramid 71
Institutional Givers: Governments, Foundations, and Corporations 80
In Summary 85
CHAPTER 5 Western Europe
Chris Carnie 89
The Nonprofit Sector in Western Europe 90
How Western Europe Is Changing the Rules of Philanthropy 96
Where We Are and Where We Are Going 104
In Summary 107
CHAPTER 6 North America
Penelope Cagney and Andrea MacManus, with a case study by R. F. Shangraw Jr. 109
The United States of America 109
Canada 128
In Summary 134
CHAPTER 7 Australia and New Zealand
Sean Triner 135
New Zealand 137
Australia 137
In Summary 151
CHAPTER 8 Central and Eastern Europe
Matt Ide, Mair Bosworth, Anca Zaharia, with an introduction by Chris Carnie 153
Th e Legal Grounds for Philanthropy 154
Fundraising in Central and Eastern Europe 155
Russia by Matt Ide and Mair Bosworth 156
Romania by Anca Zaharia 174
In Summary 177
CHAPTER 9 Africa
Mike Muchilwa 179
Giving to NGOs in Africa 179
Giving for Religious Purposes 181
The Lack of Information on African Philanthropy 182
Philanthropy and Other Support 184
Africa's NGOs 187
Fair Trade and Social Enterprise in Africa 188
A Focus on Two Countries 189
In Summary 221
CHAPTER 10 Middle East and North Africa (MENA)
Tariq H. Cheema 223
The Current Landscape 225
Historical Context 227
Faith-Based Giving 228
The Paradigm Shift 231
The Mohammed bin Rashid Al Maktoum
Foundation 232
The Arab Foundations Forum 233
The World Congress of Muslim Philanthropists 234
In Summary 236
CHAPTER 11 Asia
YoungWoo Choi and Usha Menon, with an Introduction by Bernard Ross 239
Korea by YoungWoo Choi 242
Singapore by Usha Menon 255
In Summary 265
CHAPTER 12 India
Usha Menon and Anup Tiwari 267
The Demographics of India 267
The Nonprofi t Sector in India 269
In Summary 288
PART II Overall Topics in Giving 291
CHAPTER 13 Major Donors
Angela Cluff and Paula Guillet de Monthoux 293
Global Wealth 293
Where Are the Rich People? 294
Who Gives? 296
How Do NGOs and INGOs Go About It? 300
The Rich Will Save Us All—Philanthrocapitalism 306
In Summary 313
CHAPTER 14 Globarity—The Impact of Social Media on Global Solidarity
Marcelo Iñarra Iraegui and Ashley Baldwin 315
The "We" without Borders 317
The Individual as King of the Crowd Empire: Is Crowdfunding a Threat to NGOs or an Opportunity? 320
No More Sweeping Things under the Rug 323
The Social Speed of Light 327
Transcending Space: Connecting the Global Community 330
In Summary 338
CHAPTER 15 Innovation—The Only Competitive Advantage
Bernard Ross with research from Sudeshna Mukherjee 341
Why Is Innovation So Important? 342
Who Is Innovative? 343
How Do Charities Become Innovative? 346
How to Improve Innovation? 353
In Summary 355
CHAPTER 16 The Charity Giants
Rebecca Mauger 357
Market Drivers 359
Competitive Drivers 359
Cost Drivers 360
Government Drivers 360
Common Themes from the Case Studies in This Chapter 368
In Summary 370
About the Editors 373
About the Contributors 375
Index 383
See More
PENELOPE CAGNEY, MA, CFRE, is the principal of The Cagney Company. She has more than twenty-five years' experience on three continents as a consultant in fundraising planning and governance with organizations including the Musical Instrument Museum, Phoenix; CFRE International, Alexandria, Virginia; the Joffrey Ballet, Chicago; the National Cultural Center, Egypt; and the Charities Aid Foundation, London. She has taught nonprofit management at the School of the Art Institute of Chicago and American University in Cairo, Egypt. She is the author of Nonprofit Consulting Essentials (Jossey-Bass).
BERNARD ROSS is co-director of the Management Centre, the UK's largest nonprofit management consultancy and training organization. He has worked in nonprofit management for nearly three decades and is a frequent speaker in Europe, the United States, and globally. He has tested his methods with organizations such as Greenpeace, Oxfam, Save the Children, the Red Cross, and others. He has written widely on strategy and change. His two previous books Breakthrough Thinking for Nonprofit Organizations and The Influential Fundraiser (both Jossey-Bass) were coauthored with Clare Segal.
See More
More in this series