Enterprise Performance Management Done Right: An Operating System for Your Organization
ISBN: 978-1-118-37075-9
186 pages
April 2013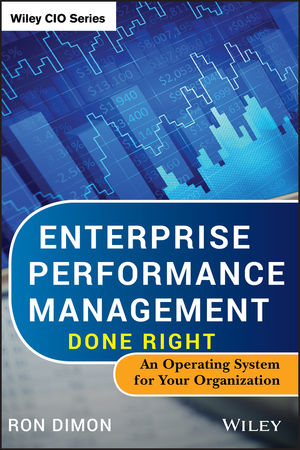 A workable blueprint for developing and implementing performance management in order to improve revenue growth and profit margins
Enterprise performance management (EPM) technology has been rapidly advancing, especially in the areas of predictive analysis and cloud-based solutions. Real Enterprise Performance Management introduces a framework for implementing and managing next-generation functionality for better insight, focus, and alignment of EPM. This blueprint shows that EPM can have a direct positive impact on revenue growth, operating margin, asset utilization, and cash cycle efficiency.
Introduces a framework for implementing and managing next-generation functionality for better insight, focus, and alignment
Reveals that EPM can have a strong impact on revenue growth, operating margin, asset utilization, cash cycle efficiency
Today's businesses have a great deal of data and technology, but less-than-fact decisions are still made. Executives need a structured framework for gathering, analyzing, and debating the best ways to deploy capital, people and time. Real Enterprise Performance Management joins IT and finance in a digestible blueprint for developing and implementing performance management in order to improve revenue growth and profit margins.
See More
FOREWORD xi
PREFACE xiii
ACKNOWLEDGMENTS xxi
CHAPTER 1 What's Broken and What's Possible 1
Strategy-Execution Gap 1
Buckets of Pain 5
The Promise of EPM 7
What Enterprise/Corporate/Business Performance Management Is Not 7
''Business Intelligence with a Purpose" 12
Notes 13
CHAPTER 2 An Enterprise Performance Management Process 15
Context 16
Impact 17
Responsibility 17
Management Operating System 18
Macro and Micro 27
The Middle 28
Summary 29
Notes 30
CHAPTER 3 Gather: Turning Data into Information 31
Management by Exception 33
Your Point of View 35
Information Qualities 38
Information Delivery 40
Management and Statutory Reporting 44
Sustainability Reporting 47
Enabling Technologies 51
Rationalization 53
Potential Quick Wins 54
Summary 54
Notes 55
CHAPTER 4 Understand: Turning Insights into Actions 57
Business Questions 58
Patterns and New Insights 63
Big Data and Predictive Analytics 71
Data Visualization 73
Enabling Technologies 75
Components for Your EPM Roadmap 75
Potential Quick Wins 75
Summary 77
Notes 77
CHAPTER 5 Debate: Turning ''What If" into ''What's Next" 79
People 81
The Process 83
Scenarios 85
Resilience 88
Drivers: What Moves the Needle? 89
Debate Management 91
Enabling Technologies 94
Potential Quick Wins 95
Summary 96
Note 96
CHAPTER 6 Commit: Bringing Accountability and Focus to the Enterprise 97
Accountability 100
Gaming the System 103
Enterprise Planning and Forecasting 104
Enabling Technologies 108
Ingredients for Your EPM Roadmap 108
Potential Quick Wins 108
Summary 109
Notes 110
CHAPTER 7 Execute: From Insight to Actions to Results 111
Everything Is Connected 111
Sales Performance Management 113
Sales Operations Performance 114
Order to Cash Performance Management 116
Supply Chain Performance Management 119
Marketing Performance Management 123
Summary 128
Notes 128
CHAPTER 8 Strategy: Aligned to the Right Outcomes 129
The Language of Strategy 129
Functional Value Maps 130
Optics: Line of Sight 132
Metrics Equal Focus 134
Profitability 136
Strategic Flexibility 137
Closing the Gap 138
Summary 139
Notes 140
CHAPTER 9 Bringing It All Together 141
Alignment 142
A Common Business Language 149
Maturity Is in the Arrows 151
Return on Investment and Total Cost of Ownership 154
Standard Architecture 156
Your EPM Roadmap 156
Organizational Readiness: The EPM Center of Excellence 161
Paralyzed by Feuds? 161
EPM and Incentive Plans 162
How Do You Get Started? 163
Summary 167
Notes 167
APPENDIX: AN EPM MATURITY MODEL 169
BIBLIOGRAPHY 175
ABOUT THE AUTHOR 179
INDEX 181
See More
RON DIMON is an experienced enterprise performance management executive with a proven record for strategy-to-execution initiatives. He is the Advisory Services partner at CheckPoint Consulting, LLC, a full-service EPM implementation firm. He previously worked at Hyperion Solutions (now part of Oracle Corp.) as senior director of the office of strategy and started his career with Deloitte. Ron has been a coeditor of or contributor to five books.
See More