Store Wars: The Worldwide Battle for Mindspace and Shelfspace, Online and In-store, 2nd Edition
ISBN: 978-1-118-37406-1
314 pages
September 2012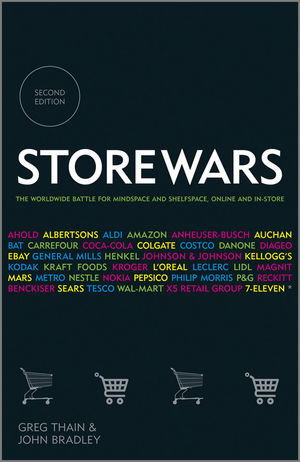 The sequel to the highly successful
Store Wars: the battle for mindspace and shelfspace
published in 1995. The new edition will retain all the strengths of the old book including a comprehensive and complex approach to the consumer & retail market and the interaction between FMCG retailers and manufacturers. The book will be thoroughly revised and updated and will consist of 4 main parts:
A section on leading FMCG companies and brands (such as Coke, P&G, Unilever, Nestle, L'Oreal etc.), their marketing and branding strategies in the western markets (USA, Western Europe: UK, France, Germany and others).
A section on leading retailers (Wal-Mart, Tesco, Carrefour etc.), their developments and expansion over the last 10 years.
A section describing the interaction between retailers and manufacturers, including competition for end-consumers, trade marketing.
A section covering the Emerging Markets—the retail landscape in the major developing economies, results of the expansion of major FMCG brands and western retail chains, challenges related to distribution and FMCG marketing in those countries.
The book will also discuss the impact of the Global Crisis on the consumer and retail markets as well as predictions and prospects for the future.
See More
Acknowledgements vii
Introduction ix
CHAPTER 1 Shifting of power in the value chain 1
CHAPTER 2 Differences between manufacturers and retailers 23
CHAPTER 3 The fragility of a marketing orientation 37
CHAPTER 4 Retailers and the marketing concept 53
CHAPTER 5 The battlefield for mindspace and shelfspace 69
CHAPTER 6 The battle for mindspace 83
CHAPTER 7 The battle for shelfspace 101
CHAPTER 8 Creating a sustainable retail differential
CHAPTER 9 Private label 139
CHAPTER 10 Trade marketing 165
CHAPTER 11 Internationalisation and emerging markets 193
CHAPTER 12 E-retailing 215
CHAPTER 13 The new order and its challenges 239
Appendix 1: Top private label manufacturers 265
Appendix 2: BRIC market snapshots 269
Index 277
See More
Greg Thain has been Chairman / CEO of marketing, trade marketing, Internet, consultancy, PR and research companies, in the UK & emerging markets. Having over the last 20 years owned or managed businesses in Russia, India, China, Turkey, Hungary, Romania, Greece, Ukraine, Sweden and Kazakhstan, working for many of the leading international FMCG and retail businesses. Currently adjunct professor of marketing & E-Commerce at the International Monaco University (IUM), and Chairman of the Storewars marketing business. He lives between Monaco & Moscow.
John Bradley held international marketing positions in Cadbury for 24 years before becoming a consultant and writer. His first book, Cadbury's Purple Reign, was published in 2008 and John is a regular commentator on the FMCG world in his adopted home country of Canada and the USA. John is currently working on his next book, again jointly with Greg, on the world's leading consumer marketing companies; provisionally entitled, The Mega-Consumer Companies, scheduled to be published April 2013.
See More