Teach Yourself VISUALLY Windows 8 Tablets
ISBN: 978-1-118-37485-6
336 pages
October 2012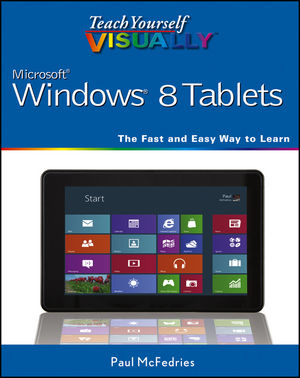 A visual guide to all the features of the new Windows 8 Tablet
This must-have resource features visually rich, step-by-step instructions that show you how to get the most enjoyment from your Windows 8 tablet. Learn about the exciting new Metro UI, optimized specifically for touch devices. The most popular and commonly used apps and functions are covered too, along with the basics of syncing with a network, setting up e-mail, watching videos, listening to music, and common productivity tasks. This book provides all the guidance needed to enjoy all the best the new Windows 8 tablets have to offer.
Includes information on Microsoft's Windows 8 and the new Metro UI in a clear and easy-to-navigate visual manner
Contains over 125 Windows tablet tasks, illustrated with full-color screenshots
Offers clear, step-by-step instructions
Consistent placement of information makes learning fast and efficient
Teach Yourself VISUALLY Windows 8 Tablet offers concise, step-by-step instruction that's perfect for visual learners.
See More
Chapter 1 Getting Started with Windows 8
Start Windows 8 4
Explore the Windows 8 Start Screen 6
Display the Charms Menu 7
Get to Know the Windows 8 Apps 8
Understanding Gestures 10
Using Gestures to Control Windows 8 12
Input Text with the Touch Keyboard 14
Connect to a Wireless Network 16
Create a Microsoft Account 18
Work with Notifications 22
Put Windows 8 to Sleep 23
Restart Windows 8 24
Shut Down Windows 8 25
Chapter 2 Working with Apps
Explore the Windows Store 28
Install an App 30
Start an App 32
Understanding App Screens 34
Close an App 35
Switch between Apps 36
Update an App 38
Uninstall an App 40
Chapter 3 Customizing Windows 8
Configure the Start Screen 44
Pin an App to the Start Screen 46
Open the PC Settings App 48
Change the Start Screen Background 50
Change the Lock Screen Background 52
Add an App to the Lock Screen 54
Synchronize Settings between PCs 56
Access an App's Features 58
Pin an App to the Taskbar 60
Adjust the Volume 62
Set the Time Zone 63
Chapter 4 Surfing the Web
Understanding the World Wide Web 66
Start Internet Explorer 67
Navigate Internet Explorer 68
Select a Link 69
Enter a Web Page Address 70
Open a Web Page in a Tab 72
Navigate Web Pages 74
Find Text on a Page 75
Save Favorite Web Pages 76
Search for Sites 78
Chapter 5 Sending E-mail and Messages Create a Contact 108
Configure an E-mail Account 82
Send an E-mail Message 84
Format the Message Text 86
Set the Message Priority 87
Add a File Attachment 88
Save a Draft of a Message 90
Receive and Read E-mail Messages 92
Reply to a Message 94
Forward a Message 96
Open and Save an Attachment 98
Delete a Message 100
Send an Instant Message 102
Respond to an Instant Message 104
Chapter 6 Getting Social with Your Tablet
Create a Contact 108
Connect to Facebook 110
Connect to Twitter 112
Connect to LinkedIn 114
Add Your Google Account 116
View a Contact 118
View Your Contacts' Activities 120
View Your Social Networking Activity 122
Post a Link to a Social Network 124
View Your Calendar 126
Add an Event to Your Calendar 128
Create a Recurring Event 130
Add an Event Reminder 131
Send or Respond to an Event Invitation 132
Chapter 7 Working with Multimedia
Import Images from a Digital Camera 136
Navigate the Pictures Library 138
View Your Images 140
View Your Facebook Photos 142
View Your Flickr Photos 144
Start a Slide Show 146
Delete an Image 148
Take a Picture 150
Navigate the Videos Library 152
Watch a Video 154
Buy or Rent a Movie 156
Buy a TV Episode 158
Navigate the Music Library 160
Play Music 162
Buy Music 164
Buy a Game166
Connect Your Tablet to Your Xbox 168
Chapter 8 Performing Day-to-Day Tasks
Search Your Tablet 172
Display a Location on a Map 174
Get Directions to a Location 176
Check Your Weather Forecast 178
Check Another City's Weather Forecast 180
Plan a Trip 182
Get the Latest News 184
Track a Stock 186
Follow Your Favorite Teams 188
Chapter 9 Configuring Your Tablet
Display Mobility Settings 192
Display Power Options 194
Define an Action for the Tablet Power Button 196
Adjust Screen Brightness 198
Monitor Battery Life 199
Set a Battery Alarm to Avoid Running Out of Power 200
Create a Custom Power Plan to Improve Battery Life 202
Configure the Touch Keyboard 204
Configure Your Tablet to Work with a Second Monitor 206
Calibrate the Screen for Accurate Tapping 208
Chapter 10 Creating and Editing Documents
Understanding Documents 212
Create a Document 213
Save a Document 214
Open a Document 216
Edit the Document Text 218
Change the Font Formatting 222
Find Text 224
Replace Text 226
Insert Special Symbols 228
Make a Copy of a Document 230
Print a Document 232
Chapter 11 Working with Files
View Your Files 236
Select a File 238
Change the File View 240
Preview a File 241
Copy a File 242
Move a File 243
Rename a File 244
Create a New File 245
Delete a File 246
Restore a Deleted File 247
Zip Up and Extract Compressed Files 248
Add a File to Your SkyDrive 250
Share a File with Friends 252
Chapter 12 Sharing Your Tablet with Others
Display User Accounts 256
Create a User Account 258
Switch between Accounts 260
Change Your User Account Picture 262
Change a User's Password 264
Delete an Account 266
Create a Homegroup 268
Join a Homegroup 270
Share a Document or Folder 272
Chapter 13 Implementing Security
Understanding Windows 8 Security 276
Check the Action Center for Security Problems 278
Create a Picture Password 280
Lock Your Tablet 284
Set Up Family Safety 286
Browse the Web Privately 290
Clear Your Private Information 292
Reset Your Tablet to Preserve Privacy 294
Chapter 14 Maintaining Windows 8
Check Hard Drive Free Space 298
Delete Unnecessary Files 300
Check Your Hard Drive for Errors 302
Refresh Your Tablet 304
Create a Recovery Drive 306
Keep a Backup History of Your Files 308
Restore a File from Your History 310
Index 312
See More
Buy Both and Save 25%!
Teach Yourself VISUALLY Windows 8 Tablets (US $29.99)
-and- The new iPad Portable Genius (US $25.00)
Total List Price: US $54.99
Discounted Price: US $41.24 (Save: US $13.75)
Cannot be combined with any other offers. Learn more.