Teach Yourself VISUALLY Facebook
ISBN: 978-1-118-37488-7
320 pages
October 2012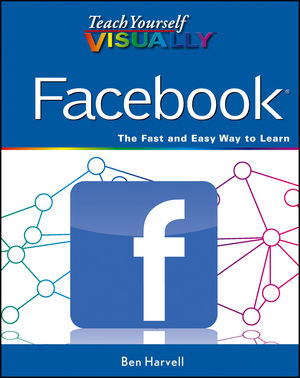 Your easy access portal to learning the ins and outs of Facebook the visual way
At your fingertips, this easy-to-use guide offers visually rich, step-by-step instructions that show how to get the most enjoyment from Facebook. Discover the latest Facebook features, such as the new timeline and messaging system, and learn how to set up an account, work with the most popular and commonly used apps and integrated sites, find friends, and enjoy groups.
Includes everything you need to know, from simply setting up an account to personalizing a timeline or starting a group for a personal interest
Introduces the latest features, including the new messaging system
Offers full-color screen shots and numbered, step-by-step instructions that show everything you need to get the most out of Facebook
Teach Yourself VISUALLY Facebook gives you all the guidance necessary to enjoy the best Facebook has to offer.
See More
Chapter 1 Setting Up an Account
Introducing the Facebook Interface  4
Create an Account  6
Find Friends  8
Create a Profile  10
Add a Profile Picture  12
Validate Your E-Mail Address  14
Log into Your Account  15
Enter Your Basic Information  16
Add Friends and Family Information  18
Add Work and Education Information  20
Add Religious and Political Information  22
Add an E-Mail Account  24
Add Telephone Numbers and Address Information  25
Add Instant Messaging and Website Information  26
Set a Facebook Username  27
Chapter 2 Setting Security
Set a Security Question  30
Using Secure Browsing  31
Set Login Notifications  32
Set Login Approval  33
Set App Passwords  34
Edit and View Recognized Devices  35
View Your Active Sessions  36
Change Your Primary E-Mail  37
Change Your Password  38
Set Your Language  39
Link Your Accounts  40
Download Your Facebook Data  42
Deactivate Your Account  43
Chapter 3 Setting Privacy
Use the Audience Selector to Control Privacy  46
Create a Custom Privacy Setting  47
Set Default Privacy Levels  48
Control Your Profile's Appearance in Search Engines  50
Control How You Connect with Others  52
Set Who Can See and Post on Your Timeline  53
Turn On Profile Review  54
Turn Off Tag Suggestions for Photos  55
Set Access Levels for Facebook Apps  56
Block Facebook Users  58
Limit the Audience for Past Posts  60
See What Your Timeline Looks Like to Other People  61
Chapter 4 Finding and Organizing Friends
Find Friends by Importing Contacts  64
Accept and Ignore Friend Requests  66
View Your Friends  67
Unfriend People on Facebook  68
Poke Friends  70
View Your Friendship with Others  71
View Suggested Friends  72
View Mutual Friends  73
Add Friends to Lists  74
Edit Work and Education Smart Lists  75
Edit Location-Based Smart Lists  76
Rename a Smart List  77
Manage and Edit Lists  78
Chapter 5 Setting Your Status
Update Your Status  82
Remove a Status Update  84
Edit a Status Update  85
Share Uploaded Photos and Videos  86
Share a Photo or Video from Your Webcam  88
Ask a Question  90
Browse Questions  91
Follow a Question  92
Answer a Question  93
Share a Link  94
Like Content  95
Like Content on the Web  96
Turn On Subscriptions  97
Subscribe to a Person  98
Find People to Subscribe to on Facebook 100
Unsubscribe from a Person 101
Chapter 6 Communicating with Friends
Send a Message 104
View Your Messages 106
Attach a File to a Message 108
Attach Photos and Videos to Messages 110
Chat with Friends 112
Chat with Multiple Friends 114
Set Who Can See You on Chat 116
Turn Chat Sounds On or Off 117
Send Messages Through Chat 118
Send Facebook E-Mail 119
Set Up Video Calling 120
Make a Video Call to a Friend 122
Chapter 7 Using Timeline and News Feed
Introducing the Facebook Timeline 126
Introducing the Facebook News Feed 128
Add a Cover from Your Photos 130
Upload a Cover Image 132
Share Stories 134
Add Life Events to Your Timeline 136
Add Photos to Your Map 138
Hide and Highlight Timeline Stories 140
Hide Stories on Your News Feed 142
Sort Stories on Your News Feed 143
Comment on a Story 144
Hide and Adjust the Ticker 145
Chapter 8 Using Groups and Events
Join a Group 148
Post to a Group 149
Create a Group 150
Search within a Group 151
Add Friends to a Group 152
View Your Event Invites 153
Search Your Events 154
Respond to an Event Invite 155
Export Events 156
Find Suggested Events 157
Invite Members of a Group to an Event 158
Add Hosts to Your Event 159
Add a Photo to an Event 160
Chat with a Group 161
Create an Event 162
Chapter 9 Sharing Photos, Video, and Music
Upload Photos to Facebook 166
Upload Videos to Facebook 168
Organize Your Albums 170
Tag Photos and Videos 171
Edit Uploaded Photos 172
View Photos Uploaded by Friends 174
Review Photos You Are Tagged In 175
Set an Album Cover Image 176
Set a Video Thumbnail 177
Listen to Music on Facebook 178
Listen to Music with Friends 179
Chapter 10 Using Apps
Find Apps 182
Install an App 184
Add Apps to Your Timeline 186
Control App Information Shared with Friends 188
Remove Apps 189
Add Bank Account Details 190
Buy Facebook Credits 192
Block an App 194
Use Facebook Social Plugins on External Sites 195
Use Instant Personalization on External Sites 196
Turn Off Apps 197
Chapter 11 Working with Notes
Create a Note 200
View Notes 202
Tag Notes 203
View Draft Notes 204
View Notes About You 205
Add a Photo to a Note 206
Preview a Note 208
Edit a Note 209
Set Note Privacy 210
Apply Formatting to a Note 211
Comment on a Note 212
Share a Note 213
Chapter 12 Using Search and Notifications
Search for People and Content 216
Filter Search Results 217
Find Friends Through Search 218
Search for Friends on Chat 220
View Recent Notifications 221
Set Facebook Notifications 222
Set App Notifications 223
Set Photo Notifications 224
Set List Notifications 225
Set Event Notifications 226
Set Individual Group E-Mail Notifications 227
Search for Multiple Criteria 228
Search Public Posts 229
Chapter 13 Accessing Facebook Mobile
Introducing Facebook Mobile 232
Access Facebook Mobile on an iPhone 234
Access Facebook Mobile on an iPad 236
Access Facebook Mobile on Android 238
Update Your Status via the Facebook iPad App 240
Take and Upload Photos with the Facebook App 242
Upload Photos on Your Device with the Facebook App 244
Use the Facebook Messenger App 246
Use the Facebook Camera App 248
Activate Facebook Text Messages 250
Upload Photos to Facebook via E-Mail 252
Access Your Mobile Timeline 253
Set Up Instagram to Post Facebook Photos 254
Chapter 14 Using Location Services on Facebook
Check In to a Location with the Facebook App 258
Add Your Location to a Facebook Post 260
Add Locations to Videos 261
Add Locations to Photos 262
Change or Update a Story Location 264
View the Page for a Location 265
Share a Location on Facebook 266
Add a Location to Your Map 267
Join a Network on Facebook 268
Chapter 15 Understanding Facebook Ads and Pages
Create a Facebook Page 272
Update Your Page Info 276
View Page Admin and Insights 278
Invite People to View Your Page via E-Mail 280
Invite Facebook Friends to View Your Page 282
Adjust Notification Settings for Your Page 283
Add a Featured Owner to Your Page 284
Like a Page on Facebook 285
Create a Facebook Ad to Promote Your Page 286
Hide Ads on Your News Feed 290
Add Page Likes to Improve Ads That You See 291
Manage Your Ad Campaigns 292
Index  294
See More
Buy Both and Save 25%!
Teach Yourself VISUALLY Facebook (US $29.99)
-and- Teach Yourself VISUALLY iPhone 4S (US $24.99)
Total List Price: US $54.98
Discounted Price: US $41.23 (Save: US $13.75)
Cannot be combined with any other offers. Learn more.