E-book
Nik Software Tools Bundle
ISBN: 978-1-118-37609-6
608 pages
March 2012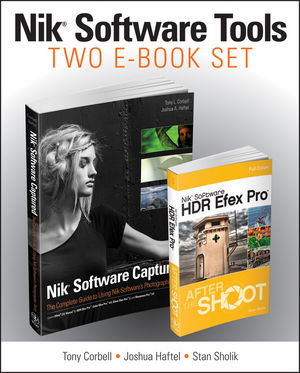 This e-book set includes two winning guides on Nik Software tools
Designed to save time in the digital workflow, Nik Software?s entire suite of products (Dfine 2.0, Color Efex Pro 4.0, Sharpener Pro 3.0, Silver Efex Pro 2, VIVEZA 2.0, and their newest software, HDR Efex Pro) was conceived with the single goal of helping photographers use products such as Adobe Photoshop more easily while also offering editing capabilities not found within Photoshop. This two-book set, Nik Software Captured and HDR Efex Pro After the Shoot, shows how best to utilize these highly popular products.
Follows the way photographers think, making it easy to apply the techniques discussed in both books
Explores topics appropriate to Nik Software including retouching, understanding the importance of light, and exposure, while learning all of the features and functionality of this family of products
Appeals to users who want in-depth instruction on using the software as well as recommended digital workflow steps to show when and how to use these powerful tools
Digital photographers, whether professionals, students, or hobbyists, will find this e-book duo useful for mastering the complete suite of Nik Software tools and creatively editing their photographs to create stunning images.
See More
Tony L. Corbell created the award-winning Nik Software educational department and teaches workflow and photographic techniques. He has photographed three U.S. presidents, 185 world leaders, and countless celebrities.
Joshua A. Haftel has been hooked on photography since high school. He has traveled the world photographing famous sites. When he's not taking pictures, he manages the photographic tools product line for Nik Software.
Stan Sholik, a self-taught photographer, has worked for over 30 years in commercial, advertising, and illustrative photography. His articles have appeared in View Camera, Professional Photographer, AfterCapture, and other publications.
See More