Stock Investing For Dummies, 4th Edition
ISBN: 978-1-118-37678-2
384 pages
January 2013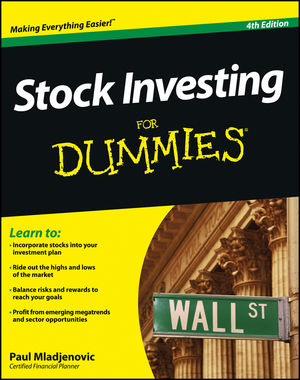 The fast and easy way to grow your stock investments in today's changing market
The changes, events and conditions affecting stock investors since the recent economic crisis have been dramatic. Today's economic and financial landscape offers new challenges and opportunities for investors and money managers. This new edition of Stock Investing For Dummies provides you with the information you need to protect and grow your stock investments in today's changing market.
Stock Investing For Dummies contains 25 percent new and revised material designed to help investors navigate an ever-changing stock market with: information on ETFs, a safer way to be more diversified in the stock market; new rules, exchanges, and investment vehicles; the latest on the European debt crisis; and much more.
Explores how technological changes mean new products, services, and ways of doing business
Shows you how to use the latest research and information available
Covers how (and why) to protect yourself
Stock Investing For Dummies is for anyone new to investing in the stock market who is looking for a trusted, comprehensive reference to make sure their investments grow.
See More
Introduction 1
Part I: The Essentials of Stock Investing 9
Chapter 1: Surveying the World of Stock Investing 11
Chapter 2: Taking Stock of Your Current Financial Situation and Goals 17
Chapter 3: Defi ning Common Approaches to Stock Investing 35
Chapter 4: Recognizing Risk and Volatility 45
Chapter 5: Stock Investing through Exchange-Traded Funds 63
Part II: Before You Start Buying 71
Chapter 6: Gathering Information 73
Chapter 7: Going for Brokers 93
Chapter 8: Investing for Long-Term Growth 105
Chapter 9: Investing for Income 119
Chapter 10: Understanding Technical Analysis for Stock Investors 133
Part III: Picking Winners 151
Chapter 11: Using Basic Accounting to Choose Winning Stocks 153
Chapter 12: Decoding Company Documents 171
Chapter 13: Emerging Sector and Industry Opportunities 183
Chapter 14: Investing with Megatrends 193
Chapter 15: The Big Economic and Political Picture 207
Part IV: Investment Strategies and Tactics 219
Chapter 16: Choosing among Investing, Trading, and Speculating 221
Chapter 17: Understanding Brokerage Orders and Trading Techniques 233
Chapter 18: Using Trade Triggers and Advanced Conditional Orders 249
Chapter 19: Getting a Handle on DPPs, DRPs, and DCA PDQ 257
Chapter 20: Corporate and Government Skullduggery: Looking at Insider Activity 267
Chapter 21: Keeping More of Your Money from the Taxman 279
Part V: The Part of Tens 291
Chapter 22: Ten Considerations When Your Stock Portfolio Is Down 293
Chapter 23: Ten Considerations When Your Stock Portfolio Is Up 299
Chapter 24: Ten Challenges and Opportunities for Stock Investors 305
Chapter 25: Ten Great Strategies That Go Well with Stocks 311
Part VI: Appendixes 317
Appendix A: Resources for Stock Investors 319
Appendix B: Financial Ratios 335
Index 345
See More
Paul Mladjenovic is a Certified Financial Planner and national speaker on investing and financial matters. He is the owner of PM Financial Services and www.RavingCapitalist.com; he is also the author of Precious Metals Investing For Dummies.
See More