Leading Forward: Successful Public Leadership Amidst Complexity, Chaos and Change (with Professional Content)
ISBN: 978-1-118-38057-4
256 pages
March 2014, Jossey-Bass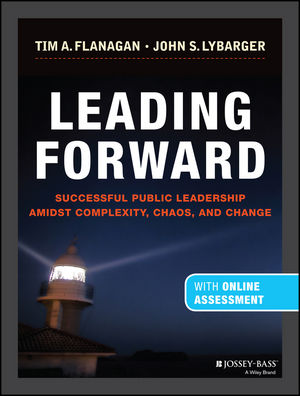 Explains the four dimensions of effective leadership for leaders in the public sphere
There is a wealth of advice available for corporate leaders, but little in the way of leadership guidance for those in government agencies. Leading Forward fills that gap by providing a development framework and assessment tool based on the four dimensions of effective leadership—empowerment, fairness, leaders, and supervisors. These four dimensions are critical competencies that leaders must develop in order to succeed now and in the future. Based on years of working with agency leaders at all levels of government and the latest assessment data from the Office of Personnel Management, this practical resource includes a review of the current core leadership competencies and a detailed look at the gaps between actual and expected execution.
Offers unique and uncommon leadership guidance for those in the public sector
Includes examples, exercises, techniques, and case studies, as well as interviews with past and current leaders
Ideal for government agency executives and students in leadership and professional development programs
Leading effectively in a government agency is different than leading in the private sphere. Leading Forward offers a practical and effective framework for developing great leaders for the public good.
See More
Prologue vii
ONE Introduction 1
TWO Agile Learning Capability 11
THREE Adept with Ambiguity 39
FOUR Adroit at Thinking Strategically 73
FIVE Ambitious Drive to Execute 107
SIX Public Service Leadership Assessment and Personal Development Plan 143
Epilogue and Acknowledgments 197
Appendix A: Four Themes and Five Independent Factors 199
Appendix B: Suggested Reading 219
References 227
About the Authors 229
Index 231
See More
Tim A. Flanagan is owner and lead consultant at Custom Leadership Solutions. He is a program leader and instructor with the U.S. Office of Personnel Management's Western Management Development Center and a visiting instructor at the Crummer Business School, Rollins College. Tim is the coauthor of the acclaimed "Conflict Competent" book series, including the second edition of Becoming a Conflict Competent Leader (2013).
John S. Lybarger is a nationally known organizational development consultant and executive coach with Lybarger & Associates, Inc. He serves public and private sector clients as a consultant, program director, curriculum designer, facilitator, and executive coach.
See More