E-book
Small Business Marketing Kit For Dummies, 3rd Edition
ISBN: 978-1-118-38307-0
384 pages
August 2012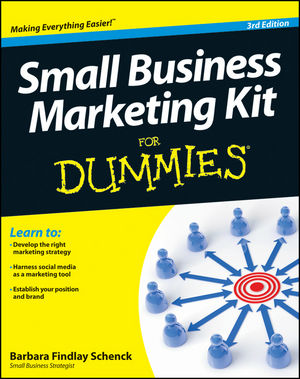 Harness the power of marketing and watch your business grow
Having your own business isn't the same as having customers, and one is useless without the other. Whether your business is a resale store or a high-tech consulting firm, a law office or a home cleaning service, in today's competitive environment, strategic marketing is essential.
If you want your small business to grow, you need a marketing strategy that works. But how do you get people to notice your business without spending a fortune? Packed with savvy tips for low-cost, high-impact campaigns, this friendly guide is your road map to launching a great marketing campaign and taking advantage of the newest technologies and avenues for outreach.
Using social media as a marketing tool
Communicating with customers
Financing a marketing campaign
The companion CD includes tools and templates to give you a jump-start on putting your new skills to work
If you're looking to give your small business' marketing plan an edge over the competition, Small Business Marketing Kit For Dummies has you covered.
CD-ROM/DVD and other supplementary materials are not included as part of the e-book file, but are available for download after purchase.
See More
Introduction 1
Part I: Getting Your Marketing Bearings 7
Chapter 1: Framing the Marketing Process 9
Chapter 2: All about Customers 19
Chapter 3: Seeing Your Product through Your Customers' Eyes 35
Chapter 4: Sizing Up Competitors and Staking Out Market Share 53
Chapter 5: Setting Your Goals, Objectives, Strategies, and Budgets 63
Part II: Laying the Foundation for Marketing Success 75
Chapter 6: Taking Stock of Your Business Image 77
Chapter 7: Forging Your Brand 91
Chapter 8: Creating Marketing Communications That Work 107
Chapter 9: Hiring Help When You Need It 125
Part III: Marketing in a Screen-Connected World 139
Chapter 10: Establishing an Online Presence 141
Chapter 11: Getting Interactive with Social Media 159
Chapter 12: Packaging Your Message for Blogs and Other Online Channels 179
Part IV: Getting the Word Out with Ads, Mailers, Promotions, and Publicity 193
Chapter 13: Creating and Placing Print and Outdoor Ads 195
Chapter 14: Broadcasting Your Message on Radio, TV, and Online 213
Chapter 15: Snail-Mailing and E-Mailing Your Customers Directly 227
Chapter 16: Brochures, Promotions, Trade Shows, and More 245
Chapter 17: Public Relations and Publicity 265
Part V: Winning and Keeping Customers 281
Chapter 18: Making Impressions through Networking and Presentations 283
Chapter 19: Making the Sale 295
Chapter 20: Enhancing Customer Service and Developing Loyalty 307
Part VI: The Part of Tens 323
Chapter 21: Ten Questions to Answer before Choosing a Business Name 325
Chapter 22: Ten Ways to Attract People to Your Business Online 329
Chapter 23: Ten Steps to a Great Marketing Plan 335
Appendix: About the CD 341
Index 349
See More
Barbara Findlay Schenck has been a marketing consultant for more than 20 years, with clients ranging from small businesses to Fortune 500 companies. In addition to her experience as a small business strategist, she's also a bestselling author and nationally syndicated columnist. Visit her website at www.bizstrong.com.
See More