Reconnecting the City: The Historic Urban Landscape Approach and the Future of Urban Heritage
ISBN: 978-1-118-38398-8
376 pages
December 2014, Wiley-Blackwell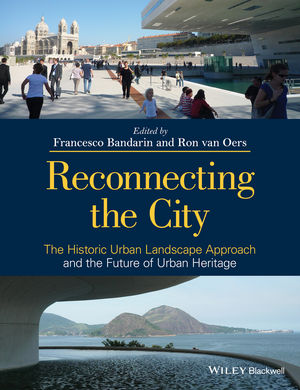 Historic Urban Landscape is a new approach to urban heritage management, promoted by UNESCO, and currently one of the most debated issues in the international preservation community. However, few conservation practitioners have a clear understanding of what it entails, and more importantly, what it can achieve.


Examples drawn from urban heritage sites worldwide – from Timbuktu to Liverpool
Richly illustrated with colour photographs
Addresses key issues and best practice for urban conservation
See More
Acknowledgements xi
Preface xiii
Contributors xix
About the Companion Website xxix
Introduction: Urban Conservation and the End of Planning 1
Francesco Bandarin
Post-War Attempts to Reconnect the City 3
Contemporary Views on Urbanism and Landscape 7
Repositioning Urban Conservation, Reconnecting the City 11
SECTION 1 The Layered Dimension of Urban Conservation 17
1. Archaeology: Reading the City through Time 19
Tim Williams
Introduction 19
Problems and Issues 21
Challenges to Presenting Archaeological Sites in Modern Urban Landscapes 25
Preservation in situ and Mitigation Strategies 30
Approaches and Potential 35
Archaeological Knowledge and Its Potential Impact on Urban Communities 37
Conclusion 44
2. How Geology Shapes Human Settlements 47
Claudio Margottini and Daniele Spizzichino
Introduction 47
Clay-Based Human Settlements 49
Soft Rock-Based Human Settlements 59
Hard Rock-Based Human Settlements 67
Time Variability and Complex Urban Environments 79
Conclusions 84
3. Morphology as the Study of City Form and Layering 85
Stefano Bianca
Introduction 85
Origins and Implications of the Term Morphology 86
The Scope of Urban Morphology 87
Methodology and Procedures 88
Advantages and Problems of the Urban Morphology Approach 94
Relevance within the Historic Urban Landscape Concept 98
Interview – Searching for a Chinese Approach to Urban Conservation 103
Wang Shu
Case Study – Bologna: From Urban Restoration to Urban Rehabilitation 107
Patrizia Gabellini
4. Historic Cities and Climate Change 113
Anthony Gad Bigio
The Emerging Challenges 113
Exposure of World Heritage Cities to Multiple Hazards 115
Historic Cities and Urban Resilience 119
Historic Cities and Climate Change Mitigation 121
Historic Cities and Climate Action Plans: The Case of Edinburgh, Scotland 122
Risks 123
Actions 123
Interview – Looking at the Challenges of the Urban Century 126
Filipe Duarte Santos
5. The Intangible Dimension of Urban Heritage 129
Rohit Jigyasu
Introduction 129
Defining Intangible Values in Historic Urban Landscapes 130
Urbanisation Processes and Impacts on Intangible Values 135
Recognition of Intangible Values in Existing Urban Management Systems 136
Documentation and Impact Assessment of Intangible Heritage Values 138
'Heritage' – Elitist or Inclusive? 139
Role of Intangible Heritage in Building Disaster Resilience of Cities 142
Integrating Intangible Heritage Values in Urban Planning and Management 142
Mainstreaming Intangible Heritage Through Sustainable Livelihoods and Cultural Tourism 143
Redefining the Role of Professionals 144
Interview – Interpreting Cultural Landscapes as Expressions of Local Identity 145
Lisa Prosper
Case Study – The Traditional Chinese View of Nature and Challenges of Urban Development 148
Feng Han
6. Planning and Managing Historic Urban Landscapes 161
Francesco Siravo
Integrated Planning 161
Key Aspects of Analysing and Planning Historic Urban Landscapes 163
Governance: The Case for Public Management in Historic Urban Areas 168
What Kind of Public Institution? 169
Organisational Framework of the Conservation Agency 170
Participatory Planning and Implementation Strategies 171
Conclusion 172
Interview – The Challenge of Urban Transformation 176
Mohsen Mostafavi
7. Cities as Cultural Landscapes 179
Ken Taylor
Reflections 179
A Paradigm Shift 180
The Cultural Landscape Model: Landscape as History and Expression of
Human Values and Identity 183
Bangkok and the Chao Phraya River 186
Canberra 187
Cultural Landscape Characteristics 187
Urban Identity, Plurality, Sustainable Development Tools for Urban Landscape Planning and Conservation Practice 190
Tools 192
Conclusion 202
SECTION 2 Building the Toolkit 203
8. Evolution of the Normative Framework 205
Jukka Jokilehto
Introduction 205
Early Appreciation of Historic Townscape 205
The Development and Impact of Modern City Planning 206
Development of Instruments for Urban Conservation 209
International Recognition of Historic Urban Areas 211
How Normative Frameworks Respond to the Challenges of Change
Caused by Urban Development 213
New Tools for the Management of the Historic Urban Landscape 216
9. Civic Engagement Tools for Urban Conservation 221
Julian Smith
Introduction 221
Ways of Seeing 222
Cultural Mapping 224
The Concepts of Equilibrium and Resilience 226
Sustainable Diversity 229
Influences of Civic Engagement: Towards Community-Based Design and Development 231
Conclusion 235
Interview – Listening to the People, Promoting Quality of Life 240
His Highness the Aga Khan
Case Study – Valuing Cultural Diversity 245
Richard A. Engelhardt
10. Knowledge and Planning Tools 249
Jyoti Hosagrahar
Introduction 249
Mapping, Measuring, and Visualising the Urban Landscape 250
Reading and Interpreting the Urban Landscape 251
Protecting, Enhancing, and Improving the Urban Landscape 257
Traditional and Customary Systems of Management 260
Contextualising the Historic Urban Landscape Approach 260
Case Study – Reading the City of Tokyo 261
Hidenobu Jinnai
11. The Role of Regulatory Systems 269
Patricia O'Donnell
Defining Regulatory Systems 269
Legal Regulations Directly Addressing Public and Private Lands 270
Legal Regulations with Indirect Infl uence on Urban Heritage 275
Conclusion 278
Interview – Constructing Cultural Significance 279
Rahul Mehrotra
12. Devising Financial Tools for Urban Conservation 283
Donovan Rypkema
Introduction 283
Why are Financial Tools Required? 284
What Do Financial Tools Do? 286
What are the Characteristics of the Most Effective Financial Tools? 287
What are Some Examples of Financial Tools and How Do They Work? 288
Conclusion 290
Case Study – A User's Guide for Heritage Economics 291
Christian Ost
Case study – The World Bank's Tools for Urban Conservation 297
MV Serra
13. Researching and Mapping the Historic Urban Landscape 301
Michael Turner and Rachel Singer
Introduction 301
The Diverse City 303
Methodologies and Tools 305
The Role of University Research 309
The Role of UNESCO Chairs 310
The Role of Category 2 Centres (C2C) 310
Conclusion 311
Interview – Heritage and the Metropolis 313
Rem Koolhaas
Conclusion: The Way Forward: An Agenda for Reconnecting the City 317
Ron van Oers
Managing the City as a Living Heritage 317
Identity and Sense of Place 318
Local Heritage and Corporate Image 319
The City as Repository of Urban Experiences 321
Integrating Disciplines and Professional Practices 322
Future Challenges of Urban Conservation 324
The Critical Path: Historic Urban Landscape Action Plan 326
Historic Urban Landscape: A Stepped Approach 326
Interdisciplinary Context and Operational Coordination 328
A 20-Point Research Agenda for Planners and Designers 329
Index 333
See More
Francesco Bandarin was UNESCO's Assistant Director-General for Culture from 2010 to 2014 and is now Professor of Urban Planning at the University Institute of Architecture of Venice. He was formerly Director of the UNESCO World Heritage Centre and the Secretary of the World Heritage Committee. He is trained as an Architect (Venice 1975) and Urban Planner (UC Berkeley 1977) and has pursued an academic career as Professor of Urban Planning at the University of Venice (IUAV) and a professional career as consultant for international organizations in the field of urban conservation and development. He has been actively involved in the Venice Safeguarding Project and in the preparation of Rome for the year 2000 Jubilee. As Director of the World Heritage Centre he has promoted the revision of the UNESCO recommendations on historic cities and has contributed to development of the debate on the role of contemporary architecture in historic cities, on the management of their social and physical changes and on the role of communities in the conservation of historic values.
Ron van Oers is Vice Director, World Heritage Institute of Training and Research for Asia and the Pacific (WHITRAP). He was formerly Programme Specialist for Culture at the UNESCO World Heritage Centre, coordinating the World Heritage Cities Programme and the international effort to develop new guidelines for urban conservation, which were adopted as the 2011 Recommendation on the Historic Urban Landscape. He is trained as an Urban Planner (Delft 1993) and received his doctorate (PhD, Delft 2000) on a research into the principles of Dutch colonial town planning (published as book). He is the Founding Editor (together with Dr. Ana Pereira-Roders) of the Journal of Cultural Heritage Management and Sustainable Development (JCHMSD), published by Emerald Group Publishing (UK) and a Member of the Editorial Advisory Board of Change Over Time: International Journal of Conservation and the Built Environment, published by Penn Press, University of Pennsylvania's School of Design (USA).
See More
"I highly recommend the comprehensive and landmark book The Historic Urban Landscape: Managing Heritage in an Urban Century by Francesco Bandarin and Ron Van Oers, to any architects, urban planners, surveyors, engineers, policy makers, business leaders, and urban conservation societies who are seeking a complete overview of the intellectual developments in urban conservation. This book provides a thoughtful and practical approach that will benefit the urban conservation efforts around the world in the twenty-first century."  (Blog Business World, 29 May 2012)
See More