E-book
17 Proven Currency Trading Strategies: How to Profit in the Forex Market
ISBN: 978-1-118-38552-4
272 pages
December 2012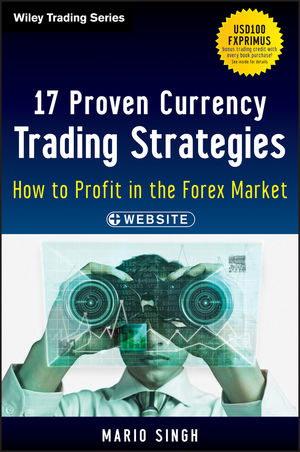 A comprehensive guide to Forex trading for individual investors
Countless money-making opportunities abound in the Foreign Exchange (Forex) market every day, but how does an amateur investor take advantage of these opportunities to earn high returns? This book by CNBC-featured Forex Expert Mario Singh provides a comprehensive solution to this question.
Following the first section that explains in plain English—what is Forex trading, how money is made in the Forex "game," the six major players involved, and the importance of knowing one's Trader Profile—the second section focuses on specific and practical guidance which includes:
A "Trader Profile Test" to help the reader get a clear picture of his natural trading style and which of five trading profiles he belongs to (Scalper, Day Trader, Swing Trader, Position Trader or Mechanical Trader)
17 proven trading strategies (between 2 to 5 strategies for each trader profile) for the reader to immediately start cashing in on the Forex market
Descriptions of an array of real-world trading scenarios, with tips on how to address them
A section that shows the reader how to custom-tailor a trading system designed for his sensibilities and risk tolerance
Forex hedging strategies for finance professionals at multinational corporations
Short on theory and long on practical insights and step-by-step guidance, 17 Proven Currency Trading Strategies—How To Profit in the Forex Market will help anyone—from beginners to professionals, and everyone in between—to master the Forex market and be consistently profitable.
See More
Preface xi
Acknowledgments xix
PART ONE Forex Is a Game 1
CHAPTER 1 How to Play the Game 3
The Forex Game 3
Forex and the Seven Majors 5
Leverage 11
Summary 14
CHAPTER 2 How Money Is Made in the Game 15
Buy Low, Sell High 15
Three Points in Every Trade 17
Bid/Ask Spread 23
What Causes the Price of Currencies
to Fluctuate? 25
Fraction Theory 30
Reading the Charts 31
Market Structure 37
Summary 48
CHAPTER 3 The Six Major Players 51
Central Banks 51
Commercial and Investment Banks 58
Multinational Corporations 62
Institutional Traders 68
Retail Forex Brokers 69
Retail Traders 70
Summary 70
CHAPTER 4 Why You Must Play the Game 73
Top 17 Reasons to Trade Forex 73
Summary 84
CHAPTER 5 Play It Your Way: Understanding
Your Profile 87
The Experiment 88
Five Categories of Forex Traders 92
Your Perfect Strategy 98
Summary 107
PART TWO Strategies to Win the Game 109
Includes details on the FXPRIMUS
100% bonus trading credit
CHAPTER 6 Strategies for Scalpers 111
Strategy 1: Rapid-Fire Strategy 111
Strategy 2: Piranha Strategy 118
CHAPTER 7 Strategies for Day Traders 125
Strategy 3: Fade the Break 126
Strategy 4: Trade the Break 131
Trading the News 138
Strategy 5: Gawk the Talk 143
Strategy 6: Balk the Talk 148
CHAPTER 8 Strategies for Swing Traders 155
Strategy 7: Trend Rider 155
Strategy 8: Trend Bouncer 163
Strategy 9: Fifth Element 169
Strategy 10: Power Ranger 177
Strategy 11: The Pendulum 185
CHAPTER 9 Strategies for Position Traders 191
Strategy 12: Swap and Fly 192
Strategy 13: Commodity Correlation (Part 1) 199
Strategy 13: Commodity Correlation (Part 2) 204
Strategy 14: Siamese Twins 210
CHAPTER 10 Strategies for Mechanical Traders 217
Strategy 15: Guppy Burst 217
Strategy 16: English Breakfast Tea 223
Strategy 17: Good Morning Asia 228
CHAPTER 11 Conclusion 235
Bibliography 239
About the Author 241
About the Website 243
Plus FXPRIMUS 100% bonus trading credit
Index 245
See More
Mario Singh is founder and CEO of FX1 Academy, the first and largest Forex education company in Singapore and Malaysia. He has personally touched the lives of over 20,000 people, helping them move closer to their financial goals through Forex trading. Mario Singh is also the director of training and education of FXPRIMUS, Asia's fastest growing Forex broker. He is featured regularly in Smart Investor and Your Trading Edge, and has appeared on CNBC, Channel NewsAsia, "Personal Money," News Radio, City News, The Straits Times, FXstreet, and Your Choice. He also writes a weekly Forex column for a Singaporean national newspaper, My Paper.
See More
More in this series