E-book
AutoCAD 2013 For Dummies
ISBN: 978-1-118-39217-1
560 pages
April 2012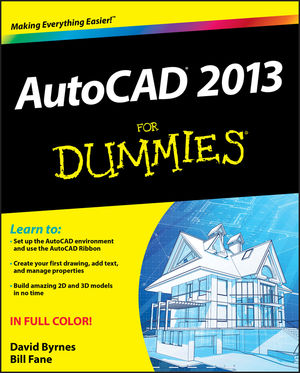 Bring your design vision to life with this full-color guide to AutoCAD 2013!
Used by everyone from engineers and architects to interior designers and draftspeople, AutoCAD 2013 is the world's leading 2D and 3D technical drawing program. But, with so many options and features available, finding your way around AutoCAD can be a challenge, even for experienced CAD professionals. AutoCAD 2013 For Dummies is here to help. You'll learn to build a solid foundation for all your projects, use standard CAD techniques, get familiar with new tools and features, and start sharing your models and designs in no time with this easy-to-follow guide.
Covers the latest AutoCAD features and techniques, including creating a basic layout, navigating the AutoCAD Ribbon, drawing and editing, working with dimensions, adding text, creating 3D models, and more
Walks readers through setting up a drawing environment, applying visual styles, managing data across several drawings, and showcasing your designs to potential clients and customers
Features full-color illustrations that mirror what you'll see on your AutoCAD 2013 screens plus a companion website with downloadable drawing files so you can put your CAD skills to the test
Whether you're an AutoCAD amateur or a modeling master, AutoCAD 2013 For Dummies has something for you.
See More
Introduction 1
Part I: AutoCAD 101 11
Chapter 1: Introducing AutoCAD and AutoCAD LT 13
Chapter 2: Le Tour de AutoCAD 2013 23
Chapter 3: A Lap around the CAD Track 55
Chapter 4: Setup for Success 85
Chapter 5: Planning for Paper 109
Part II: Let There Be Lines 123
Chapter 6: Manage Your Properties 125
Chapter 7: Preciseliness Is Next to CADliness 147
Chapter 8: Along the Straight and Narrow 163
Chapter 9: Dangerous Curves Ahead 177
Chapter 10: Get a Grip on Object Selection 193
Chapter 11: Edit for Credit 215
Chapter 12: A Zoom with a View 243
Part III: If Drawings Could Talk 261
Chapter 13: Text with Character 263
Chapter 14: Entering New Dimensions 297
Chapter 15: Down the Hatch! 323
Chapter 16: The Plot Thickens 337
Part IV: Advancing with AutoCAD 367
Chapter 17: The ABCs of Blocks 369
Chapter 18: Everything from Arrays to Xrefs 387
Chapter 19: Call the Parametrics! 421
Chapter 20: Drawing on the Internet 449
Part V: On a 3D Spree 469
Chapter 21: It's a 3D World After All 471
Chapter 22: From Drawings to Models 491
Chapter 23: On a Render Bender 515
Part VI: The Part of Tens 537
Chapter 24: Ten Great AutoCAD Resources 539
Chapter 25: Ten (Or So) Differences between AutoCAD and AutoCAD LT 543
Chapter 26: Ten System Variables to Make Your Life Easier 547
Index 553
See More
David Byrnes is a structural and civil drafter for a major international engineering company. Bill Fane is a retired professional engineer and Autodesk Authorized Training Center (ATC) certified instructor.
See More