E-book
Grant Seeking in Higher Education: Strategies and Tools for College Faculty
ISBN: 978-1-118-39512-7
336 pages
July 2012, Jossey-Bass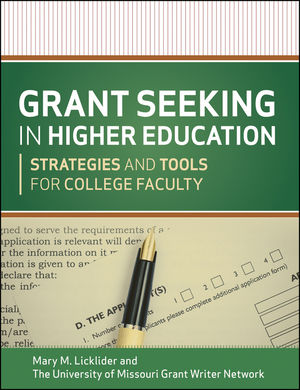 Grant funding has become increasingly crucial to universities and university faculty, even as government and private funding reductions and increased application pools result in a more and more competitive environment. Securing the funding which is available is not a simple process, and institutional support for faculty who seek grants is uneven, where it exists at all. Faculty members are often left to navigate their own ways through the shifting landscape of the grants maze. When added on top of teaching and service loads, it's no surprise that many faculty members either avoid seeking grants altogether or produce grant proposals which have little or no chance of being funded.

Faculty need a guide, and this book is that guide.

Written by a team of successful grant writers, Grant Seeking in Higher Education orients faculty to the grants culture and walks readers step-by-step through the entire grant-seeking process, from identifying sources to preparing a successful application to administering the funds after the grant is awarded. The grant-seeking toolkit—which is free online to purchasers of the book for you to download or print and use in your work—includes standard forms, templates, and timelines for proposal development so any faculty member, from the scientist to the humanities scholar, can be sure not to miss out on the funding they deserve.
See More
List of Figures, Tables, and Boxes vii
Foreword ix
Preface: What's in a Name? xi
Acknowledgments xv
About the Authors xvii
PART 1 THE HOW-TO MANUAL
Section 1 Diving into Grants Culture
1 Grants Culture: The Big Picture 5
2 The Matching Game: Finding Funders 17
3 Tapping Support on Campus 33
4 Collaboration: The New Frontier 43
5 Preparing to Write 55
Section 2 Developing Your Proposal
6 The Writing 71
7 The Abstract 81
8 The Heart of the Matter: The Proposal Narrative 91
9 Budgets 111
10 Making It Shine: The Proposal Package 129
Section 3 Next Steps
11 Review, Rejection, and Reshaping 149
12 Your Project Is Funded—Now What? 161
PART 2 GRANT-SEEKING TOOLKIT
Section 1 Diving into Grants Culture 179
Grant Glossary 179
Tools for Finding Funding 188
Funding Search Cheat Sheet 190
Prewriting Questions 192
Section 2 Managing the Proposal Work 197
Planning for Proposal Development 197
Developing a Concept Paper 202
Four Sentences to Focus Your Elevator Pitch 203
Contacting a Program Offi cer 204
Managing Proposal Development 206
Narrative Timeline for Proposal Development 207
Section 3 Developing Your Proposal 215
Proposal Logic 215
Moving from the Larger Context to the Detail 216
Proposal Outlines 217
Evaluation 220
Budget Justification 223
Subcontracts and Consulting Agreements 229
Sample Subcontract Scope of Work 232
Travel Expenses 233
Letters of Support and Commitment 235
Project Timelines 239
Proposal Review Processes 246
Section 4 Building Institutional Grants Culture 251
Tools for Hiring Grant Writing Consultants 251
Interview Questions 253
Interview Writing Prompts 254
Reference Check Questions 256
Tools for Managing and Nurturing Grant Writing Consultants 257
Survey Instrument 269
Flextime Memo 273
Afterword: Summing It Up 275
Appendix: Building a Grants Culture: A Word to Campus Leaders 279
References 303
Index 309
See More
Mary M. Licklider is director of the Office of Grant Writing and Publications in the University of Missouri's (MU) Office of Research and provides leadership to MU's Grant Writer Network. Since 1998, network members have helped with nearly 2,000 grant proposals, which have encompassed a wide range of sponsors and brought grant awards of more than $304 million.
See More
Learn more about