Your Creative Brain: Seven Steps to Maximize Imagination, Productivity, and Innovation in Your Life
ISBN: 978-1-118-39654-4
384 pages
September 2012, Jossey-Bass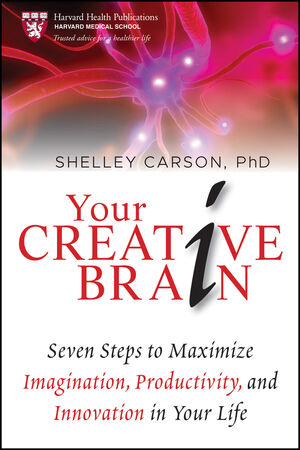 Research-based techniques that show everyone how to expand creativity and increase productivity
Harvard psychologist Shelley Carson?s provocative book, published in partnership with Harvard Health Publications, reveals why creativity isn't something only scientists, investors, artists, writers, and musicians enjoy; in fact, all of us use our creative brains every day at home, work and play.  Each of us has the ability to increase our mental functioning and creativity by learning to move flexibly among several brain states.
Explains seven brain states or "brainsets" and their functions as related to creativity, productivity, and innovation

Provides quizzes, exercises, and self-tests to activate each of these seven brainsets to unlock our maximum creativity
Your Creative Brain, called by critics a ?new classic? in the field of creativity, offers inspiring suggestions that can be applied in both one?s personal and professional life.
See More
Preface vii
Acknowledgments xi
Part 1
Meet Your Creative Brain 1
1 Wanted: Your Creative Brain 3
Why activating your creativity is important to individual and societal well-being
2 Your Mental Comfort Zone 13
Introduction to the seven brainsets
Fun quizzes to determine which brainset is your mental comfort zone
3 Tour Your Creative Brain 39
Brief introduction to the parts of brain that are important to the creative process
4 Brainsets and the Creative Process 55
Description of the stages that comprise both the deliberate and the spontaneous creative process
Part 2
Training Your Creative Brain 71
5 Opening the Mind: Accessing the Absorb Brainset 73
Access externally and internally generated information with an uncritical eye
6 Imagining the Possibilities: Accessing the Envision Brainset 103
Use the power of mental imagery to construct creative ideas
7 Thinking Divergently: Accessing the Connect Brainset 123
Associate novel information to produce a multitude of ideas
8 Shaping the Creative Idea: Accessing the Reason Brainset 155
Consciously work through a creative "problem"
9 Recognizing Useful Ideas: Accessing the Evaluate Brainset 181
Evaluate creative ideas for appropriateness
10 Using Emotion Creatively: Accessing the Transform Brainset 207
Put your negative emotions to work for you
11 Performing Creatively: Accessing the Stream Brainset 233
Practice skill-appropriate improvisation
Part 3
Putting the CREATES Strategies to Work 257
12 Flexing Your Creative Brain 259
Exercises for switching between brainsets to enhance cognitive flexibility
13 Applying the Brainsets to Real-World Creativity 279
Tips for using the brainsets in all stages of the creative process
Appendixes 293
1 How to Score the CREATES Brainsets Assessment 293
2 The Token Economy System 305
3 The Daily Activities Calendar 309
Notes 311
References 339
About the Author 357
About Harvard Medical School 358
Index 359
See More
Shelley Carson, Ph.D., teaches, conducts research, and publishes on the topics of creativity, psychopathology, and resilience at Harvard University. Her work has been featured on the Discovery Channel, CNN, and NPR, and she has won multiple teaching awards for her popular course Creativity: Madmen, Geniuses, and Harvard Students.
See More