Getting Started in Property Investment For Dummies - Australia, Australian Edition
ISBN: 978-1-118-39674-2
200 pages
April 2014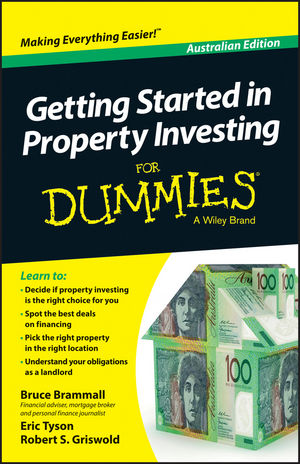 Earn extra money investing in Australian property? Easy.
Whether you want to prepare for retirement or just make a little extra money on the side, Getting Started in Property Investing For Dummies, Australian Edition, is the perfect way to take advantage of one of the most reliable and profitable investment vehicles in history. From weighing up your investing and financing options to managing the ongoing costs of real estate and building a long-term portfolio, this handy guide gives you the practical help and smart advice you need to get started. Ideal for entry-level investors who want to add brick-and-mortar assets to their investment portfolios, this book covers where to find capital, how to finance purchases and get the best mortgage terms, how to measure the value of properties, basic landlording guidance, and more.
Offers practical property investing guidance for first-timers
Completely up-to-date with the latest information on the current state of Australian real estate
Bruce Brammall writes on property investing, personal finance and tax matters for the Herald Sun, the Eureka Report and News Limited's Your Money, and is the principal advisor and mortgage broker with Castellan Financial Consulting and Castellan Lending
If you want to get started in real estate investing—as a full-time endeavor or just an addition to your current investment portfolio—Getting Started in Property Investing For Dummies, Australian Edition has you covered.
See More
Introduction  1
Part I: Understanding Real Estate as an Investment  5
Chapter 1: Stacking Up Real Estate Against Other Investments 7
Chapter 2: Covering the Landscape of Common Real Estate Investments 23
Part II: Financing: Raising Capital and Sourcing Loans  41
Chapter 3: Sources of Capital 43
Chapter 4: Financing Your Property Purchases 61
Chapter 5: Shopping for and Securing the Best Mortgage Terms 77
Part III: Finding and Operating Properties  95
Chapter 6: Location, Location, Value 97
Chapter 7: The Ongoing Costs of Real Estate 111
Chapter 8: Landlording 101 125
Chapter 9: Building a Portfolio 149
Part IV: The Part of Tens 167
Chapter 10: Ten Ways to Increase a Property's Return 169
Index 179
See More
Bruce Brammall is a licensed financial adviser and mortgage broker, personal finance journalist, best-selling author and successful property investor. Eric Tyson and Robert S. Griswold are independently successful investors.
See More