Textbook
Understanding and Changing Your Management Style: Assessments and Tools for Self-Development, 2nd Edition
ISBN: 978-1-118-39946-0
352 pages
July 2013, ©2013, Jossey-Bass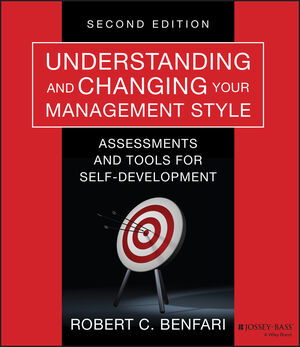 An update of the classic book that reveals the 6 keys to successful management
In this new edition of his best-selling book, Robert Benfari explains that the best mangers are not born that way but share a mix of characteristics that can be analyzed, understood, and most importantly changed. He identifies the six characteristics of successful managers (Psychological Type; Needs/Motivation; Use of Power; Conflict Style; Our Basic Values; and Our Reaction to Stress) and uses these building blocks to show how anyone can use personality-specific strategies for resolving conflicts, solving problems, managing stress, handling difficult situations at work, and positively influencing others.
Includes a proven pathway for becoming an effective manager
Contains new information on management style and leadership, human nature and neuroscience, and the dark side of management
Includes a self-assessment for each of the six building blocks to successful management
This research-based book offers the tools leaders need to improve their management style and succeed in the workplace.
See More
Preface v
About the Author vii
Introduction: What Leaders and Managers Need to Know About Human Nature 1
1 Assumptions, Perceptions, and Feelings: How They Influence Performance 17
Pre–Chapter 2 Activity: What Is My Psychological Type? 51
2 Psychological Type: A Cognitive Approach 63
Pre–Chapter 3 Activity: What Are My Needs? 115
3 Needs: Our Pathways to Competence 125
Pre–Chapter 4 Activity: What Are My Power Bases? 145
4 The Bases of Power: The Uses and Abuses of Influence 153
Pre–Chapter 5 Activity: What Is My Conflict Style? 181
5 Conflict: Getting to Resolution 193
6 Values: Our Compass in Life 223
Pre–Chapter 7 Activity: What Is My Stress Quotient? 243
7 Stress: Responding to Pressure 255
8 Management Scenarios 289
9 Integration of the Building Blocks 317
Bibliography 331
Index 337
See More
Robert C. Benfari, AB, MBA, PhD, MSPH, is a multidiscipline behavioral scientist who has spent most of his career in teaching, research, and practice as a professor at the Harvard School of Public Health and the Division of Continuing Education. Benfari also consults to industry and government and conducts workshops on developing one's management style.
See More
More in this series
Learn more about