J.K. Lasser's Your Income Tax 2013, Professional Edition
ISBN: 978-1-118-40521-5
1024 pages
December 2012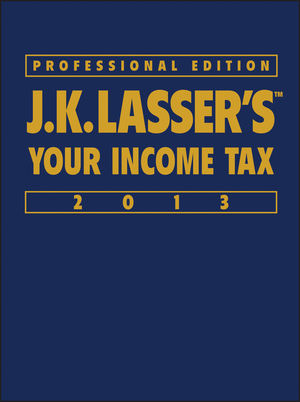 America's number one tax guide for professionals
J.K. Lasser's Your Income Tax, Professional Edition 2013 is an essential guide for tax professionals. Filled with easy-to-use tax planning tips and strategies, this comprehensive guide arms you with the information needed to maximize your clients' tax savings. Completely updated with all the latest tax law changes, this guide makes preparing 2012 tax returns easier than ever.
Provides professionals with the latest, most-up-to-date tax information
Completely annotated to steer professionals to the case law and revenue rulings behind each section in the book
Contains extended guidance for tax professionals, which leads to corresponding IRS code sections, regulations, and case law that supports the material covered
Filled with the classic tax guidance that only J.K. Lasser can provide, this Professional Edition is the book of choice for serious tax professionals, from CPAs to financial advisors.
See More
What's New for 2012 xxv
Key Tax Numbers for 2012 xxviii
Looking Ahead to 2013 xxxi
PART 1 FILING BASICS 1
Do You Have to File a 2012 Tax Return? 3
Filing Tests for Dependents: 2012 Returns 4
Where to File 5
Filing Deadlines (on or before) 6
Choosing Which Tax Form to File 8
1 Filing Status 9
PART 2 REPORTING YOUR INCOME 31
2. Wages, Salary, and Other Compensation 33
3 Fringe Benefits 50
4 Dividend and Interest Income 72
5 Reporting Property Sales 97
6 Tax-Free Exchanges of Property 139
7 Retirement and Annuity Income 154
8 IRAs 188
9 Income From Real Estate Rentals and Royalties 228
10 Loss Restrictions: Passive Activities and At-Risk Limits 245
11 Other Income 273
PART 3 CLAIMING DEDUCTIONS 295
12 Deductions Allowed in Figuring Adjusted Gross Income 297
13 Claiming the Standard Deduction or Itemized Deductions 306
14 Charitable Contribution Deductions 313
15 Itemized Deduction for Interest Expenses 337
16 Deductions for Taxes 353
17 Medical and Dental Expense Deductions 360
18 Casualty and Theft Losses and Involuntary Conversions 378
19 Deducting Job Costs and Other Miscellaneous Expenses 402
20 Travel and Entertainment Expense Deductions 416
21 Personal Exemptions 442
PART 4 PERSONAL TAX COMPUTATIONS 455
22 Figuring Your Regular Income Tax Liability 457
23 Alternative Minimum Tax (AMT) 461
24 Computing the "Kiddie Tax" on Your Child's Investment Income 469
25 Personal Tax Credits Reduce Your Tax Liability 475
26 Tax Withholdings 491
27 Estimated Tax Payments 498
PART 5 TAX PLANNING 505
28 Tax Planning Overview 507
29 Tax Savings for Residence Sales 511
30 Tax Rules for Investors in Securities 526
31 Tax Savings for Investors in Real Estate 544
32 Tax Rules for Investors in Mutual Funds 557
33 Educational Tax Benefits 565
34 Special Tax Rules for Senior Citizens 583
35 Members of the Armed Forces 592
36 How To Treat Foreign Earned Income 600
37 Planning Alimony and Marital Settlements 611
38 Household Employment Taxes ("Nanny Tax") 618
39 Gift and Estate Tax Planning Basics 623
PART 6 BUSINESS TAX PLANNING 631
40 Income or Loss From Your Business or Profession 633
41 Retirement and Medical Plans for Self-Employed 660
42 Claiming Depreciation Deductions 670
43 Deducting Car and Truck Expenses 688
44 Sales of Business Property 702
45 Figuring Self-Employment Tax 708
PART 7 FILING YOUR RETURN AND WHAT HAPPENS AFTER YOU FILE 717
46 Filing Your Return 719
47 Filing Refund Claims, and Amended Returns 731
48 If the IRS Examines Your Return 735
PART 8 2012 TAX TABLE & EIC TABLE 747
2012 Tax Table 748
2012 Earned Income Credit Table (EIC) 766
PART 9 TAX LAW AUTHORITIES 785
Legislative Authorities
Internal Revenue Code 787
Congressional Committee Reports 787
Administrative Authorities
Treasury Regulations 787
Revenue Rulings 787
Other IRS Rulings and Releases 788
Judicial Authorities
Court Decisions 788
U.S. Tax Court 788
Federal District Court 789
U.S. Court of Federal Claims 789
Court of Appeals Decisions 789
Supreme Court Decisions 790
States Within Court of Appeals Regions 790
PART 10 CITATIONS OF AUTHORITY 791
Key to Citations 793
Filing Basics 794
Citations to tax content for Parts 1–7 795
PART 11 PRACTICE BEFORE THE IRS 919
How Returns Are Examined 921
Audit Rules for Partnerships 928
The Time Limits Within Which the IRS Must Act for Additional Taxes 928
Filing Refund Claims 934
How To Arrange Closing Agreements and Compromises 938
How To Get the IRS's Opinion on a Tax Problem 939
Who May Practice Before the IRS 945
Tax Return Preparer Penalties 950
GLOSSARY 955
INDEX 961
See More
J.K. Lasser Institute has been the premier publisher of consumer tax guides since 1939, when Jacob Kay Lasser first published Your Income Tax. Since then, the guide has been published continuously for over sixty years and read by over 39,000,000 people. The J.K. Lasser Institute also publishes several personal finance books, including Small Business Taxes, Home Owner's Tax Breaks, 1001 Deductions and Tax Breaks, Year-Round Tax Planning, and more. J.K. Lasser Institute spokespeople are regularly sought after as media tax experts. They regularly appear on such broadcast programs as CNBC, CNN, and Bloomberg TV. They are also often featured in numerous periodicals, including The Wall Street Journal, USA Today, Self Magazine, The New York Times, Newsweek and Reader's Digest.
See More