Binary Options: Strategies for Directional and Volatility Trading
ISBN: 978-1-118-40724-0
288 pages
December 2012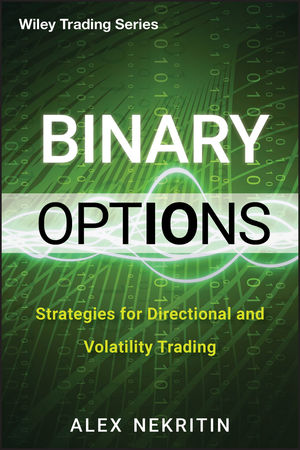 The first comprehensive guide to trading a unique class of options to manage risk and make smarter bets during volatile trading
Providing savvy market players with a way to react quickly to event-driven opportunities and trends, exchange traded binary options are a unique type of derivative instrument offering fixed risk and reward. Available on four asset classes—stock index futures, commodity futures, Spot Forex and economic data releases—they are distinctly different from regular put/call options in that their pay-out structure offers only two potential outcomes, or settlement values: 0 or 100. The first guide focussing exclusively on this fast-growing sector of the options market, Trading Binary Options examines the key differences between regular options trading and binary options trading and describes how binary trading is done. It also gives you the lowdown on the most successful binary trading strategies and how and when they should be deployed.
Outlines a rigorous approach to trading directionally around specific events, such as an earnings release, a shift in currencies, or a release of economic data
Provides the first comprehensive coverage of an increasingly popular but poorly understood trading instrument
Offers in-depth discussions of the six characteristics that distinguish binaries from other options and that make them such an attractive vehicle for hedging risk and improving returns
See More
Foreword xi
Preface xiii
acknowledgments xvii
Part I Introduction to Binary Options 1
Chapter 1 What are Binary Options? 3
On What Asset Classes Are Binary Options Available? 3
Binary Options vs. CBOE (Vanilla) Put/Call Options 10
Advantages/Disadvantages of Binary Options 13
Reasons to Trade Binary Options 14
Part II Binary Options theory 17
Chapter 2 What Does Binary Mean? 19
Components to a Binary Option 20
Long Trading 22
Short Trading 24
Chapter 3 Pricing 29
Strike Price 29
Time Value 30
Price as a Natural Market Consensus 32
Reading a Binary Option Chain 35
Part III Trading Binary Options 41
Chapter 4 Binary Options Contract Collateral 43
Margin and Debit Risk of Vanilla Options and Futures 43
Collateral Explained 44
Binary Options Expiration Values 44
Collateralizing a Long Trade 45
Collateralizing a Short Binary Options Trade 50
The Mechanics of a Binary Options Short Trade 50
Chapter 5 Settlement 59
Settlement on Binary Option Long Trades 59
Commissions and Fees 73
Chapter 6 Entering and Exiting Binary Option Trades 75
Reading Quotes 75
Reading an Order Ticket 76
Exiting Trades 78
Exiting Your Trade before Expiration 81
Chapter 7 Keys to Trading Binary Options and More Examples 95
Gold Binary Examples 96
Copper Binary Examples 99
Part IV Binary Options Trading Strategies 105
Chapter 8 Volatility Trading Explained 107
Taking a Volatility Long Position (Buying Volatility) 108
Regulating Success Probability and Payout with Strike Prices 111
Taking a Volatility Short Position (Selling Volatility) 113
Regulating Range and Payout with Strike Prices 116
Max Loss, Collateral, and Max Profit Summary Table 120
Chapter 9 Binary Option Behavior as Expiration Approaches 123
Understanding Delta 123
Delta and Price 127
Chapter 10 Technical Trading Strategies with Binary Options 129
Support and Resistance 130
Breakout Trading 135
Chapter 11 Fundamental Trading Strategies with Binary Options 139
News Releases 139
Political Events 144
Speculating on Actual News Releases 147
Economic Data Releases that You Can Speculate On 149
Part V Creating Your Binary Options Strategy 153
Chapter 12 Systems with Binary Options 155
Finding Your Edge 155
Proper Trading System Development 156
Back-Testing Binary Options Strategies 158
Three Back-Testing Rules 162
Chapter 13 Negative Emotions 165
Greed and Fear 166
How to Handle Negative Emotions 166
Find the Right System for You 168
Practical Steps to Mitigate the Negative Emotions 175
Chapter 14 Risk Management 183
The Process 184
Determining Position Size 185
Risk Management on Option Spreads 190
Relationship between Position Size and Trading Psychology 199
Handling Unexpected Market Volatility 199
Benefits of Binary Options on Trading Psychology 202
Discipline of Expiration 206
Part VI Managing Your Binary Options Account 209
Chapter 15 Proactive System Improvement 211
System Cutoffs 212
Drawdown 212
Consecutive Losing Trades 215
Reinvestment Rate 216
Diversification and Account Distribution 220
Intersystem Diversification 220
Account Breakdown 221
Part VII Profiting with Volatility 223
Chapter 16 The Volatility Short Trading Rules 225
Premium Collection 226
Rule 1: Cut Off Your Losing Trades 231
Rule 2: Collect Enough Premium 234
Rule 3: Sell Far Enough Away from Market Price 240
Rule 4: Use Underlying Instruments that Revert to the Mean 242
Rule 5: Sell Options with Proper Duration until Expiration 244
Rule 6: Perform Additional Analysis in Order to Get a Feel for Market Direction 246
Rule 7: Attempt to Make Your Market 255
Conclusion 256
Glossary 259
Index 263
See More
Alex Nekritin is CEO and President of TradersChoiceFX, TradersChoiceOptions, and TCForex, one of the largest introductory brokers in the world. Mr. Nekritin has been trading in equities, options, futures, and Forex very successfully for more than a decade. He holds a degree in finance with a concentration in derivative instruments from Babson College in Wellesley, Massachusetts. Alex's work has been featured online at FXStreet.com and TradingMarkets.com.
See More
More in this series
Learn more about