E-book
The Garage Sale Millionaire: Make Money with Hidden Finds from Garage Sales to Storage Unit Auctions and Everything in Between, Revised and Updated
ISBN: 978-1-118-40800-1
May 2012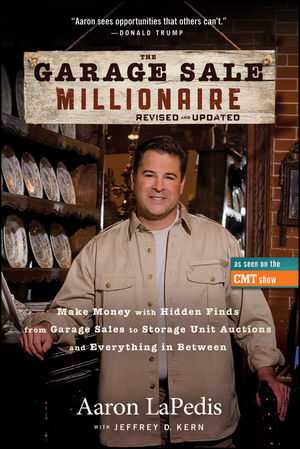 The get rich guide to garage sale foraging and urban treasure hunting
Garage sales, thrifts stores, and storage unit auctions can be gold mines for those who know what they're looking for, and The Garage Sale Millionaire gives readers everything they need to dig deep and win big. Written by two expert collectors with more than sixty years of combined experience, the book is packed with need-to-know information and insider tips that would-be treasure hunters can use to track down hard to find lost treasures, hidden gems, and coveted collectible items which, upon resale, can yield a fortune.
Giving even the most inexperienced collector the skills and expertise to buy, value, and sell their way to success, the book shows how anyone can turn garage sale garbage into cash. Newly revised and updated, The Garage Sale Millionaire also explains how to get the most bang for your buck when reselling—by holding the greatest garage sale ever.
Presents exclusive insider tips on how to track down hidden treasures
Reveals the best ways to resell at profit
Explains how to use eBay & Craigslist for profit
Includes an in-depth glossary on collecting for on-the-go advice
Explains how to make money at storage unit auctions & thrift stores
Essential reading for anyone interested in collecting, bargain hunting, or just making some money, The Garage Sale Millionaire will change the way you see garage sales forever.
See More
Foreword vii
Preface ix
Acknowledgments xii
Chapter 1 Your Garage Sale Millionaire Journey Begins Now! 1
Chapter 2 To Buy or Not to Buy: The First Big Question Answered 11
Chapter 3 Negotiating Like a Pro 45
Chapter 4 Fakes, Replicas and Restorations: How Not to Get "Taken" 63
Chapter 5 Launching Your Own Treasure Hunt 79
Chapter 6 eBay: Virtually Limitless Potential to Buy and Sell Collectibles for Great Money 107
Chapter 7 How to Assign a Value to Your New Treasures 137
Chapter 8 Putting on the World's Greatest Garage Sale 161
Conclusion 185
Glossary of Terms 187
About the Authors 241
See More
Aaron LaPedis is considered one of the world's great collectors and treasure hunters. A gallery owner with an interest in fine art and memorabilia, LaPedis is an expert consultant for the FBI. He was the host of PBS's seven-year, top-rated show in Denver, Colorado, Collect This! LaPedis has been interviewed for television and radio as well as having been featured in several books, newspapers and magazines. He was just recently featured on the Discovery Channel's What's America Worth, hosted by Donald Trump.
Jeffrey D. Kern is an award- winning author with a lifelong passion for treasure hunting. He has held the position of senior associate editor for Widescreen Review magazine, a national monthly home theater magazine and, in addition to coauthoring The Garage Sale Millionaire, has written on subjects including consumer electronics, home theater, computers and travel.
See More