Selling with Noble Purpose: How to Drive Revenue and Do Work That Makes You Proud
ISBN: 978-1-118-40809-4
Hardcover
231 pages
November 2012
US $22.95

Add to Cart
This price is valid for United States. Change location to view local pricing and availability.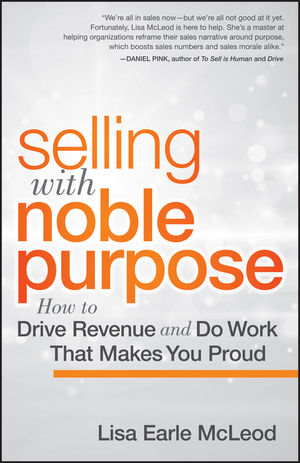 Other Available Formats:
E-book
January 11, 2013
3 Tips for Driving Revenue As the Economy Grows
Connect with Wiley Publicity
Research reveals that when business leaders overemphasize profit, it erodes employee morale and drives customers away. Sales leadership expert Lisa Earle McLeod says, "The fatal mistake most business leaders make is that when they talk to their employees, the conversation is focused on quotas and money, when they should be talking about customers." McLeod says, "One need look no further than the car-buying experience to see what happens when managers overemphasize money at the expense of helping customers. Most people hate buying a car."
Fatal mistake - If you treat your customers like a number, they'll return the favor.
Compare the car-buying experience to the Apple store, and it's obvious why employees who focus on customers drive explosive sales. Entrepreneurs who want to capture their share of the growing economy need to avoid the myopic money trap. The key, says McLeod, "is to shift the focus from profit to purpose."
McLeod's three tips for driving more revenue:
1. Identify your purpose
How does your business improve life for your customers? McLeod says, "If your employees believe that the sole purpose of your business is profit, they will be uninspired and unmotivated. They'll also be more likely to jump ship or steal." Exhibit A: Walmart.
But when your employees know that your true purpose is to improve life for customers, they become more engaged. They care more, they're more creative, and they work harder. McLeod's research - 10,000 hours in the field with organizations like Apple, Kimberly-Clark and Pfizer - revealed that purpose driven-employees drive more revenue than quota-driven employees.
2. Do a purpose pipeline plan
Identify 25 new customers you want to go after. Write down their name, a volume target AND exactly how you are going to improve their life or business. Make it a priority to call 5 of them a day. Before every phone call think: "I am calling because I want to help you." McLeod says , "Research shows that 93% of a customer's response is based on your tone and intent. Customers can tell the difference between someone who cares about them, and someone who only cares about closing the deal." Focus yourself and your employees on making a difference to customers and you will actually increase your close rate.
3. Share customer's stories at every meeting
Most meetings are a boring review spread sheets. When you share stories about how you made a difference to real live customers, it helps your employees connect your company goals to the people they serve.
McLeod says, "One of our clients puts up pictures of their customers. It reminds the staff, these aren't just phone calls, they're real live people that we need to help." McLeod reports, "It's ironic. After 10,000 hours of research the results are clear: When you overemphasize money you make less of it. But when your purpose is to serve customers, you drive more revenue."
Customers have a choice in this economy. You can be the one they chose if you make a point to focus on them.