E-book
The CIO Playbook: Strategies and Best Practices for IT Leaders to Deliver Value
ISBN: 978-1-118-41118-6
240 pages
June 2012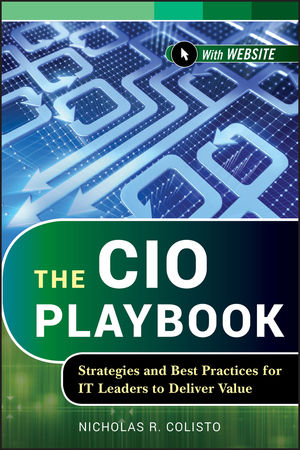 As our economy shifts from recession to recovery, our current economic climate is ripe for transformation. CIOs are in a unique position to leverage technology in order to drive innovation and boost business growth.
The CIO Playbook is the handy desk reference for CIOs, CEOs, CFOs, and up and coming leaders, revealing a dynamic seven-step framework (Partner – Organize – Innovate – Deliver – Support – Protect – Grow) that will guide you in making essential changes to your organization.
The proven strategies, tools, and techniques in The CIO Playbook make it the ultimate "how-to" resource for creating a high-performance IT organization that delivers value-added products and services to employees, customers, and shareholders. Author Nicholas Colisto provides solutions to the issues that concern business leaders and IT practitioners, including:
How to truly partner with business peers
Delivering high-quality products and services that are embraced by your user community
How to ensure your team is focused on the right innovations
Measuring performance and running your department like a business
Ways to attract, motivate, and retain a talented team working toward a common vision
Managing risks to operate effectively and protect corporate reputation
Featuring online templates for each of the seven steps described in the book, The CIO Playbook can help you transform your IT department from a mere order taker to a high-performance organization that delivers extraordinary business outcomes, despite this era of turbulent economic challenges.
See More
Preface xi
Acknowledgments xv
Chapter 1: Step 1: Partner 1
Partnership versus Alignment 2
Build Business Partnerships 2
Develop an IT Strategic Plan 9
Different Approaches to Strategic Planning 20
Cloud Computing Is Changing the Role of IT 24
Chapter 2: Step 2: Organize 31
Brand Your Department 32
Define an IT Organizational Model 33
Define a Project Methodology 35
Manage the Software Selection Process 37
Maintain a Portfolio of Products and Services 41
PPM Software 44
Understand Your Capacity 44
Create IT Policies 45
Manage the Technology Partners 46
Benchmark IT 50
Chapter 3: Step 3: Innovate 55
Turn Ideas into Action 56
Create a Governance Framework 56
Demonstrate the Possibilities 63
Think Big 65
Develop Business Cases 68
Package Innovation 70
Go Green 74
Chapter 4: Step 4: Deliver 77
Why System Implementations Fail 78
Develop a High-Performance Team 79
Develop a Team-Building Program 80
Discover Organizational Readiness 86
Develop and Implement 94
Get Insanely Motivated 96
Just Say No 97
Manage Transitions 98
Measure Benefits 99
Communicate IT Value 103
Create a Communication Program 104
Go Global with Infrastructure 120
Choose the Right Number of Instances 121
Chapter 5: Step 5: Support 125
Create Service Level Agreements 126
Determine an Approach to IT Charge-Backs 135
Manage Operational Performance 136
Develop a Super User Program 137
Encourage Feedback 142
Standardize Communications 147
Build a Shared Service Center 149
Chapter 6: Step 6: Protect 153
Define Risk Management Goals 154
Be Transparent with Risk Management 155
Safeguard Cloud Computing 156
Safeguard Mobility 159
Safeguard Social Media 162
Chapter 7: Step 7: Grow 165
Standardize Job Descriptions 166
Develop a Role-Based Training Program 169
Rotate Your Staff 174
Retain Critical Skills 180
Cultivate High Potential 184
Recruit the Best 189
Foster Teamwork through Community Service 193
Recognize and Reward Employees 194
Build Your Personal Brand 196
Prepare Yourself for the New Workforce 196
Conclusion: 199
Touchdown Passes 199
Use Governance to Avoid Chaos 200
Show People How They Fit In 200
Just Say No 200
Don't Be Afraid to Take Risks 201
Manage Operational Performance 201
Use Meetings to Drive Deliverables 201
Build Awesome Teams 202
Bibliography 205
About the Author 211
About the Website 213
Index 215
See More
NICHOLAS R. COLISTO is Vice President and Chief Information Officer at Hovnanian Enterprises, Inc., a large national homebuilder. Prior to joining Hovnanian, he held key information technology leadership positions at large organizations including PepsiCo, Priceline.com, Hyperion Solutions, Boehringer Ingelheim, and Bayer Corporation. He is the recipient of several industry awards, including the 2011 Computerworld Premier 100 IT Leaders.
See More