E-book
Freemasons For Dummies, 2nd Edition
ISBN: 978-1-118-41210-7
384 pages
January 2013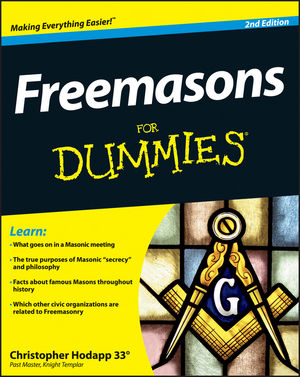 Take the mystery out of the Freemasons
Fascinated by Freemasons? Freemasons For Dummies is the internationally bestselling introduction to the Masons, the oldest and largest "secret society" in the world. This balanced, eye-opening guide demystifies Freemasonry, explaining everything from its elaborate rituals and cryptic rites, to its curious symbols and their meanings.
With new and improved content, including updated examples and references throughout, this new edition of Freemasons For Dummies provides the most straightforward, non-intimidating guide to the subject on the market.
Updated expert coverage of the basic beliefs and philosophy behind Freemasonry
Revised information on the history of the society, including updates concerning its founding, famous historical members, and pivotal events
New coverage devoted to the recent influx of younger membership
The latest and ongoing controversies and myths surrounding Freemasonry
The role of women in a Masonic organization, including opportunities for women to participate in Freemasonry
The effects cultural and political changes and worldwide events are having on the organization
If you're intrigued by the mystery that surrounds the Masons, get ready to learn the facts about this ancient order in Freemasons For Dummies.
See More
Introduction 1
Part I: What Is Freemasonry? 9
Chapter 1: Lodges, Aprons, and Funny Handshakes: Freemasonry 101 11
Chapter 2: From Cathedrals to Lodge Rooms: A History of the Freemasons 21
Chapter 3: The Philosophy of Freemasonry 55
Chapter 4: Politics, Religion, and Freemasons: They Don't Mix 63
Part II: The Inner Workings of Freemasonry 89
Chapter 5: How the Freemasons Are Organized: Who Does What and Why 91
Chapter 6: The Ceremonies of Freemasons 115
Chapter 7: The Symbols of Freemasonry 129
Chapter 8: Myths and Misconceptions about Masons 151
Part III: When One Lodge Isn't Enough: The Appendant Bodies 163
Chapter 9: Introducing the Appendant Bodies: Who's Who, and Who Isn't 165
Chapter 10: The York Rite 181
Chapter 11: The Ancient Accepted Scottish Rite 203
Chapter 12: Shriners International 221
Chapter 13: The Extended Masonic Family 231
Part IV: Freemasonry Today and Tomorrow 249
Chapter 14: So Is It Still Relevant? 251
Chapter 15: Freemasons and the Future 259
Chapter 16: So You Want to Become a Freemason 267
Part V: The Part of Tens 279
Chapter 17: Ten Groups of Famous Masons 281
Chapter 18: Ten Amazing Conspiracies, Anti-Masons, and Hoaxes 289
Chapter 19: Ten Cool Masonic Places 301
Part VI: Appendixes 305
Appendix A: The Regius Manuscript 307
Appendix B: Anderson's Constitutions 329
Appendix C: Finding a Lodge 335
Index 347
See More
Christopher Hodapp has been an active Freemason and board member in his home state of Indiana for many years and holds memberships in several national Masonic organizations. He has written numerous articles and has contributed to several documentaries about Masonry. He is editor of the Journal of the Masonic Society and has authored and co-authored several books on the topic including The Templar Code For Dummies and Conspiracy Theories & Secret Societies For Dummies.
See More