E-book
Diabetes For Dummies, 4th Edition
ISBN: 978-1-118-41231-2
408 pages
August 2012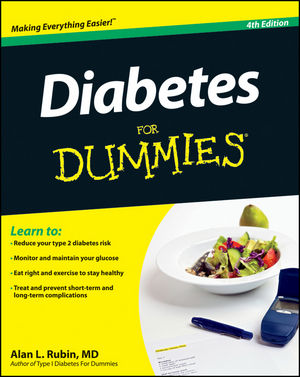 The straight facts on treating diabetes successfully
With diabetes now considered pandemic throughout the world, there have been an enormous advances in the field since the last edition of Diabetes For Dummies. Now significantly revised and updated, it includes the latest information on medications and monitoring equipment, updated diet and exercise plans, new findings about treating diabetes in the young and elderly, new ways to diagnose and treat long- and short-term complications, and more.
Want to know how to manage diabetes? Trusted diabetes expert Dr. Alan Rubin gives you reassuring, authoritative guidance on putting together a state-of-the-art treatment program to treat diabetes successfully and live a full life. You'll learn about all the advances in monitoring glucose, the latest medications, and how to develop a diet and exercise plan to stay healthy.
New information on the psychology of diabetes and its treatment
New ways to diagnose and treat both short- and long-term complications of diabetes
The latest information about diabetes medications and testing devices
Updated diet and exercise plans
Expanded coverage about type 2 diabetes in children and new findings about how diabetes affects the elderly
Diabetes For Dummies is for the millions of Diabetics (and their loved ones) throughout the United States who are in search of a resource to help them manage this disease.
See More
Introduction  1
Part I: Dealing with the Onset of Diabetes  7
Chapter 1: Dealing with Diabetes 9
Chapter 2: It's the Glucose and the Hemoglobin A1c 19
Chapter 3: Defi ning the Various Types of Diabetes 31
Part II: How Diabetes Affects Your Body  49
Chapter 4: Battling Short-Term Complications 51
Chapter 5: Preventing Long-Term Complications 65
Chapter 6: Diabetes, Sexual Function, and Pregnancy 99
Part III: Managing Diabetes: The "Thriving with Diabetes" Lifestyle Plan  117
Chapter 7: Glucose Monitoring and Other Tests 119
Chapter 8: Diabetes Diet Plan 151
Chapter 9: Keep It Moving: Creating Your Exercise Plan 175
Chapter 10: Medications: What You Should Know 195
Chapter 11: Diabetes Is Your Show 227
Chapter 12: Putting Your Knowledge to Work for You 237
Part IV: Special Considerations for Living with Diabetes  243
Chapter 13: Your Child Has Diabetes 245
Chapter 14: Diabetes and the Elderly 261
Chapter 15: Occupational and Insurance Problems 269
Chapter 16: What's New in Diabetes Care 281
Chapter 17: What Doesn't Work When You Treat Diabetes 289
Part V: The Part of Tens  299
Chapter 18: Ten Ways to Prevent or Reverse the Effects of Diabetes 301
Chapter 19: Ten (Or So) Myths about Diabetes That You Can Forget 307
Chapter 20: Ten Ways to Get Others to Help You 313
Part VI: Appendixes  319
Appendix A: Dr W W Web 321
Appendix B: Glossary 331
Appendix C: Mini-Cookbook 339
Index  369
See More
Alan L. Rubin, MD, is one of the nation's foremost authorities on diabetes. He is the author of Type 1 Diabetes For Dummies, Diabetes Cookbook For Dummies, and Prediabetes For Dummies.
See More