E-book
Cirrhosis: A Practical Guide to Management
ISBN: 978-1-118-41267-1
352 pages
January 2015, Wiley-Blackwell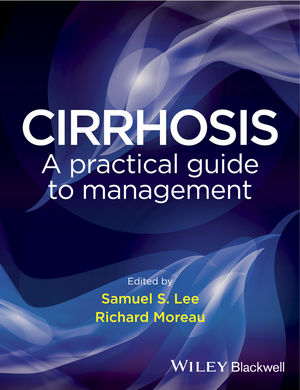 Cirrhosis: a practical guide to management provides gastroenterologists and hepatologists with an up-to-date clinical guide presenting the very best evidence-based practice in the diagnosis, treatment and management of liver cirrhosis and its many complications.  Designed to offer practical guidance at all times, it provides doctors with an extremely useful tool in the clinical setting, with each chapter featuring diagnostic/management algorithms, key points and other pedagogic features.

Divided into 2 parts, a diagnosis and pathophysiology section and a management of complications section, key topics include:

- Diagnostic laboratory tests
- Diagnostic imaging modalities
- Acute-on chronic liver failure
- Agents and drugs to avoid
- End stage liver failure: liver transplant evaluation
- Hepatocellular carcinoma

Aimed at the specialist, as well as the practicing trainee at the top-end of specialty training, the emphasis throughout is on providing optimum clinical management guidance most relevant to practicing hepatologists and gastroenterologists, and is an invaluable guide to this increasingly common condition.
See More
List of contributors vii
Foreword xi
List of abbreviations xiii
Part 1: Diagnosis and pathophysiology
1 Clinical clues to the diagnosis of cirrhosis 3
Y.K. Chawla and Vijay Bodh
2 Diagnostic laboratory tests 12
Ying-Ying Yang and Han-Chieh Lin
3 Diagnostic imaging modalities 21
Soon Koo Baik Moon Young Kim and Woo Kyoung Jeong
4 Histology/pathology 35
Valérie Paradis
5 Fibrosis and fibrogenesis 46
Namiki Izumi Nobuharu Tamaki Yasuhiro Asahina and Masayuki Kurosaki
6 Non-invasive diagnosis tests 53
Laurent Castera
7 Evaluating prognosis 63
Sumeet K. Asrani and Patrick S. Kamath
8 End-stage liver failure: liver transplant evaluation 75
Sebastián Marciano and Adrián Gadano
Part 2: Complications of cirrhosis
9 Acute-on-chronic liver failure 87
Danielle Adebayo Vincenzo Morabito and Rajiv Jalan
10 Hepatocellular carcinoma 94
Kwang-Hyub Han and Do Young Kim
11 Hepatic encephalopathy 105
Piero Amodio
12 Malnutrition and nutritional support 124
Jian-Gao Fan and Hai-Xia Cao
13 Varices portal hypertensive gastropathy and GAVE 137
Isabelle Colle Xavier Verhelst Anja Geerts and Hans Van Vlierberghe
14 Ascites 151
Andrés Cárdenas Isabel Graupera and Pere Ginès
15 Spontaneous bacterial peritonitis and other infections 164
Thierry Gustot and Richard Moreau
16 Hepatorenal syndrome and acute kidney injury 175
Florence Wong
17 The hepatopulmonary syndrome 189
Moises Ilan Nevah Rubin and Michael B. Fallon
18 Hyponatremia and other electrolyte/ion disorders 199
Salvatore Piano Filippo Morando and Paolo Angeli
19 Portopulmonary hypertension 212
Rodrigo Cartin-Ceba and Michael J. Krowka
20 Cirrhotic cardiomyopathy 225
Hongqun Liu and Samuel S. Lee
21 Adrenal insufficiency 236
Emily Dannhorn and James O'Beirne
22 Coagulopathy and clotting disorders 249
Marco Senzolo and A.K. Burroughs
23 Agents and drugs: precautions in patients with cirrhosis 261
Felix Stickel
24 Changing outcomes with antiviral or antifibrotic therapies 274
Gamal Esmat and Maissa El Raziky
25 Bone disorders 283
Jane Collier
26 Pruritus 291
Nora V. Bergasa
27 Quality of life and symptom management 301
Ayman A. Abdo and Faisal M. Sanai
28 Special considerations in children 311
Alejandro Costaguta and Fernando Alvarez
Index 323
See More
Samuel S. Lee, MD, Professor, Department of Medicine and Head, Division of Gastroenterology, University of Calgary, Canada. Sam Lee is one of the world's leading lights on cirrhosis and is editor-in-chief of the Wiley journal Liver International, the official journal of the International Association for the Study of the Liver.

Richard Moreau, MD, Head and Director of Research at the National Institute of Health (Inserm), Paris, France.
See More