Starting and Managing a Nonprofit Organization: A Legal Guide, 6th Edition
ISBN: 978-1-118-41345-6
384 pages
January 2013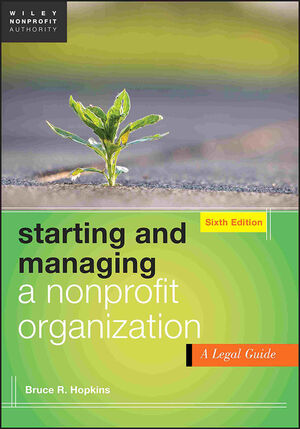 Nuts-and-bolts guidance on the laws, rules, and regulations governing the nonprofit sector—from leading nonprofit law expert, Bruce R. Hopkins
Nonprofits must comply with stringent federal and state laws due to their special tax-exempt status; the government's ultimate threat is revocation of a nonprofit's tax-exempt status, which usually means the nonprofit's demise. Written in plain English, not "legalese," Starting and Managing a Nonprofit Organization: A Legal Guide, Sixth Edition, provides essential guidance for those interested in starting nonprofits, as well as valuable advice for leaders of established organizations.
Revised and expanded to include updated information on changes in laws, rules, and regulations governing the nonprofit sector
Covers federal tax law, nonprofit, governance, the annual information return (Form 990), charitable giving rules, and current IRS ruling policy
Presents essential, practical legal information in easy-to-understand English
Explains the applications and implications of corporate, tax, and fundraising laws for nonprofits
This easy-to-read resource contains essential information on virtually every legal aspect of starting and operating a nonprofit organization from receiving and maintaining tax-exempt status to tips for successful management practices.
See More
Preface ix
Acknowledgments xiii
PART ONE STARTING A NONPROFIT ORGANIZATION 1
Chapter One: What Is a Nonprofit Organization? 3
Chapter Two: Starting a Nonprofit Organization 13
Chapter Three: Debunking Some Myths and Misperceptions 23
PART TWO BEING NONPROFIT, LEGALLY 31
Chapter Four: Nonprofit Organizations: Much More than Charity 33
Chapter Five: Nonprofits and Private Benefit 49
Chapter Six: From Nonprofit to Tax-Exempt 65
Chapter Seven: Charities: Public or Private? 79
Chapter Eight: Governance: Board Duties and Liabilities 93
Chapter Nine: Braving Annual Reporting 109
Chapter Ten: Tax Exemption: Not a Paperwork Exemption 119
Chapter Eleven: Charitable Giving Rules 129
Chapter Twelve: Government Regulation of Fundraising 147
PART THREE TAX-EXEMPT ORGANIZATIONS CAN BE TAXABLE, AND SO CAN THEIR MANAGERS 167
Chapter Thirteen: Related or Unrelated? 169
Chapter Fourteen: Lobbying Constraints—And Taxes 185
Chapter Fifteen: Political Campaign Activities—And More Taxes 197
Chapter Sixteen: Donor-Advised Funds, Tax Shelters, Insurance Schemes—And Still More Taxes 205
PART FOUR HELPFUL HINTS AND SUCCESSFUL TECHNIQUES 211
Chapter Seventeen: Subsidiaries: For-Profit and Nonprofit 213
Chapter Eighteen: Joint Venturing and Other Partnering 223
Chapter Nineteen: Wonderful World of Planned Giving 233
Chapter Twenty: Putting Ideas into Action 241
PART FIVE SIDESTEPPING TRAPS 251
Chapter Twenty-One: Watchdogs on the Prowl 253
Chapter Twenty-Two: Potpourri of Policies and Procedures 267
Chapter Twenty-Three: Commerciality, Competition, Commensurateness 283
Chapter Twenty-Four: IRS Audits of Nonprofit Organizations 293
Chapter Twenty-Five: Avoiding Personal Liability 313
PART SIX CONSTITUTIONAL LAW PERSPECTIVE 319
Chapter Twenty-Six: Nonprofit Organizations and the Constitution 321
Glossary 341
Index 353
See More
BRUCE R. HOPKINS is the country's leading authority on tax-exempt organizations and a senior partner with the law firm Polsinelli Shughart. He is the author of more than twenty-eight books, all published by Wiley, including The Law of Tax-Exempt Organizations, Tenth Edition, and the newsletter Bruce R. Hopkins' Nonprofit Counsel.
See More
Learn more about