E-book
Pairing Food and Wine For Dummies
ISBN: 978-1-118-41430-9
384 pages
December 2012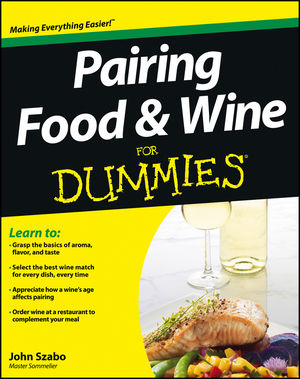 The easy way to learn to pair food with wine
Knowing the best wine to serve with food can be a real challenge, and can make or break a meal. Pairing Food and Wine For Dummies helps you understand the principles behind matching wine and food. From European to Asian, fine dining to burgers and barbeque, you'll learn strategies for knowing just what wine to choose with anything you're having for dinner.
Pairing Food and Wine For Dummies goes beyond offering a simple list of which wines to drink with which food. This helpful guide gives you access to the principles that enable you to make your own informed matches on the fly, whatever wine or food is on the table.
Gives you expert insight at the fraction of a cost of those pricey food and wine pairing courses
Helps you find the perfect match for tricky dishes, like curries and vegetarian food
Offers tips on how to hold lively food and wine tasting parties
If you're new to wine and want to get a handle on everything you need to expertly match food and wine, Pairing Food and Wine For Dummies has you covered.
See More
Introduction 1
Part I: Appreciating the Marriage of Food and Wine: The Nose Knows 7
Chapter 1: The Whole Is Greater Than the Sum of the Parts 9

Chapter 2: How People Smell, Taste, and Touch Food and Wine 19
Chapter 3: Introducing Food and Wine: A Classic Couple with Ups and Downs 37
Part II: The Nuts and Bolts: Developing Strategies for Food and Wine Pairing 47
Chapter 4: Food and Wine Pairing 101: Getting It Right (Most of the Time) 49
Chapter 5: Focusing on the Food: Flavor, Aroma, and Taste Harmony 67
Chapter 6: Considering Regional and Historical Angles for Pairing Food and Wine 85
Chapter 7: Age Isn't Just a Number: Age and Pairing Rules 93
Chapter 8: Serving Wine: Essential Strategies to Follow 103
Part III: Sorting Out the World of Wine 119
Chapter 9: Going with Dry Whites and Rosés 121
Chapter 10: Turning toward Dry Reds 131
Chapter 11: Scoping Out the Sparkling with Bubbles 141
Chapter 12: Perusing Off-Dry, Sweet, and Fortifi ed Wines 151
Part IV: Uncovering the Best Wine Bets with World Cuisine (and Cheese)  163
Chapter 13: Heading to the Mediterranean: Land of Olive Oil 165
Chapter 14: Staying Close to Home: North America Food 189
Chapter 15: Warming Up To Northern Europe: Land of Butter and Animal Fat 211
Chapter 16: Venturing to Eastern Europe: Those Lovely Light Dishes 235
Chapter 17: Bringing On the Spice: Asia 245
Chapter 18: Visiting the Land of Chiles: Mexico and South America 281
Chapter 19: Sampling the Flavors of the Middle East and North Africa 297
Chapter 20: The Classic Pairing: Wine and Cheese 309

Part V: Party Time! Pairing with Friends . . . and Professionals 317

Chapter 21: Dining Out: Finding Places That Appreciate Wine 319

Chapter 22: Dining In: Becoming the Perfect Host 333

Chapter 23: So You Want to bBe a Sommelier 341

Part VI: The part of Tens 351

Chapter 24: Ten Food-Firendly Wines 353

Chapter 25: Ten Foods That Flatter Wine 357

Index 361
See More
John Szabo is the original Canadian Master Sommelier, adding the credentials in 2004, and one of only 200 worldwide. He writes for WineAlign.com, NationalPost.com, TorontoStandard.com, Wine Access Magazine, Maclean's Magazine and Grapevine Magazine, and is wine editor for CityBites Magazine. John is also consulting wine director for the Trump Tower Toronto and Pearson International Airport.
See More