E-book
Qualitative Inquiry in Evaluation: From Theory to Practice
ISBN: 978-1-118-41525-2
336 pages
September 2014, Jossey-Bass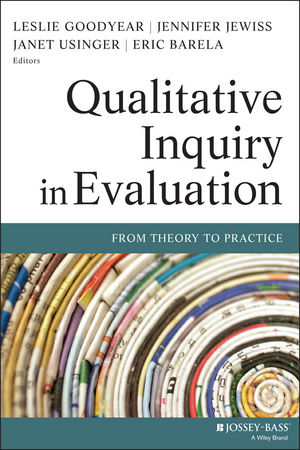 Integrate qualitative inquiry approaches and methods into the practice of evaluation
Qualitative inquiry can have a major effect on evaluation practice, and provides evaluators a means to explore and examine various settings and contexts in need of rich description and deeper understanding. Qualitative Inquiry in Evaluation: From Theory to Practice explores the most important considerations for both students and evaluation professionals. Using various evaluation theories and approaches as a springboard for real-world practice, this reference serves as an accessible text for beginning students and seasoned professionals alike. Readers are given an in-depth view of the key qualities and benefits of qualitative inquiry, which also serves as a crucial counterpart to quantitative analysis.
Chapters in part one focus on the foundations, core concepts, and intersection of evaluation theory and qualitative inquiry.
Part two contains contributions from leading evaluators whose design, implementation, and reporting strategies for qualitative inquiry are centered on common, real-world settings. These case-based chapters point to the strengths and challenges of implementing qualitative evaluations. Key competencies for conducting effective qualitative evaluations are also discussed.
Explores the role of qualitative inquiry in many prominent approaches to evaluation
Discusses the method's history and delves into key concepts in qualitative inquiry and evaluation
Helps readers understand which qualities are necessary to be an effective qualitative evaluator
Presents the viewpoints and experiences of expert editors and contributing authors with high levels of understanding on the topic
Qualitative Inquiry in Evaluation: From Theory to Practice is a vital tool for evaluators and students alike who are looking to deepen their understanding of the theoretical perspectives and practice considerations of qualitative evaluation.
See More
Figures and Tables xi
Introduction xiii
About the Editors xxi
About the Contributors xxv
Acknowledgments xxxi
PART ONE: The Intersection of Qualitative Inquiry and Evaluation Approaches 1
CHAPTER ONE: THE ORIGINS, MEANING, AND SIGNIFICANCE OF QUALITATIVE INQUIRY IN EVALUATION 3
Thomas A. Schwandt and Timothy J. Cash
The Genesis of Qualitative Evaluation 4
What Is Qualitative Evaluation? 7
Enduring Contributions 11
Conclusion 18
Key Concepts 19
Discussion Questions 19
References 20
CHAPTER TWO: QUALITATIVE INQUIRY IN UTILIZATION-FOCUSED EVALUATION 25
Michael Quinn Patton
The Focus on Evaluation Use as the Primary Evaluation Outcome 27
Basic Definitions 28
Involving Intended Users in Making Evaluation Decisions 28
Qualitative Inquiry into Evaluation Use: Emergence of the Personal Factor 30
Considerations for Incorporating Qualitative Inquiry into Utilization-Focused Evaluations 35
Particularly Appropriate Uses of Qualitative Evaluations 37
Value of Incorporating Qualitative Approaches 46
Challenges Associated with Qualitative Inquiry in Utilization-Focused Evaluations 49
Conclusion 52
Key Concepts 53
Discussion Questions 53
References 54
CHAPTER THREE: QUALITATIVE INQUIRY FOR POLICY MAKERS 55
George F. Grob
Who Are the Policy Makers and How Do They Operate? 57
Why Qualitative Analysis Is Important to Policy Makers 59
Principles for Influencing Policy Makers 60
Conclusion 73
Key Concepts 74
Discussion Questions 74
References 75
CHAPTER FOUR: QUALITATIVE INQUIRY WITHIN THEORY-DRIVEN EVALUATION: PERSPECTIVES AND FUTURE DIRECTIONS 77
Katrina L. Bledsoe
Theory-driven Evaluation: A Brief History 81
Key Elements in Theory-driven Evaluation 83
Qualitative Inquiry: An Imperative to Theory-driven Evaluation 89
Conclusion 92
Key Concepts 94
Discussion Questions 95
References 95
CHAPTER FIVE: CONCEPTUAL AND PRACTICAL INTERSECTIONS BETWEEN PARTICIPATORY EVALUATION AND QUALITATIVE INQUIRY 99
Jill Anne Chouinard and J. Bradley Cousins
Participatory Evaluation: Concepts and Principles of Practice 103
Qualitative Inquiry: A Brief Overview of Key Characteristics 107
Locating Participatory Evaluation and Qualitative Inquiry: Conceptual Intersections 109
Epistemological Intersections 110
Methodological Linkages 117
Methods 118
Practical Intersections 119
Key Benefits 128
Potential Challenges 129
Conclusion 130
Key Concepts 131
Discussion Questions 131
References 132
PART TWO: Tales from the Field of Qualitative Evaluation 139
CHAPTER SIX: WHAT DOES IT TAKE TO BE AN EFFECTIVE QUALITATIVE EVALUATOR? ESSENTIAL COMPETENCIES 141
Laurie Stevahn and Jean A. King
Competencies for Professional Practice 143
Toward Competencies for Evaluators 144
Evaluator Competency Taxonomies 145
Competencies for Qualitative Evaluators 151
Core Competency Domains 151
Commitment to the Qualitative Paradigm 154
Technical Expertise 156
The Qualitative Sixth Sense 160
Conclusion 162
Key Concepts 162
Discussion Questions 163
References 164
CHAPTER SEVEN: DEALING WITH ASYMMETRIC RELATIONS BETWEEN STAKEHOLDERS: FACILITATING DIALOGUE AND MUTUAL LEARNING THROUGH QUALITATIVE INQUIRY 167
Vivianne E. Baur and Tineke A. Abma
Evaluators' Outlook and Identity 168
The Project 171
Evaluators' Methodological Choices and Actions 175
Conclusion 183
Key Concepts 184
Discussion Questions 185
References 185
CHAPTER EIGHT: BALANCING INSIDER–OUTSIDER ROLES AS A NEW EXTERNAL EVALUATOR 189
Norma Mart´ýnez-Rubin and Stuart Hanson
Responding to the Sponsoring Organization's Request for Proposals 191
The Use of Qualitative Inquiry 197
Personal Influences on Evaluation Design 198
Trends in Health Education 199
Delving into the Formality of Evaluation Design 200
Data Collection, Analysis, and Reporting 201
Reflections on Evaluator Background 206
Reflections on Our Evaluation Process 207
Reflections on Our Use of Qualitative Inquiry 209
Conclusion 210
Key Concepts 210
Discussion Questions 211
References 211
CHAPTER NINE: WHOSE STORY IS THIS, ANYWAY? NAVIGATING AN ETHICAL CONUNDRUM 213
Sharon F. Rallis
The Context: Who's Doing What? 215
The Moral Lens on Qualitative Inquiry: Principles and Ethical Theories 217
Challenges: Ethical and Logistic 221
Conclusion 242
Acknowledgments 246
Key Concepts 247
Discussion Questions 247
Notes 248
References 248
CHAPTER TEN: ELEMENTS OF QUALITY IN QUALITATIVE EVALUATION 251
Leslie Goodyear, Jennifer Jewiss, Janet Usinger, and Eric Barela
Understanding and Acknowledging Personal Identity 255
Building Trusting Relationships 258
Reflecting on and Managing Relationships 260
Employing Sound and Explicit Methodology, and Being Transparent about It 265
Staying True to the Data 268
Fostering Learning 272
Key Concepts 275
Notes 276
References 276
Index 277
See More
LESLIE GOODYEAR, PHD is a principal research scientist at EDC, with nearly twenty years in the evaluation profession. She is a long-term, active member of the American Evaluation Association, associate editor of the American Journal of Evaluation, and co-chair of the AEA Qualitative Methods Topical Interest Group.
JENNIFER JEWISS, EdD is a research assistant professor in the Department of Leadership and Developmental Sciences at the University of Vermont and co-chair of the AEA Qualitative Methods Topical Interest Group. Her work has appeared in the American Journal of Evaluation and Practical Assessment Research & Evaluation.
JANET USINGER, PHD is associate professor in the Department of Educational Leadership at the University of Nevada, Reno, and program co-chair of the AEA Qualitative Methods Topical Interest Group.
ERIC BARELA, PHD is chief knowledge and impact officer at Partners in School Innovation, and program co-chair of the AEA Qualitative Methods Topical Interest Group.
See More