E-book
Planning Programs for Adult Learners: A Practical Guide, 3rd Edition
ISBN: 978-1-118-41543-6
464 pages
January 2013, Jossey-Bass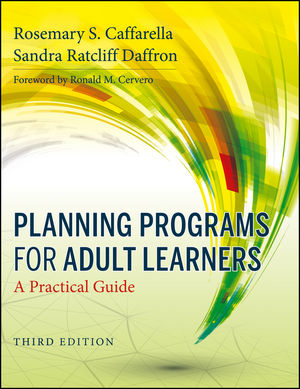 Planning Programs for Adult Learners
, Third Edition covers the development of adult education programs in clear, specific detail. This popular step-by-step guide contains information on every area of program planning for adult learners, from understanding the purpose of educational programs to obtaining suitable facilities to incorporating technology appropriately. For educators and practitioners for whom planning programs is a full-time responsibility or only a part of their jobs, as well as volunteers in a variety of organizations, will find this book to be an essential tool.
Grounded in a variety of program planning models, the new edition includes:
new refinements to the 11-component interactive model
updated exercises and examples from new settings
new material on the practical application of technology
discussion of instructional and program evaluation
a focus on critical managerial tasks
a new chapter on exploring the foundational knowledge of program planning
a new section on the ethical issues related to program planning
See More
Figures, Exhibits, and Exercises ix
Figures, Exhibits, and Exercises Available Online xiii
Foreword xvii
Preface xxi
Acknowledgments xxvii
The Authors xxix
1 Planning Programs for Adults: What It's All About 1
2 Introducing the Interactive Model of Program Planning 27
3 Exploring Foundation Knowledge of Program Planning 52
4 Discerning the Context 79
5 Building a Solid Base of Support 106
6 Identifying and Prioritizing Ideas and Needs 133
7 Developing Program Goals and Objectives 161
8 Designing Instruction 181
9 Devising Transfer of Learning Plans 209
10 Formulating Program Evaluation Plans 232
11 Selecting Formats, Scheduling, and Staffing Programs 259
12 Preparing and Managing Budgets 283
13 Organizing Marketing Campaigns 311
14 Details, Details, Details 338
15 Revisiting the Model and Looking to the Future 366
References 384
Name Index 411
Subject Index 417
See More
Rosemary S. Caffarella is an emerita professor of education in the College of Agriculture and Life Science at Cornell University. Her research and writing activities have focused on adult development and learning, and program planning and evaluation. She has authored or coauthored a number of books, including the award-winning Learning in Adulthood.
Sandra Ratcliff Daffron, president and CEO of the Institute for Professional Training & Education, is an international authority on adult and continuing professional education and professor of adult education at Western Washington University.
See More
Learn more about