E-book
Leading Out Loud: A Guide for Engaging Others in Creating the Future, 3rd Edition
ISBN: 978-1-118-41544-3
272 pages
January 2013, Jossey-Bass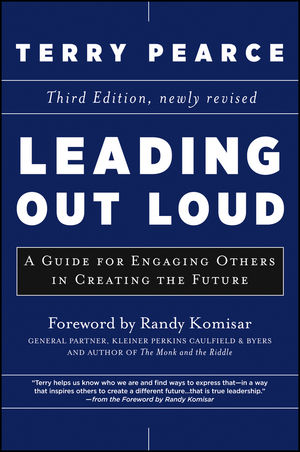 The newest edition of the bestselling guide to authentic leadership communication
Much has changed in the world since the original publication of Leading Out Loud, Terry Pearce's book on authentic leadership communication. Now, more than ever, the development of a leader's message is as crucial to success as the delivery of that message. In the third edition of his classic book, Terry Pearce shows leaders in all sectors how to communicate their values and vision to inspire commitment.
In this important resource, Pearce continues to broaden the application of core principles, putting the spotlight on every day, spontaneous communication. New examples, covering the range of today's multi-faceted communication, show the application of the sage advice Pearce offers. Readers will see how to develop a Personal Leadership Communication Guide that supports any venue, through any media and in multiple cultures. This completely revised and updated version of the bestselling classic is designed to meet the communication needs of today's leaders.
Pearce expands his exploration of the internal work necessary to create an honest and compelling vision. He emphasizes the deepening of emotional awareness necessary to inspire others
This edition demonstrates how readers can find their authentic voices and articulate their messages with increasing confidence and empathy
Some examples carry through across chapters, clarifying how one develops and strengthens the Personal Leadership Communication Guide over time
The work presents new models that are applicable to the multi-cultural world in which we live. Readers, leaders of any organization, and teachers at any level will find practical illustrations of how differences can be bridged with universal principles
Foreword by Randy Komisar, General Partner of Kleiner Perkins Caufield & Byers and author of The Monk and The Riddle
This new edition offers information, stories and experiences that demonstrate success in authentic leadership communication, in any technology, whatever the field or venue, local or global.
See More
Foreword by Randy Komisar xiii
Preface xvii
Prologue xxiii
Part One: Leadership Communication: Personal Awareness and Competing Dynamics 1
1 Discovering What Matters 9
Who Are You? 10
What Do You Want? 11
Recognizing and Refl ecting on Your Point of View—Defining Moments 15
Communicating Through the Prism of Your Values 18
Distilling Values into Conviction 18
2 Deepening Emotional Awareness 23
Recognition, Resonance, Regulation, and Response 24
The Neurobiology of Empathy: The Magic of the Mirror 28
Transmitting Empathy to Show Character: Developing Trust 32
Leadership: Empathy in Action 34
3 Connecting with Others 45
Unconscious and Unspoken Harmonies 46
Image and Symbol 48
Analogy and Metaphor 51
Narrative as Connection—Myth, Story, and Experience 56
The Rules of Engagement—Authenticity Is Paramount 64
4 Writing—Applying Discipline to Authenticity 67
Writing as a Process 68
Your Voice Comes Through 71
Documenting Competence and Connection 74
Part Two: The Personal Leadership Communication Guide: Biography with a Purpose 79
5 Establishing Competence and Building Trustworthiness 85
Establishing Competence 85
Building Trust—Authenticity 94
6 Creating Shared Context 115
Building a Common Understanding 116
Evidence: Logic and Data 133
Revealing the Personal: Showing the Passion 134
The Context Complete 136
7 Declaring and Describing the Future 141
Declaration: An Act of Creation 141
Making It Real: Spelling Out the Alternatives 144
Creating the World We Want 152
8 Committing to Action 155
Organizational and Personal Steps Toward Change 155
Personal Commitment, Personal Action 158
Involving Others—Asking for Commitment 165
9 Leadership Communication in Action 171
Projecting Your Message 173
Listening and Responding with Emotional Intelligence 177
The Daily Practice of Leadership Communication 187
Epilogue: Communication: The Cauldron of Leadership 197
Appendixes 201
A: The Choice and Use of Evidence in Leadership Communication 203
B: Framework for Personal Leadership Communication Guide 211
Notes 213
Recommended Reading 219
Acknowledgments 223
About the Author 227
Index 229
See More
BusinessWeek magazine called Terry Pearce the "eminence gris?" of executive coaches. He is the founder and president of Leadership Communication, a coaching and consulting company with clients that include CEOs, senior public officials, and elected leaders. For many years, he taught leadership communication courses at the University of California, Berkeley, Haas School of Business and the London Business School, and is a frequent keynote speaker in the United States and abroad. Pearce is coauthor (with David Pottruck) of the best-selling Clicks and Mortar: Passion-Driven Growth in an Internet-Driven World.
See More