E-book
The Child Psychotherapy Treatment Planner: Includes DSM-5 Updates, 5th Edition
ISBN: 978-1-118-41590-0
528 pages
January 2014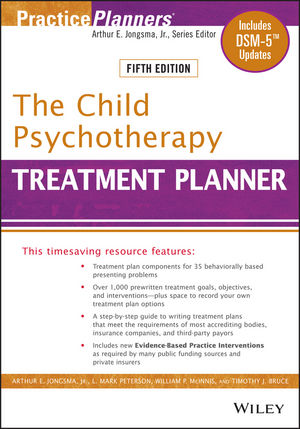 A time-saving resource, fully revised to meet the changing needs of mental health professionals
The Child Psychotherapy Treatment Planner, Fifth Edition provides all the elements necessary to quickly and easily develop formal treatment plans that satisfy the demands of HMOs, managed care companies, third-party payors, and state and federal agencies.
New edition features empirically supported, evidence-based treatment interventions including anxiety, attachment disorder, gender identity disorder, and more
Organized around 35 behaviorally based presenting problems including academic problems, blended family problems, children of divorce, ADHD, and more
Over 1,000 prewritten treatment goals, objectives, and interventions—plus space to record your own treatment plan options
Easy-to-use reference format helps locate treatment plan components by behavioral problem
Includes a sample treatment plan that conforms to the requirements of most third-party payors and accrediting agencies including CARF, The Joint Commission (TJC), COA, and the NCQA
See More
PracticePlanners Series Preface xi
Acknowledgments xiii
Introduction 1
Sample Treatment Plan 10
Academic Underachievement 14
Adoption 26
Anger Control Problems 38
Anxiety 52
Attachment Disorder 66
Attention-Deficit/Hyperactivity Disorder (ADHD) 78
Autism Spectrum Disorder 91
Blended Family 104
Bullying/Intimidation Perpetrator 116
Conduct Disorder/Delinquency 126
Depression 142
Disruptive/Attention-Seeking 155
Divorce Reaction 167
Enuresis/Encopresis 179
Fire Setting 192
Gender Dysphoria 201
Grief/Loss Unresolved 208
Intellectual Development Disorder 219
Low Self-Esteem 230
Lying/Manipulative 242
Medical Condition 255
Obsessive-Compulsive Disorder (OCD) 267
Oppositional Defiant 279
Overweight/Obesity 294
Parenting 307
Peer/Sibling Conflict 320
Physical/Emotional Abuse Victim 330
Posttraumatic Stress Disorder (PTSD) 340
School Refusal 354
Separation Anxiety 367
Sexual Abuse Victim 380
Sleep Disturbance 391
Social Anxiety 402
Specific Phobia 414
Speech/Language Disorders 425
Appendix A Bibliotherapy Suggestions 436
Appendix B Professional References for Evidence-Based Chapters 460
Appendix C Other Professional References for Selected Chapters 490
Appendix D Index of Therapeutic Games, Workbooks, Toolkits, DVDs, Videotapes, and Audiotapes 494
Appendix E Recovery Model Objectives and Interventions 496
Appendix F Alphabetical Index of Sources for Assessment Instruments and Clinical Interview Forms Cited in Interventions 503
See More
Arthur E. Jongsma, Jr., PhD
, is the Series Editor for the bestselling Practice
Planners
®. Since 1971, he has provided professional mental health services to both inpatient and outpatient clients. He was the founder and Director of Psychological Consultants, a group private practice in Grand Rapids, Michigan, for 25 years. He is the author or co-author of over fifty books and conducts training workshops for mental health professionals around the world.
L. Mark Peterson, ACSW, is Program Manager for Bethany Christian Services' Residential Treatment and Family Counseling programs in Grand Rapids, Michigan.
William P. McInnis, PsyD, is in private practice with Aspen Psychological Services in Grand Rapids, Michigan. He is coauthor of the bestselling the Adolescent Psychotherapy Treatment Planner and the Adolescent Psychotherapy Progress Notes Planner.
Timothy J. Bruce, PhD, is Professor and Associate Chair of the Department of Psychiatry and Behavioral Medicine at the University of Illinois College of Medicine. He maintains a diverse clinical practice and is active in classroom and clinical teaching as well as educational program administration.
See More