E-book
Team Building: Proven Strategies for Improving Team Performance, 5th Edition
ISBN: 978-1-118-41614-3
304 pages
January 2013, Jossey-Bass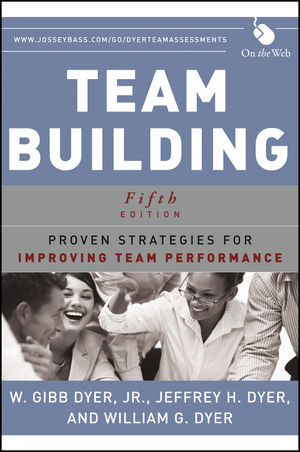 Team Building
Now in its fifth edition, Team Building is a classic in the field of organization development. In this new edition, the authors strengthen the Four Cs framework that was introduced in the fourth edition and add a wealth of new illustrative examples, a chapter on the challenges of managing cross-functional teams, and a chapter on leading innovative teams in a competitive environment. To complement the text, the authors have developed two online assessments: one designed for use in the classroom with student teams and one designed for teams within organizations. For more information, please visit www.josseybass.com/go/dyerteamassessments. The fifth edition of Team Building provides the next generation of team leaders, team members, and team consultants with the knowledge and skills they need to create effective and high-functioning teams.
Praise for Team Building
"First rate. It is a treasure trove of ideas, tools, and examples."
—Dave Ulrich, professor, University of Michigan; partner, The RBL Group
"What an amazing gift! The 'bible' of team building has been updated and expanded. Solid theory is combined with the most practical of techniques. Practitioners of team building and OD are huge beneficiaries of this monumental work."
—Jack Zenger, cofounder and chief executive officer, Zenger-Folkman; coauthor of the best-selling The Extraordinary Leader and Results-Based Leadership
See More
About the Online Assessments v
Introduction 1
Part One: The Four Cs of Team Development 9
1 The Search for the High-Performing Team 11
2 Context: Laying the Foundation for Team Success 21
3 Composition: Getting the Right People on the Bus 37
4 Competencies: Developing Team Skills for High Performance 57
5 Change: Devising More Effective Ways of Working Together 85
6 Bringing the Four Cs Together: Designing a Team-Building Program 103
Part Two: Solving Specifi c Problems Through Team Building 127
7 Managing Confl ict in the Team 129
8 Overcoming Unhealthy Agreement 155
9 Reducing Confl ict Between Teams 169
10 Leading Innovative Teams 183
Part Three: Team Building in Different Types of Teams 205
11 Managing the Temporary Team 207
12 Creating Effective Cross-Cultural Teams 219
13 High-Performing Virtual Teams 235
14 Managing Interorganizational Alliance Teams 247
Part Four: The Challenge of Team Building for the Future 267
15 Challenges for Building Effective Teams 269
Notes 278
The Authors 287
Index 289
See More
W. Gibb Dyer is O. Leslie Stone Professor of Entrepreneurship, Department of Organizational Leadership and Strategy, Marriott School of Management, Brigham Young University.
Jeffrey H. Dyer is Horace Beasley Professor of Global Strategy, Marriott School of Management, Brigham Young University.
The late William G. Dyer is the author of the first three editions of Team Building.
See More