E-book
The Whole Spectrum of Social, Motor and Sensory Games: Using Every Child's Natural Love of Play to Enhance Key Skills and Promote Inclusion
ISBN: 978-1-118-41669-3
304 pages
July 2013, Jossey-Bass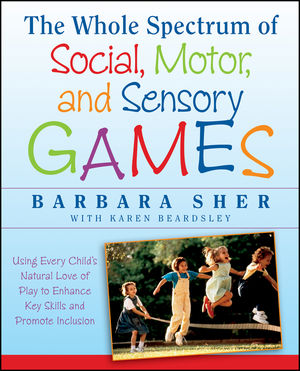 Fun easy games for parents and teachers to play with kids of all ages
Play is increasingly recognized by neuroscientists and educators as a vital component in brain development, academic success and learning social skills. In this inspiring and useful resource, Barbara Sher provides step-by-step directions for how to use children's natural interests at different stages of their development to help them develop a wealth of sensory motor and social skills. All the games have also been designed to provide plenty of joyful opportunities for encouraging inclusion.
Offers strategies for helping all kids, but especially those with special needs, to develop social, motor and sensory skills
Filled with simple games using common materials that can be used by teachers, parents, and caregivers with both individual kids and groups
Provides explanations and examples of how the games can aid in a child's development
This resource offers parents and teachers a fun and easy way to include all children in activities that will engage all of their senses and promote important skills.
See More
Preface xxi
Acknowledgments xxvii
Introduction: The Power of Play and the Synergy of Games 1
CHAPTER 1 Spontaneous Games for All Ages 7
Playful Learning Games That Can Happen Spontaneously and Often Need Nothing More Than a Smile
Waiting Games for Airports, Restaurants, and Doctor's Offices 8
What Would Mary Poppins Do? 8
Clarifying Judge 17
Can You Say What I Say? 21
Who Are We Today? 22
Walking Outside Games 23
The Benefits of Pretend Play 27
Games Just for Little Ones (Ages Two to Seven) 28
Count for Cooperation 37
Traveling Games 44
The Honorable Head Garbage Taker-Outer 45
CHAPTER 2 Games for Babies 47
Daily Games to Play with Babies to Develop the Brain and Deepen the Adult-Child Connection
What's in Grandma's Purse? An Inquiring Toddler Wants to Know 48
The Talking Hand 54
Than Feelings 57
Making Faces with Lance 60
Chalk and the Bubbie 68
Rings on a Stick (or Something Similar) 72
Small Is Nice Too 77
CHAPTER 3 Progressive Games for Ages Three to Seven 79
Inclusive Games That Use Only One Material to Enhance Multiple Skills
The Upside of Making Your Own Educational Toys 81
The "Bring Me" Game 86
Beanbag Games 87
Blanket Games 94
Two-by-Four Games 100
Hula-Hoop Games 107
Horizontal 111
Unusual Gifts That Cost a Little and Please a Lot 115
Ladder Games 117
Magazine Tube Games 125
Inside of Us 131
Plastic Bottle Games 131
Rope Games 137
Rocker Board Games 147
Don't Rush Arnold 154
CHAPTER 4 Therapy Games for Ages Three to Twelve 157
Home Therapy Games That Enhance the Basic Skill Domains
Fine Motor Games 158
Gross Motor Games 171
Sensory Games 183
Social Skills Games 195
CHAPTER 5 Short Group Games for Ages Three to Fifteen 207
Quick Movement Games That Stimulate Thinking, Feeling, and Creativity
Chris and the Box 208
Short Games for Young Children (Ages Three to Ten) 209
You Say What I Say? 214
Enticing Nona 215
Have Names 223
Nikolai Finds Art 226
Short Games for Older Kids (Ages Seven to Fifteen) 231
To Touch and Be Touched 237
Ignoring Clarissa 251
Appendix: Home Therapy 253
About the Authors 259
Index 261
See More
Barbara Sher, M.A., O.T.R., has over 40 years of experience as a teacher and occupational therapist, specializing in pediatrics. She conducts workshops for parents, teachers, therapists, and children around the world and is the author of seven books, including Early Intervention Games: Fun, Joyful Ways to Develop Social and Motor Skills in Children with Autism Spectrum or Sensory Processing Disorders and Self-esteem Games: 300 Fun Activities That Make Children Feel Good about Themselves.
See More