E-book
Beating the Global Odds: Successful Decision-making in a Confused and Troubled World
ISBN: 978-1-118-41671-6
224 pages
September 2012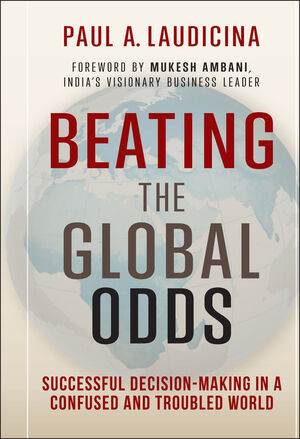 The Answer to Global Overload
Contending with the 24/7 news cycle and an endless barrage of choices and information has stymied leadership and decision-making strategies among those at the top. But we all know, this is not a just a problem for the elite. The broad-based reaction to this chaotic, unmanageable assault has been to retrench, and to focus on immediate, controllable decisions.  In the process, we lose sight of the horizon. More dangerous still, is the shift we've seen from value creation to wealth creation, where information technology 1.0 has enabled a transaction-based society in which the "deal" is more important than the value it drives or the relationships it is based on.   On our current path, the odds of a better future are slim.
What we need is a new value proposition.
Beating the Global Odds is the answer to the dangers of too much of a good thing.  There's no going back, but there is the opportunity to set things right. In this book, Paul A. Laudicina, Managing Partner and Chairman of the Board of global consulting firm A.T. Kearney, provides a fast-paced and engaging tour of how we got to this point and what we can do about it.
Drawing on examples from everything from world history and current media to anecdotes from his vast network of CEOs and the world's most innovative thinkers, Laudicina helps bring our world of seemingly fuzzy and disconnected pixels into sharp focus. 
The result is a compelling case for change and call to action—not only for global leaders but also for everyone who struggles with the question of how we can inspire and seize a better future…  how we can beat the global odds.
See More
Foreword xi
Introduction Seizing the Future Is (Fortunately) Not a Game of Chance 1
Chapter 1 Global Brain Freeze 13
Nonstop Overstimulation Brings Disorientation
Chapter 2 Fast and Fickle 27
The Ever-Shorter Half-Life of Everything
Chapter 3 Rudderless World 45
Angry Populism, Incapacitated Government, and Stray Capitalism
Chapter 4 Lighten the Load and Make
It Sesame Street Simple 73
Chapter 5 Repair Your Social Fabric 87
Why Relationships Always Trump Transactions
Chapter 6 Don't Wait for the Next Big Thing 101
Chapter 7 Open the Aperture 125
Widen Your Lens, But Do So with Discernment
Chapter 8 Turning Pixels into a Clearer Picture 147
Applying Scenario Thinking to Make a Better Future Possible
Epilogue: The Next Chapter 177
Afterword 181
Selected Bibliography 187
Acknowledgments 191
About the Author 195
Index 197
See More
Paul A. Laudicina is the CEO, chairman of the board, and managing partner at global management consulting firm A.T. Kearney, and the founder and chairman of the firm's Global Business Policy Council. With over forty years of professional experience in government, research, business, and at the United Nations, he has worked with leaders from all backgrounds across a broad range of strategic, corporate, and public policy issues. The author of World Out of Balance, one of the top business books of 2005, Laudicina was named to Consulting magazine's annual ranking of the "Top 25 Most Influential Consultants" in 2005 and 2007.
See More