E-book
Communicating The New: Methods to Shape and Accelerate Innovation
ISBN: 978-1-118-41761-4
272 pages
August 2013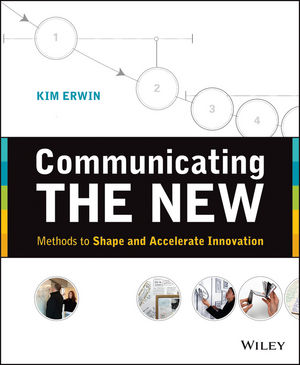 "Communicating radical innovation is very different from discussing marginal change. Erwin's book provides a serious analysis of why, in this era of VUCA—Volatility, Uncertainty, Complexity and Ambiguity—we need to change our individual and organizational modes of communication. Erwin then provides a series of concrete, practical communication methodologies that we so need. Communicating the New is a book that needs to be offered in all of our best business-school classes."
—Bruce Nussbaum, author of Creative Intelligence, former assistant managing editor for BusinessWeek, and Professor of Innovation & Design at Parsons The New School of Design
"One of the main problems with executing innovation in organizations is also one of the least obvious. Communicating The New reminds us about an often neglected but crucial part in the innovation process. Applying the principles contained in this book will increase your chances for innovation success, both inside your company—overcoming organizational barriers, as well as outside—convincing your customers. This is an essential read for those who not only preach for improving the current state of things, but more important to those responsible for executing it."
—Luis Arnal, Managing Partner, INSITUM
"I was hooked instantly. The names of people that I should give this book to keep building with each new chapter. Communicating the New is thorough as well as thoughtful in providing an impressive compendium of models, framework, methods, and tools for navigating the 21st-century challenges of creating The New. Finally, a useful resource to navigate the complexity of creating The New."
—Clement Mok, Designer, Entrepreneur, and Instigator
"Anyone who has experienced the challenge of co-creating The New and engaging enterprise audiences will find useful ways to produce insight, influence, and impact."
—Paul Siebert, Director of Research + Strategy, Steelcase
See More
Introduction: The Mission and the Mess 1
Challenges of communicating The New 3
What's in our way? Three communication myths 4
Reconceiving the role of communication 7
Five ways communication methods accelerate innovation 11
1 Finding the Conceptual Center 16
Models and frameworks: Thinking with our eyes 19
How to make models work 28
Build-to-think prototypes: Thinking with our hands 42
Lists and open-ended writing: Thinking with words 50
The Takeaway: Five big ideas when seeking the conceptual center 62
2 Framing the Work 64
Metaphors 69
Mantras and catchphrases 84
Contrast 92
Stories 98
Artifacts and images 108
How (and why) to use multiple frames to greater effect 112
The Takeaway: Five big ideas when framing the work 114
3 Targeting Your Constituents 118
The communication plan 126
Mental model and orthodoxy analysis 129
Quad A diagnostic 135
The "Organization as Culture" framework 137
Segmenting and targeting constituents 141
The Takeaway: Four big ideas when targeting constituents 144
4 Introduce New Thinking 146
Exploratory experiences 155
Immersion experiences 160
Interaction experiences 165
Application experiences 172
Extension experiences 176
The Takeaway: Five big ideas when introducing new thinking 180
5 Expand the Conversation 184
Communication systems: Give them something rich and relevant 188
Performative presentations: Give them something to talk about 198
Demonstration artifacts: Give them something to show and share 208
The Takeaway: Five big ideas when expanding the conversation 228
Conclusion 230
Five big shifts in thinking (and doing) 231
Advancing the methods base 234
Under the hood: Theories, writers and references 236
Index 253
See More
KIM ERWIN is an Assistant Professor at the IIT Institute of Design. She comes to academia after fifteen years in the design planning field. In her professional practice, Kim specializes in the information-intensive areas of the planning process, focusing on the communication of user research and strategy for innovation, and has done so for such companies as Motorola, Texas Instruments, Alamo Rent A Car, and other innovation-curious firms.
See More