E-book
The Story of Rich: A Financial Fable of Wealth and Reason During Uncertain Times
ISBN: 978-1-118-41778-2
224 pages
September 2012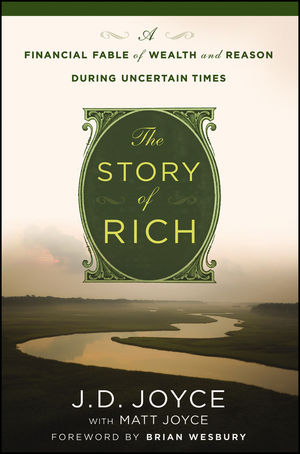 An investing story that provides insights into dealing with your money and finding financial security 
Making the right investment decisions and executing an effective financial plan can be difficult, especially in today's markets. But with the right guidance you can achieve this goal. Now, in The Story of Rich, leading wealth manager John David "J.D."  Joyce shows you how. Based on his real-world experiences with investors throughout his successful career, this book offers meaningful advice about financial planning and investing.
 Designed for those with significant assets who are nearing or recently retired, as well as individuals who have recently come into new money through business or inheritance, The Story of Rich skillfully explains financial planning and investing through a fable of a man who sells a business he's worked so hard to build, and now finds himself with more money then he's ever had to deal with. Along the way, this book teaches you about important investment concepts and presents you with tools to consider your options and choose an appropriate investment strategy. 
Chronicles the fictional story of a recently retired businessman who is worried about making the most of his money now that he's no longer generating regular income
Presents lessons about investing, sometimes through comparisons to topics like marathon running or wine making, in the quest to make sense of fundamental investment concepts
Author John David "J.D." Joyce has been named a Top Financial Advisor by Barron's in 2009, 2010 and 2011 
Engaging and informative, The Story of Rich is the perfect guide for those concerned about protecting their hard-earned money and investing it wisely.
See More
Foreword ix
Preface xvii
Acknowledgments xxi
Chapter 1: Meet the Vivas 1
Chapter 2: Investment Plan 13
Chapter 3: Goals, Planning, and National Parks 27
Chapter 4: Goals and Objectives 39
Chapter 5: Risk Tolerance 53
Chapter 6: Asset Allocation and Meritage 67
Chapter 7: Mechanics of Investing and Winemaking 79
Chapter 8: The Marathon Runner and Time Horizon 95
Chapter 9: Cash Flow 111
Chapter 10: Trusted Advisor 125
Chapter 11: News versus Noise 135
Chapter 12: Family Dynamics 149
Chapter 13: Estate Planning 159
Epilogue 171
About the Authors 185
Index 187
See More
John David "J.D." Joyce has been advising clients with their investments for nearly two decades. He has been named a Top Financial Advisor in the United States by Barron's magazine. Throughout his career, in his role as financial and wealth advisor with a major Wall Street firm, J. D. has assisted high-net-worth investors through various markets cycles as well as their personal life changes.
Matt Joyce is a journalist and writer who has worked in the news business in Texas, Wyoming, Colorado, and New Mexico. He has held reporting positions with the Associated Press, the Dallas Business Journal, and the Durango Herald.
See More