E-book
The Change Champion's Field Guide: Strategies and Tools for Leading Change in Your Organization, 2nd Edition
ISBN: 978-1-118-41920-5
832 pages
June 2013, Pfeiffer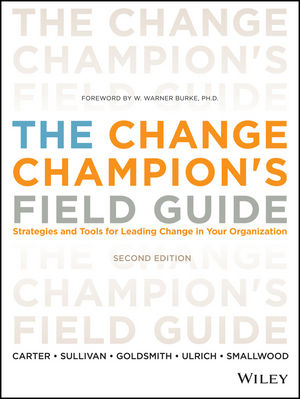 Nearly a decade later, leading change pioneers in the field have realigned to bring you the second edition of the Change Champion's Fieldguide.
  
This thoroughly revised and updated edition of the Change Champion's Field Guide is filled with the information, tools, and strategies needed to implement a best practice change or leadership development initiative where everyone wins. In forty-five chapters, the guide's contributors, widely acknowledged as the "change champions" and leaders in the fields of organizational change and leadership development, explore the competencies and practices that define an effective change leader. Change Champions such as Harrison Owen, Edgar Schein, Marv Weisbord, Sandra Janoff, Mary Eggers, William Rothwell, Dave Ulrich, Marshall Goldsmith, Judith Katz, Peter Koestenbaum, Dick Axelrod, David Cooperrider, and scores of others provide their sage advice, practical applications, and examples of change methods that work.
 
Change Champion's Field Guide examines the topic of leadership and change within four main topics including:
Key elements of leading successful and results-driven change
Tools, models, instruments, and strategies for leading change
Critical success and failure factors
Trends and research on innovation, change, and leadership
Guidelines on how to design, implement, and evaluate change and leadership initiatives
Fresh case studies that highlight leading companies who are implementing successful change in innovative and inspired ways.
See More
List of Figures, Tables, and Exhibits xi

Acknowledgments xvii
Who Should Read This Book? xix
About This Book xxiii
How to Use This Book xxv
Introduction by the Editors xxix
Foreword by W. Warner Burke xxxiii
PART ONE Transformational and Large-Scale Change
CHAPTER ONE Driving Change Through Career Models: An Operating System for Integrated Talent Management 3
David G. White, Jr.
CHAPTER TWO Driving Cultural Transformation During Large-Scale Change 29
Wendy L. Heckelman, with Christina Garofano and Sheryl Unger
CHAPTER THREE Leveraging Musical Experiential Learning for Organizational Impact 38
Paul Kwiecinski
CHAPTER FOUR Navigating the White Water of Organization-Wide Change: Best Practice Principles for Change Management 51
William Q. Judge and R. Steven Terrell
CHAPTER FIVE Practice Positive Deviance for Extraordinary Social and Organizational Change 73
Jerry Sternin
CHAPTER SIX Restoring Hope During Times of Mistrust 95
Mary Eggers and Lorri Johnson
CHAPTER SEVEN The Borderless Organization: Its Time Has Come 107
Roland L. Sullivan, William J. Rothwell, Louis Carter, and Mary Jane B. Balasi
CHAPTER EIGHT The Costs of System Blindness and the Possibilities of System Sight: Middle Bashing, a Case in Point 120
Barry Oshry
CHAPTER NINE Words Matter: Build the Appreciative Capacity of Organizations 131
David Bright and David Cooperrider
CHAPTER TEN Whole System Transformation Through a Polarity Lens: An Idea Whose Time Has Come 148
Robert "Jake" Jacobs and Lynnea Brinkerhoff, with Barry Johnson
CHAPTER ELEVEN Whole Systems Transformation: An Effectiveness Paradigm Shift for Strategic Change 178
Roland L. Sullivan, William J. Rothwell, Louis Carter, and Mary Jane B. Balasi
PART TWO Fundamentals of Leading Change
CHAPTER TWELVE Be a Skilled Communicator: Lead Dialogue Processes to Build Commitment and Reach Shared Understanding 205
Jodi Knox McGinnis
CHAPTER THIRTEEN Build Expert Negotiators: What Do We Know About Training World-Class Negotiators? 221
Lawrence Susskind
CHAPTER FOURTEEN Change Leadership Behavior: The Impact of Co-Workers and the Impact of Coaches 236
Marshall Goldsmith, Howard Morgan, and Marc Effron
CHAPTER FIFTEEN Change Through Smart-Mob Organizing:Using Peer-by-Peer Practices to Transform Organizations 246
Liz Guthridge
CHAPTER SIXTEEN Do Leaders Have Tools and a Common Language to Work Together for Sustainable Change? 267
Ralph Jacobson
CHAPTER SEVENTEEN How Nature Innovates: The Competitive Edge for Organizations 286
George Land and Greg Zlevor
CHAPTER EIGHTEEN Liberating Structures: A Pattern Language for Engagement 300
Lisa Kimball
CHAPTER NINETEEN Maintain the Highest Ethics and Integrity: Raise the Bar from Corporate Compliance to Total Organizational Integrity 314
Scott W. Ventrella
CHAPTER TWENTY Meetings: Will You Choose Contentment or Greatness? 328
Dick Axelrod and Emily Axelrod
CHAPTER TWENTY-ONE My Life on the Learning Curve 338
Marvin Weisbord
CHAPTER TWENTY-TWO Open Space Technology—And Beyond 347
Harrison Owen
CHAPTER TWENTY-THREE Rethinking Scale in Organizational Change 357
David Sibbet
CHAPTER TWENTY-FOUR Ten Principles for Changing the World One Meeting at a Time 372
Marvin Weisbord and Sandra Janoff
CHAPTER TWENTY-FIVE The Philosophic Change Champion: Philosophy in a New Era (Work in Progress) 385
Peter Koestenbaum
CHAPTER TWENTY-SIX Understand and Apply Sociology and Anthropology: Build Brand and Leadership Through Business Anthropology, Market Research, and Scenario Planning 428
Steve Barnett
CHAPTER TWENTY-SEVEN Value Diversity and Inclusion: Leveraging Differences for Bottom-Line Success 445
Judith H. Katz
PART THREE Transformational Leadership and Sustaining Results
CHAPTER TWENTY-EIGHT Changing Organizational Culture Through Clear Leadership 463
Gervase R. Bushe and James O'Malley
CHAPTER TWENTY-NINE Crucial Conversations, Transformational Moments, and Real Organizational Change 480
Larry Peters and Joseph Grenny
CHAPTER THIRTY Develop Leaders Who Build Market Value: The Right Results, The Right Way 494
Norm Smallwood and Dave Ulrich
CHAPTER THIRTY-ONE Developing Organization Change Champions Throughout the Organization 513
D.D. Warrick
CHAPTER THIRTY-TWO Early Traps in Consulting Efforts: Managing Dysfunctional Client Behavior During "Entry" 531
Harvey A. Hornstein and Eric C. Marcus
CHAPTER THIRTY-THREE Keep Good Company: New Ways to a Sustainable, Blue-Chip Creative Culture 541
Ivy Ross and David Kuehler
CHAPTER THIRTY-FOUR Manage Your Work and Values: Go Beyond Replacing Executives and Manage Your Work and Values 558
William J. Rothwell
CHAPTER THIRTY-FIVE Managing Organizational Emotional Alignment for Exceptional Business Performance Results 573
Deborah Rozman and Doc Childre
CHAPTER THIRTY-SIX The Role of Leadership in the Management of Organizational Transformation and Learning 595
Edgar H. Schein
CHAPTER THIRTY-SEVEN You Can't Become a Champion Unless You Keep Score: Measuring People Management Programs 603
John Sullivan
PART FOUR Case Studies of Change Methods in Action
CHAPTER THIRTY-EIGHT Case Study 1: Action Learning in Action: Crack the Code at Bank of America 629
Eryn O'Brien and Steve R. Terrell
*Supportive Chapters Fourteen, Twenty, Twenty-One, and Thirty-Seven
CHAPTER THIRTY-NINE Case Study 2: Appreciative Inquiry in Action: Telefonica 646
Ilma Barros and David Bright
*Associated with Chapter Nine
CHAPTER FORTY Case Study 3: Culture Change in Action: Twelve Months Without Buy-In 649
Mark Samuel
*Supportive Chapters Four, Eight, Eleven, Twelve, and Twenty-Three
CHAPTER FORTY-ONE Case Study 4: Developing Leaders in Action: Globalizing Leadership at LG Electronics 672
Laurence Smith
*Associated with Chapter Thirty
CHAPTER FORTY-TWO Case Study 5: Emotional Intelligence in Action: Sabre Holdings Corporation 682
Matt Robbins and Sibyl Cryer
*Associated with Chapter Thirty-Five
CHAPTER FORTY-THREE Case Study 6: Open Space in Action: A Structure for Emergent Strategy and Change at Accor's Summer University 689
Christine Koehler and Christopher Schoch
*Associated with Chapter Twenty-Two
CHAPTER FORTY-FOUR Case Study 7: Transformational Change Moments in Action: South Texas Project 697
VitalSmarts, LLC
*Associated with Chapter Twenty-Nine
CHAPTER FORTY-FIVE Case Study 8: Whole System Transformation and Polarity in Action: The Business of Paradox at Cargill and at BBC News 701
Greg Page and Julie Beedon
*Associated with Chapter Ten
References and Suggested Readings 707
Name Index 729
Subject Index 735
About the Contributors 763
About Best Practice Institute 791
See More
Louis Carter is CEO and founder of Best Practice Institute (BPI) and concept innovator of the world's first 360-degree feedback tool on a social networking platform, skillrater.com. He and BPI were recognized as one of the top 15 in leadership development by Leadership Excellence magazine.
Roland Sullivan is one of the original 100 change agents. Mentored by Bennis, he has led change efforts with more than 1,000 organizations in 30 countries and taught in over 14 universities, including the most recognized change program in the world, Pepperdine University.
Marshall Goldsmith is widely recognized as one of the world's foremost authorities in helping leaders achieve positive, measurable change in behavior for themselves, their people, and their teams.
Dave Ulrich has been ranked by Business Week as the #1 management educator. He has also been listed in Forbes as one of the "world's top five" business coaches.
Norm Smallwood is president and co-founder of Results-Based Leadership, Inc. and is a recognized authority in developing businesses and their leaders to deliver results and increase value.
See More