E-book
Visual Guide to Chart Patterns
ISBN: 978-1-118-42150-5
352 pages
November 2012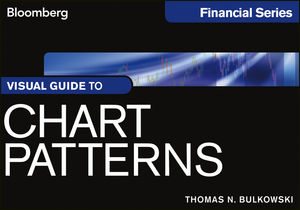 The step-by-step visual guide to spotting potential price movements and improving returns
Bloomberg Visual Guide to Chart Patterns is a concise and accessible visual guide to identifying, understanding, and using chart patterns to predict the direction and extent of price moves. Packed with visual learning enhancements and exercises, this innovative book helps savvy investors and professionals alike master the essential skills of chart pattern recognition. Follow along as chart pattern expert Thomas Bulkowski teaches you to recognize important peaks and valleys that form patterns—footprints of the smart money.
Nearly 200 color charts assist in providing a step-by-step approach to finding those footprints, interpreting them, and following them. Popular patterns such as head-and-shoulders, double tops and bottoms, triangles, gaps, flags, and pennants are just a few of the many patterns explored throughout the book.
For the sophisticated trader or investor, the book also provides statistical research to support the claims of pattern behavior, trading signals, and setups, in an easy to understand way.
Discusses chart pattern identification guidelines, psychology, variations, failures, and buy and sell signals
Covers the most popular and common chart patterns as well as lesser-known ones like throwbacks, pullbacks, and busted patterns
Incorporates quizzes, step-by-step exercises, enhanced graphics and video tutorials to immerse the reader in the world of chart patterns
Designed for use by investors and traders, from beginners to experts looking for a practical, easy-to-use guide, comprehensive reference, Bloomberg Visual Guide to Chart Patterns provides a sophisticated introduction to the world of chart patterns.
See More
How to Use This Book vii
Acknowledgments ix
Introduction xi
Part I: The Basics 1
Chapter 1: Pattern Recognition Made Easy 3
Chapter 2: Minor Highs and Lows 13
Chapter 3: Trendlines 19
Chapter 4: Support and Resistance 29
Chapter 5: Gaps 39
Chapter 6: Throwbacks and Pullbacks 47
Part II: Pattern Identification 53
Chapter 7: Rectangles 55
Chapter 8: Ascending Triangles 69
Chapter 9: Descending Triangles 81
Chapter 10: Symmetrical Triangles 93
Chapter 11: Flags and Pennants 105
Chapter 12: Double Bottoms 115
Chapter 13: Triple Bottoms 127
Chapter 14: Double Tops 139
Chapter 15: Triple Tops 151
Chapter 16: Head-and-Shoulders Bottoms 163
Chapter 17: Head-and-Shoulders Tops 175
Part III: Basic Buy Setups 187
Chapter 18: Basic Buy Setups 189
Chapter 19: Failures 205
Chapter 20: The Throwback Buy Setup 215
Chapter 21: Measuring Flags and Pennants 225
Chapter 22: Busted Pattern Buy Setups 229
Chapter 23: Trading Setups and Tips 243
Part IV: Basic Sell Signals 251
Chapter 24: Chart Pattern Sell Signals 253
Chapter 25: Busted Pattern Sell Signals 271
Chapter 26: Triangle Apex Sell Signal 289
Chapter 27: Trendline Sell Signals 293
Chapter 28: Swing Rule 299
Chapter 29: A Tale of Two Trades 303
Bloomberg Functionality Cheat Sheet 309
Visual Appendix of Chart Patterns 311
Bibliography 317
About the Author 319
Index 321
See More
THOMAS N. BULKOWSKI is the author of Encyclopedia of Chart Patterns, Second Edition, Getting Started in Chart Patterns, Encyclopedia of Candlestick Charts, and Trading Classic Chart Patterns. He is a frequent contributor to Active Trader and Technical Analysis of Stocks & Commodities magazines. Before earning enough from his investments to "retire" from his day job at age thirty-six, he was a hardware design engineer at Raytheon and a senior software engineer for Tandy Corporation. His website address is www.thepatternsite.com, which offers free access to hundreds of articles, research, and blog posts written by Bulkowski.
See More
More in this series