E-book
Fearless Feeding: How to Raise Healthy Eaters from High Chair to High School
ISBN: 978-1-118-42155-0
432 pages
April 2013, Jossey-Bass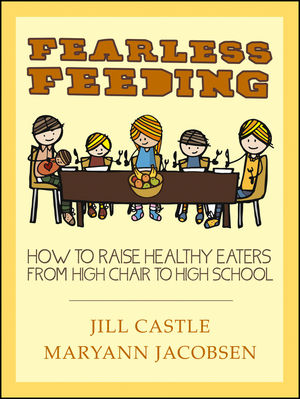 An essential guide to understanding and improving any child's eating habits.
This comprehensive nutrition guide gives parents the tools for encouraging kids of any age on the path to healthy eating. Pediatric nutrition experts Castle and Jacobsen simplify nutrition information, describe how children's eating habits correspond to their stage of development, provide step-by-step feeding guidance, and show parents how to relax about feeding their kids and get healthy meals on the table fast.
Prepares parents by explaining what to expect at different stages of growth, whether it be picky eating, growth spurts or poor body image
Helps parents work through problems such as food allergies, nutrient deficiencies and weight management, and identifying if and when they need to seek professional help
Empowers parents to take a whole-family approach to feeding including maximizing their own health and well-being
Offers fun, easy recipes parents can make for, and with, kids
Fearless Feeding translates complicated nutrition advice into simple feeding plans for every age and stage that take the fear out of feeding kids.
See More
Foreword by Brian Wansink xi
Acknowledgments xiii
Introduction 1
Meet Jill Castle 2
Meet Maryann Jacobsen 4
How Fear Brought Us Together 5
Fearless Feeding as the Solution 7
How to Use Th is Book 11
1 The Fearless Feeding Strategy 13
Take the Long-Term View 14
Fundamental 1: WHAT to Feed Your Child 15
Fundamental 2: HOW to Feed Your Child 19
Fundamental 3: WHY Your Child Behaves That Way 26
Putting It All Together 28
2 Fearless Feeding for Your Infant and Young Toddler (Six to Twenty-Four Months) 31
Nutrition in Practice: The Nutrient-Rich Diet 31
Feeding with Confi dence: The Honeymoon Period 49
Real Life Challenges for Infants and Young Toddlers 65
Real, Easy Recipes for Infants and Young Toddlers 72
3 Fearless Feeding for Your Toddler and Preschooler (Two to Five Years) 83
Nutrition in Practice: Fitting It All In 83
Feeding with Confidence: The Self-Control Struggle 104
Real Life Challenges for Toddlers and Preschoolers 119
Real, Easy Recipes for Toddlers and Preschoolers 126
4 Fearless Feeding for Your School-Age Child (Six to Twelve Years) 137
Nutrition in Practice: Navigating the Outside World 137
Feeding with Confi dence: Family Meals Matter 156
Real Life Challenges for School-Age Children 172
Real, Easy Recipes for School-Age Children 179
5 Fearless Feeding for Your Teenager (Thirteen to Eighteen Years) 189
Nutrition in Practice: Hazardous Nutrition 189
Feeding with Confidence: Get Them to the Table 212
Real Life Challenges for Teens 230
Real, Easy Recipes for Teens 236
6 The Parent Trap: How to Break Free from Your Food History and Attitudes 247
Common Feeding Traps 248
Understanding Your WHY 251
Becoming a Fearless Eater 255
Th e HOW of Eating 258
WHAT to Eat 261
7 Childhood Nutrition Problems: A Fearless Approach to Common Issues 263
Food Allergies 263
Weight Problems 268
Eating Disorders 275
Problem Feeders and Ongoing Picky Eating 280
Nutrition and Behavior 284
8 Getting Meals on the Table: Meal Planning and Shopping Strategies 289
Fearless Nutrition Must-Haves 290
Planning Meals 292
Getting the Food 294
Get Cooking! 308
Appendix A: Fearless Food Guide 309
Appendix B: Food Sources of Nutrients 314
Appendix C: Healthy Snack Ideas 332
Appendix D: Fruit and Veggie Lists 336
Appendix E: Resources 357
Appendix F: The Claims Department 362
Appendix G: Beyond Basic Nutrition Questions 367
Notes 379
Bibliography 401
About the Authors 403
Index 405
See More
Jill Castle is a registered dietitian with many years of experience in pediatric nutrition. She is a consultant, speaker, and writer and blogs at Just the Right Byte.
Maryann Jacobsen is a registered dietitian, freelance writer, and family nutrition expert. Maryann is founding editor of the popular blog Raise Healthy Eaters.
See More