E-book
Prospect Research for Fundraisers: The Essential Handbook
ISBN: 978-1-118-42157-4
240 pages
March 2013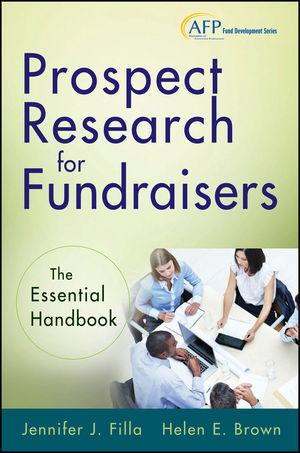 Essential tools for implementing right-sized prospect research techniques that help nonprofit organizations reach their fundraising goals
Written especially for front-line fundraisers, Prospect Research for Fundraisers presents a practical understanding of prospect research, prospect management, and fundraising analytics, demonstrating how research can be used to raise more money. Filled with examples, case studies, interviews, and stories, this unique book is structured around the fundraising cycle and illustrates the myriad of current and ever-changing prospect research tools and techniques available to boost an organization's fundraising effectiveness.
From essential overviews to how-to-search skills, this practical book gives development officers the tools to understand how to use prospect research in ways that best fit their goals for each stage of the fundraising cycle.
Provides practical insight to understand the best use of each prospect research tool and technique
Features a companion website with a variety of online tools to help readers implement key concepts
Part of the AFP Fund Development Series
Prospect Research for Fundraisers provides fundraisers with an understanding of what prospect research is and which resources are available to small organizations that have limited internal capacity, medium-sized organizations building capacity, and large organizations wanting to maximize their strengths. It offers a practical understanding of the relevant tools at the disposal of development officers and managers responsible for hiring, outsourcing, purchasing, managing, and implementing prospect research within their organizations.
See More
Foreword xiii
Acknowledgments xvii
Introduction xix
CHAPTER 1 The Big Picture 1
What Is Prospect Research? 1
Why Do Prospect Research? 4
How Does Research Fit into My Work and into the Gift Cycle? 7
Communication 10
Dispelling Myths and Corroborating Evidence 11
Summary 12
For Further Reading 13
CHAPTER 2 Identifying New Prospects 15
Overview: Why We Identify New Prospects 15
Capturing and Maintaining
Constituent Information 18
Manual Prospect Identification Methods 24
Wealth Screenings 27
Surveying 40
Simple Data Mining 41
Advanced Data Mining 43
Donor Modeling 45
List Rental 46
Summary 49
For Further Reading 51
CHAPTER 3 Researching Prospects 53
Different Levels of Research 54
Types of Donor Profiles 55
Assembling Your Research Toolkit 61
Search Techniques Every Fundraiser Should Know 65
Capacity Ratings: Putting the Information Together 79
Summary 82
For Further Reading 83
CHAPTER 4 Donor Relationship Management 85
What Is a Relationship Management System? 87
The Three Moving Pieces 89
Creating Your Own System 93
Summary 115
For Further Reading 116
CHAPTER 5 Managing Prospect Research 117
Managing to Your Fundraising Goals 118
Hiring Employees and Volunteers 125
Skill Sets for Hiring 129
Managing Expectations 132
Defining Common Terms and Using Forms 134
Purchasing Resources 136
Options for the One-Person (or Small-Team) Development Office 144
Summary 148
For Further Reading 149
CHAPTER 6 Ethics, Risk, and Data Protection: What's the Big Deal? 151
Starting with Donor Trust 151
Risky Business 152
Ethics 154
Legal Issues 155
Outside of the United States 157
Some Practical Tips 158
Summary 159
For Further Reading 159
CHAPTER 7 International Prospect Research 161
Making International Fundraising Work 162
Getting Started with International Prospects 167
Summary 169
For Further Reading 170
CHAPTER 8 Trends and Opportunities: The Future of Prospect Research 171
Big Data and Segmentation 172
Data Visualization 174
Relationship Mapping 175
Social Media and Social Scoring 178
Content Curation 180
What the Future Might Look Like 185
Summary 186
For Further Reading 187
Appendix A: AFP Code of Ethics 189
Appendix B: Donor Bill of Rights 190
Appendix C: APRA Statement of Ethics 191
Appendix D: APRA Skill Sets—Advanced 193
Appendix E: APRA Skill Sets—Fundamentals 196
Appendix F: APRA Skill Sets—Relationship Management 199
Appendix G: APRA Skill Sets—Research Management 202
About the Authors 207
Index 209
See More
JENNIFER J. FILLA operates Aspire Research Group out of Florida, providing prospect research services to organizations across the country. Prior to founding Aspire Research Group, she served as associate director of development at the Kimmel Cancer Center at Jefferson in Philadelphia, Pennsylvania. She is a member and past trustee of the Association of Fundraising Professionals, Suncoast Chapter, and was most recently the 2010–2011 president of the Association of Professional Researchers for Advancement, Florida Chapter.
HELEN E. BROWN is President of The Helen Brown Group LLC and a twenty-plus year veteran in the field of prospect research. She is a former director of the Association of Professional Researchers for Advancement (APRA) and currently serves as chair of the APRA Chapter Relations Committee. She is a past president of the New England Development Research Association. In 2006, she received the NEDRA Ann Castle Award for service to the prospect research community.
See More
More in this series