E-book
Kindle Fire HD For Dummies
ISBN: 978-1-118-42215-1
288 pages
November 2012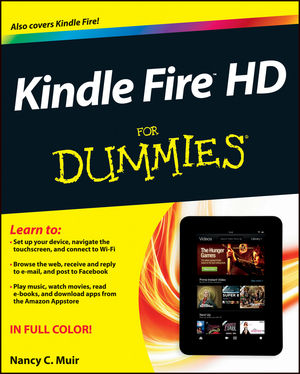 Movies, apps, games, e-books, and more - enjoy them all on the hottest device in town - the Kindle Fire HD!
From its stunning color touchscreen to its ultrafast speed, the Kindle Fire HD is sparking everyone's interest. This full-color guide will have you blazing through the web, staying entertained with the latest apps and games, watching your favorite TV shows and movies, and, of course, reading magazines, newspapers, and books to indulge all your interests. Whether this is your first tablet or you're upgrading from another device, you'll get to know your Kindle Fire HD and rekindle your love of reading with Kindle Fire HD For Dummies!
Covers the Kindle Fire HD and original Kindle Fire
Helps you navigate the interface, customize your settings, get connected, and take advantage of Amazon Cloud
Shows you how to work with the built-in apps and find new ones to to try out from the Amazon Appstore
Explains how to fill your Kindle Fire with cool stuff - from movies and music to videos, photos, apps, e-books, and more
Walks you through using Amazon's incredibly smooth Amazon Silk web browser to find anything you need online and keep in touch with e-mail, Skype, Facebook, and Twitter
Light 'er up and unleash the fun with Kindle Fire HD For Dummies!
See More
Introduction 1
Part I: Making the Kindle Fire HD Yours 5
Chapter 1: Overview of the Kindle Fire HD 7
Chapter 2: Kindle Fire HD Quickstart 23
Chapter 3: Kindle Fire HD Settings 51
Part II: Taking the Leap Online 77
Chapter 4: Going Shopping 79
Chapter 5: Going Online 101
Part III: Having Fun and Getting Productive 125
Chapter 6: E-Reader Extraordinaire 127
Chapter 7: Playing Music 151
Chapter 8: Playing Video 167
Chapter 9: Going Social 179
Chapter 10: Getting Productive with Kindle Fire HD 199
Part IV: The Part of Tens 225
Chapter 11: Ten Apps That Add Functionality to Kindle Fire HD 227
Chapter 12: Ten (or So) Top Gaming Apps 241
Index 255
See More
Nancy C. Muir is a writer and consultant as well as the author of more than 100 books on business and technology. Her credits include multiple editions of Computers For Seniors For Dummies and Laptops & Tablets For Seniors For Dummies.
See More