Human Resources Kit For Dummies, 3rd Edition
ISBN: 978-1-118-42289-2
384 pages
November 2012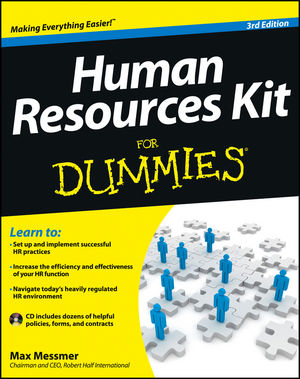 Align HR practices with your objectives and keep your company competitive
A company's ability to grow and stay on top of customer demand has always depended heavily on the quality of its people. Now, more than ever, businesses recognize that finding (and keeping) a highly skilled and motivated workforce is pivotal to success. Maybe you're a business owner and your company is growing, or you're an employee at a small- to midsize-company and management has asked you to take on some—or all—of their HR functions. Either way, knowing how to set up and implement successful HR practices (not to mention navigating the legal minefields in today's increasingly regulated environment) can be tricky.
Human Resources Kit For Dummies is your one-stop resource for learning the nuts and bolts of HR. It gives you forms and templates that you can put to immediate and productive use.
New information on anti-discrimination legislation; measuring performance; hiring, firing, and retaining employees; and training and development plans
The latest info on online and social media policies
Updated forms and contracts, from job application forms and sample employee policies to performance appraisals and benefit plan worksheets
If you're currently working in Human Resources or are responsible for employees in your business, the tools presented here help you maximize the effectiveness of your own HR program.
See More
Introduction 1
Part I: Scoping Out the HR Role 7
Chapter 1: The World of Human Resources 9
Chapter 2: Setting the Stage: Key HR Trends 15
Chapter 3: HR Technology Systems and Social Tools 23
Part II: Putting the Right People in the Right Places 33
Chapter 4: A Bird's-Eye View: Launching a Workforce Plan 35
Chapter 5: Smart Start: Kicking Off the Hiring Process 55
Chapter 6: You, the Talent Scout: Recruiting for Your Team 63
Chapter 7: Narrowing Down the Field: Evaluating Applicants 85
Chapter 8: One on One: Getting the Most out of Interviewing 105
Chapter 9: The Home Stretch: Making the Final Decision 123
Part III: Keeping Your Best People 143
Chapter 10: Starting New Hires Off on the Right Foot 145
Chapter 11: Ensuring a Competitive Compensation Structure 163
Chapter 12: Creating the Right Benefi ts Package 183
Chapter 13: Creating an Employee-Friendly Work Environment 209
Part IV: Developing Your Employees 221
Chapter 14: Back to School: Tying Training to Business Goals 223
Chapter 15: Win-Win: Adding Value through Career Development 239
Chapter 16: Assessing Employee Performance 261
Part V: Law and Order 275
Chapter 17: Navigating the Legal Minefi eld of Hiring and Managing 277
Chapter 18: Handling Diffi cult Situations 293
Part VI: The Part of Tens 319
Chapter 19: Ten Keys to HR Success in the Future 321
Chapter 20: Ten Ways to Become a Great HR Professional 327
Chapter 21: Ten HR-Related Websites Worth Exploring 333
Appendix: About the CD 337
Index 347
See More
Max Messmer is chairman and CEO of Robert Half International, the world's largest specialized staffing firm. He is one of the leading experts on human resources and employment issues.
See More