Textbook
Big Java: Early Objects, Binder Ready Version, 5th Edition
ISBN: 978-1-118-42297-7
1104 pages
January 2013, ©2013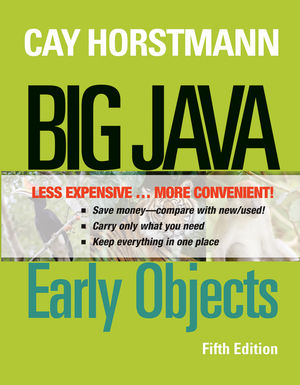 This book introduces programmers to objects at a gradual pace. Optional example modules are included using Alice and Greenfoot. The examples feature annotations with dos and don'ts along with cross references to more detailed explanations in the text. New tables show a large number of typical and cautionary examples. New programming and review problems are also presented that ensure a broad coverage of topics. Cay will also add sections on problem solving, and a new, more approachable and visual design developed for JfE and BJLO is used.
See More
A greater emphasis on problem solving with practical step-by-step illustrations of techniques that can help students devise and evaluate solutions to programming problems.
A new visual approach that motivates the reader and eases navigation including photographs, step-by-step figures, syntax boxes, and example tables.
New exercises from science and business engage students with real world applications of Java in different industries.
See More
An early introduction to object-oriented programming techniques, beginning in Chapter 2, provides extensive practice with objects and classes before students are asked to write their own classes.
Horstmann's clear explanations follow the beginner's thinking process, providing examples and analogies, and anticipating where they may get confused or make mistakes.
The Testing Track identifies and emphasizes the test-driven approach to programming.
The Graphics Track integrates optional graphics material into the chapters where it best fits.
Self-Check Questions test understanding, not memorization, and can be used as springboards to a deeper discussion of key concepts in each section.
Excellent problems, questions, and project suggestions.
See More