Business Intelligence Applied: Implementing an Effective Information and Communications Technology Infrastructure
ISBN: 978-1-118-42308-0
272 pages
October 2012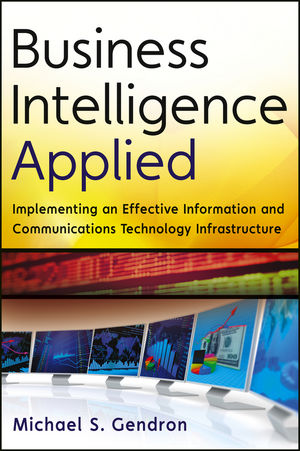 Expert guidance for building an information communication and technology infrastructure that provides best in business intelligence
Enterprise performance management (EPM) technology has been rapidly advancing, especially in the areas of predictive analysis and cloud-based solutions. Business intelligence caught on as a concept in the business world as the business strategy application of data warehousing in the early 2000s. With the recent surge in interest in data analytics and big data, it has seen a renewed level of interest as the ability of a business to find the valuable data in a timely—and competitive—fashion. Business Intelligence Applied reveals essential information for building an optimal and effective information and communication technology (ICT) infrastructure.
Defines ICT infrastructure
Examines best practices for documenting business change and for documenting technology recommendations
Includes examples and cases from Europe and Asia
Written for business intelligence staff, CIOs, CTOs, and technology managers
With examples and cases from Europe and Asia, Business Intelligence Applied expertly covers business intelligence, a hot topic in business today as a key element to business and data analytics.
See More
Foreword xi
Preface xv
Acknowledgments xvii
Part One Introducing ICT Strategy
Chapter 1 Defining Information and Communication Technology Infrastructure 3
ICT and Business Intelligence 4
ICT Value Management 5
Business-Driven Infrastructure Design 18
ICT Infrastructure Defined 20
Conclusion 23
Notes 24
Chapter 2 Introductory Business and Technology Strategy Concepts 27
Introduction to Business and Technology Strategy 28
Budgeting Technology Expenditures 47
Conclusion 49
Notes 50
Chapter 3 Why Build an ICT Infrastructure to Support Business Processes? 51
Reasons to Build an ICT Infrastructure 52
Business Processes in an Organizational Context 59
Organizations, Supply Chains, Value Chains, and Processes 67
A Summary: What Is a Process? 73
Conclusion 74
Notes 75
Part Two Understanding How ICT Produces Value
Chapter 4 Understanding Your Organization and Its Competitive Environment 79
Organizational Value Propositions 80
Value Search Models: Internal and External Analysis 81
Value Models: Environmental Scanning 97
Conclusion 106
Notes 106
Chapter 5 Process Improvement or Innovation? 107
Improvement versus Innovation 107
Determining a Starting Point 110
Organizational Enablers 112
ICT as an Enabler 116
ICT Constraints 121
Summary of Enablers of Process Change 122
Conclusion 123
Notes 123
Chapter 6 Measuring the Business Value of ICT 125
Introductory Theories 125
Technology Justification Models 127
Balanced Scorecard 143
Conclusion 150
Notes 150
Part Three Best Practices
Chapter 7 Best Practices for Documenting Process Change 155
Design Documents 155
Process Design Diagram Set 156
Business Process Modeling 156
Using TSI to Introduce BPM 173
Conclusion 185
Notes 186
Chapter 8 Best Practices for Documenting Technology Recommendations 187
ICT Design Documents 188
ICT Infrastructure Diagram Set 189
ICT Infrastructure Modeling 189
Conclusion 210
Notes 211
Chapter 9 The Business-Driven Infrastructure Design Cycle 213
The BDID Process 213
Members of the ICT Design Team 216
BDID Phases 216
Conclusion 235
Note 235
Appendix 237
About the Author 247
Index 249
See More
MICHAEL S. GENDRON, PhD, is a Professor at Central Connecticut State University and an ICT strategy consultant. He speaks regularly at academic and professional conferences globally, as well as participates in Internet governance activities.
See More
More in this series