Beyond Belief: The Archaeology of Religion and Ritual
ISBN: 978-1-118-42439-1
196 pages
May 2012, Wiley-Blackwell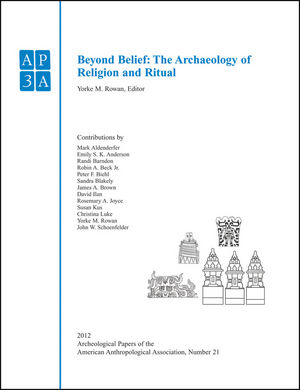 This volume details recent archaeological explorations of ancient religion and sacred ritual. The chapters bring multiple perspectives and differing methodological approaches to case studies representing widely divergent regions and time periods to illustrate some of the most recent methodological and theoretical appraoches to the archaeological study of ancient relgioin and ritual.
See More
SECTION I: THEORIZING THE SPIRITUAL
Chapter 1: Beyond Belief: The Archaeology of Religion and Ritual
Chapter 2: Matters of Belief: Middle-Range Theory, Religion, and the "State"
Chapter 3: Envisioning a Pragmatic Approach to the Archaeology of Religion

SECTION II: MATERIALIZING THE SPIRITUAL
Chapter 4: Technology and Morality--Rituals in Iron Working among the Fipa and Pangwa Peoples in Southwestern Tanzania
Chapter 5: Toward and Archaeology of Secrecy: Power, Paradox, and the Great Gods of Samothrace
Chapter 6: Political Economy and the Routinization of Religious Movements: A View from the Eastern Woodlands
Chapter 7: Deconstructing and Recomposing the Narrative of Spiritual Life in the Chalcolithic of the Southern Levant (4500-3600 BCE)
Chapter 8: Materiality and Sacred Landscapes: Ulua Style Marble Vases in Honduras

SECTION III: EXPERIENCING THE SPIRITUAL
Chapter 9: Meanings and Functions of Enclosed Places in the European Neolithic: A Contextual Approach to Cult, Ritual and Religion
Chapter 10: The Semiotics of Gunung Kawi: Materializing Affiliation at Ancient and Modern Balinese Temples
Chapter 11: Signs in Human Hands: A Model for the Intonated Objects

SECTION IV: CONCLUSIONS
Chapter 12: What Should an Archaeology of Religion Look Like to a Blind Archaeologist?
See More