E-Health Care Information Systems: An Introduction for Students and Professionals
ISBN: 978-1-118-42577-0
624 pages
May 2005, Jossey-Bass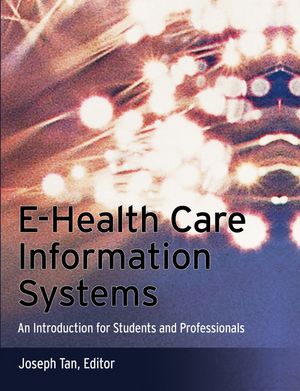 E-Health Care Information Systems is a comprehensive collection written by leading experts from a range of disciplines including medicine, health sciences, engineering, business information systems, general science, and computing technology. This easily followed text provides a theoretical framework with sound methodological approaches and is filled with numerous case examples. Topics include e-health records, e-public information systems, e-network and surveys, general and specific applications of e-health such as e-rehabilitation, e-medicine, e-homecare, e-diagnosis support systems, and e-health intelligence. E-Health Care Information Systems also covers strategies in e-health care technology management, e-security issues, and the impacts of e-technologies. In addition, this book reviews new and emerging technologies such as mobile health, virtual reality and nanotechnology, and harnessing the power of e-technologies for real-world applications.
See More
Tables, Figures, and Exhibits xi
Preface xv
Acknowledgments xix
The Editor xxi
The Contributors xxiii
PART ONE: E-HEALTH OVERVIEW 1
1 E-Health: The Next Health Care Frontier 3
Joseph Tan
The Telebaby Case 27
Ronald Spanjers, Anne F. Rutkowski
2 E-Health Vision: Drivers of and Barriers to E-Health Care 37
Joseph Tan
Cyber-Angel: The E-Robin Hood Case 52
Joseph Tan, Joshia Tan
PART TWO: E-HEALTH FOUNDATIONS 57
3 E-Health Perspectives: General Systems Concepts, Chaos and String Theories, and Social Science Thinking 59
Joseph Tan
Multicommunity E-Health Promotion Programming Case 82
Joseph Tan
4 E-Health Records: The Lifeblood of E-Health Care 91
Joseph Tan
E-Primary Health Care and E-Health Records Cases 116
Penny Grubb
5 E-Public Health Information Systems: E-Technologies for Public Health Preparedness and Surveillance 127
Joseph Tan, Francisco G. Soto Mas, C. Ed Hsu
E-Profiling of Community Health Performance Indicators Case 155
Lee Kallenbach, Joseph Tan
6 E-Networking: The Backbone of E-Health Care 163
Joseph Tan, Winnie Cheng
Mobile Health Networks Case: Unconfined Mobile Bluetooth Technology for E-Medical Services 190
Qiang Cheng, Huyu Qu, Yingge Wang, Joseph Tan
PART THREE: E-HEALTH DOMAINS AND APPLICATIONS 201
7 E-Health Domains: Surveying the E-Health Landscape: Cases and Applications 203
Pam Forducey, Kawaljeet Kaur, Cynthia Scheideman-Miller, Joseph Tan
E-Speech Therapy for Children in a Rural Oklahoma School Case 224
Cynthia Scheideman-Miller, Pam Forducey, Sharon S. Smeltzer, Avery Clouds, Bob Hodge, David Prouty
8 Diffusion of E-Medicine: E-Medicine in Developed and Developing Countries 231
Joseph Tan, Mengistu Kifle, Victor Mbarika, Chitu Okoli
E-Medicine Development in Taiwan Case 260
Paul Jen-Hwa Hu, Chih-Ping Wei, Tsang-Hsiang Cheng, Joseph Tan
9 E-Home Care: Rejuvenating Home Health Care and Tele–Home Care 267
George Demiris, Joseph Tan
The OliverHome Case 290
Joseph Tan, George Demiris, Joshia Tan
10 E-Diagnosis Support Systems: An E-DSS for Lower Back Pain 295
Lin Lin, Paul Jen-Hwa Hu, Olivia R. Liu Sheng, Joseph Tan
Teleradiology Case: Present and Future 321
Yao Y. Shieh, Mason Shieh
11 E-Health Intelligence: A Multiple-Level Clustering Approach for E-Health Data Mining 330
Chih-Ping Wei, Paul Jen-Hwa Hu, Liang-Ming Kung, Joseph Tan
E-Patient Image Retrieval Case: Incremental Neural Net Learning 352
Lin Lin, Olivia R. Liu Sheng, Chih-Ping Wei, Paul Jen-Hwa Hu, Joseph Tan
PART FOUR: E-HEALTH STRATEGIES AND IMPACTS 363
12 E-Health Strategies: Reshaping the Traditional Health Care System 365
H. Joseph Wen, Joseph Tan
E-Health Technology Strategies and Impacts Case 396
Jung P. Shim, William E. Sorrells
13 E-Health Care Technology Management: A Multifactorial Model for Harnessing E-Technologies 406
George Eisler, Sam Sheps, Joseph Tan
Evidence-Based Medicine Case 439
Barry P. Markovitz
14 E-Security: Frameworks for Privacy and Security in E-Health Data Integration and Aggregation 450
Joseph Tan, Patrick Hung
Integrated Selective Encryption and Data Embedding for Medical Images Case 479
Qiang Cheng, Yingge Wang, Joseph Tan
15 E-Health Impacts on the Health Care and Health Services Industry: Surfing the Powerful Waves of E-Technologies 489
Joseph Tan, David C. Yen, Sharline Martin, Binshan Lin
E-Communities Case: Scalability Challenges in Information Management 515
Harris Wu, Joseph Tan, Weiguo Fan
PART FIVE: E-HEALTH PROSPECTS 521
16 E-Health Prospects: Mobile Health, Virtual Reality, and Consumer-Driven E-Health Systems 523
Joseph Tan
Virtual Reality Case 547
Joseph Tan, Pency Tsai
Name Index 554
Subject Index 562
See More
Joseph Tan, Ph.D., currently on leave from the University of British Columbia, is professor and head of the Information System and Manufacturing Department at Wayne State University. He serves as guest editor and editorial board member for various journals and sits on key organizing committees for local, national, and international meetings and conferences. Tan's research—which has enjoyed significant support from local, national, and international funding agencies and other sources—has been widely cited and applied across a number of major disciplines, including health care informatics and clinical decision support, health technology management research, human processing of graphical representations, ergonomics, health administration education, telehealth, mobile health, and e-health promotion programming.
See More