The Wiley Blackwell Encyclopedia of Social Theory, 5 Volume Set
ISBN: 978-1-118-43086-6
2864 pages
December 2017, Wiley-Blackwell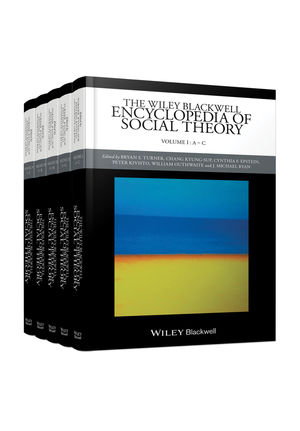 The Wiley Blackwell Encyclopedia of Social Theory presents a comprehensive, interdisciplinary compendium of original entries focusing on the origins, evolution, and global development of contemporary social theory.
Presents a comprehensive, interdisciplinary overview and analysis of all aspects of social theory
Features more than 850 in-depth, original entries contributed by international experts
Includes all major theories, theorists, schools of thought, disciplines, debates, doctrines, developments, epistemologies, and methodologies relating to the development of modern social theory
Brings in concepts from contemporary cultural studies, feminism, post-secularism, and postmodernism
Explores controversial contemporary debates relating to the clash of civilization, environmentalism, post-colonialism, post-humanism, cyborgs, and the life-extension project
See More
Bryan S. Turner is professor of Sociology in the Institute for Religion, Politics, and Society at the Australian Catholic University (Melbourne). He won the Max Planck Award in 2015 and is an honorary professor at Potsdam University Germany, where he directs the Centre for Citizenship, Social Pluralism and Religious Diversity.
Chang Kyung-Sup is professor of Sociology at Seoul National University, South Korea.
Cynthia F. Epstein is Distinguished Professor of Sociology at the Graduate Center of the City University of New York and currently a Visiting Scholar at Columbia Law School.
Peter Kivisto is the Richard A. Swanson Professor of Social Thought at Augustana College, where he has taught for over 30 years.
William Outhwaite taught at the universities of Sussex and Newcastle, where he is emeritus professor.
J. Michael Ryan is currently a researcher for the TRANSRIGHTS Project at The University of Lisbon (Portugal).
See More
More in this series