The Wiley Blackwell Encyclopedia of Social Theory, 5 Volume Set
ISBN: 978-1-118-43086-6
2880 pages
December 2017, Wiley-Blackwell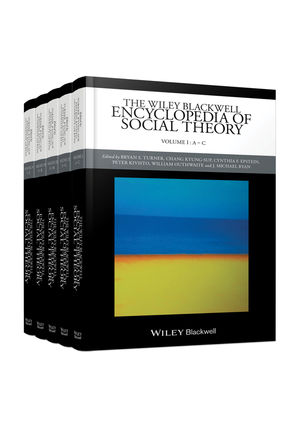 The Wiley Blackwell Encyclopedia of Social Theory presents a comprehensive, interdisciplinary compendium of original entries focusing on the origins, evolution, and global development of contemporary social theory.
Presents a comprehensive, interdisciplinary overview and analysis of all aspects of social theory
Features more than 850 in-depth, original entries contributed by international experts
Includes all major theories, theorists, schools of thought, disciplines, debates, doctrines, developments, epistemologies, and methodologies relating to the development of modern social theory
Brings in concepts from contemporary cultural studies, feminism, post-secularism, and postmodernism
Explores controversial contemporary debates relating to the clash of civilization, environmentalism, post-colonialism, post-humanism, cyborgs, and the life-extension project
See More
Bryan S. Turner is the Presidential Professor of Sociology and Director of the Committee on Religion at the Graduate Center CUNY, and founding Director of the Institute of Religion Politics and Society at the Australian Catholic University, Melbourne. He won the Max Planck Award in 2015 and is an honorary professor at Potsdam University, Germany. He is the founding editor of Citizenship Studies and the Journal of Classical Sociology, and Turner's most recent books include Religion in Modern Society (2011) and The Religious and the Political (2013).
See More
More in this series