Software
CCNA Virtual Lab, Titanium Edition 3.0
ISBN: 978-1-118-43199-3
October 2012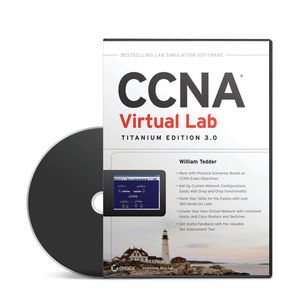 The latest version of the leading Cisco network simulator software for the CCNA exams
This incredibly popular software is fully updated with labs on new Cisco technologies. It's organized by exam topic, so labs build on each other and you can use them in conjunction with Sybex's CCNA Study Guide, 7th Edition. Practice scenarios are mapped to the CCNA exam objectives. This virtual lab software uses the latest drag-and-drop technology to let you create your own simulated lab using an unlimited number of routers and switches, or you may follow any of 150 labs included in the software. It's a great way to study.
Hands-on practice with routers and switches is critical for CCNA exam success; with this software, you can create your own virtual lab and get that experience
Ideal for candidates preparing for either the Composite 640-802 or the individual ICND1 (640-822) and ICND2 (640-816) exams
Includes new labs using Traceroute, using Debug with a RIPv2 network, configuring and verifying a loopback interface, using ARP, configuring switch security, and verifying switch security
CCNA Virtual Lab, Titanium Edition 3.0 can save you the cost of establishing a virtual lab while it boosts your likelihood of exam success.
System Requirements:
Windows XP, 2000, Vista, Windows 7, or Windows 8
CD-ROM Drive
2 MB Video Card
64 MB RAM
80 MB Free hard disk space
800x600 screen resolution
Internet Connection for software activation
See More
Section 1--Network Environment
Part 1--ICND1
Section 2--Cisco IOS
Section 3--IP Routing
Section 4--Managing a Cisco Internetwork
Section 5--Configuring the Catalyst Switch
Section 6--NAT
Part 2--ICND2
Section 7--RIP - IPv6
Section 8--Cisco Wide Area Networks (WAN)
Section 9--EIGRP
Section 10--OSPF
Section 11--Virtual LANs (VLANs)
Section 12--Access Lists
Section 13--NAT/PAT
Section 14--VLSM with Summarization
See More
William Tedder is President of RouterSim and has expertise in the development of interactive learning applications. RouterSim, the leader in IT simulation training since 1999, offers simulators, computer-based training videos, online CCNA simulation testing, and exam preparation software.
See More
Download Title
Size
Download
Software updates
No updates currently. Please continue checking this site for future software updates.
Limited-feature demo of CCNA Virtual Lab 3.0
46.08 MB
Click to Download
See More
Learn more about