E-book
Gluten-Free Cooking For Dummies, 2nd Edition
ISBN: 978-1-118-43204-4
384 pages
October 2012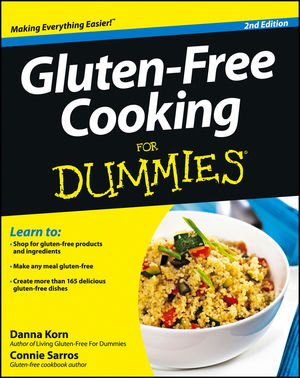 Prepare gluten-free dishes that are delicious and nutritious
Want to create tasty gluten-free meals and snacks? Gluten-Free Cooking For Dummies is loaded with more than 150 wheat-and gluten-free recipes. These sweet, spicy, and aromatic dishes prove that living the gluten-free lifestyle can be not only fun and easy, but delicious and nutritious too!
This practical, guide shows you how to find and select the right ingredients and prepare classic healthy dishes for breakfast, lunch, dinner, and dessert. You'll find out what you can and can't use in gluten-free cooking, learn to spot the hidden gluten in foods, discover surprising ways to save money when you go shopping, and even manage your weight. You'll also learn how to convert your current favorite recipes to gluten-free delights using ingredients you probably already have in your kitchen.
Covers the medical, practical, and emotional aspects of living gluten-free
Includes more than 150 tasty recipes, including gluten-free ethnic dishes and a section of quick and easy starter recipes, which is new to this edition
Shows you how to boost nutrition and flavor in your dishes
Gives you the know-how to make any meal gluten free
Complete with delightful lists of gluten-free comfort foods and kid's favorites, as well as tips for converting a kitchen to a gluten-free workspace, Gluten-Free Cooking For Dummies is the best way yet to stay happy, healthy, well-fed, and wheatless!
See More
Introduction  1
Part I: Preparing for Your Gluten-Free Cooking Adventures  7
Chapter 1: Gluten-Free: Not Just a Diet, It's a Lifestyle 9
Chapter 2: So Why Cook Gluten-Free, Anyway? 19
Chapter 3: What's Gluten-Free and What Isn't? 39
Chapter 4: Making Nutrition Your Mission When You're Cooking Gluten-Free 55
Chapter 5: Setting Up Your Kitchen and Pantry 65
Chapter 6: Planning Out Your Gluten-Free Week 75
Chapter 7: Shopping for the Gluten-Free Stuff You Need 81
Chapter 8: You Don't Always Need Recipes 87
Part II: Mouthwatering Main Courses  99
Chapter 9: Gluten-Free Flours: Your Foundation for Great Breads and Pastries 101
Chapter 10: Fast Fixes: Making It Quick & Easy 107
Chapter 11: Breakfast: Don't Leave Home Without It 127
Chapter 12: Brilliant Brunches, Luscious Lunches 157
Chapter 13: Diving into the Melting Pot: Ethnic Dishes 179
Chapter 14: Something's Fishy 'Round Here 199
Chapter 15: Tastes Like Chicken: Poultry Dishes 209
Chapter 16: Meat Matters 223
Chapter 17: Making Memories with Meatless Dishes 241
Part III: Dishes to Enjoy Before, After, or Any Time  261
Chapter 18: Appetizing Appetizers 263
Chapter 19: Salads with Pizzazz 275
Chapter 20: Slurpilicious Soups 287
Chapter 21: Stupendous Snacks 303
Chapter 22: Decadent Desserts 315
Part IV: The Part of Tens  333
Chapter 23: Ten Easy-to-Prepare Comfort Foods 335
Chapter 24: Ten Ideas for Cooking Gluten-Free with the Kids 339
Appendix: Metric Conversion Guide  343
Index  347
See More
Danna Korn is a respected and leading authority on the gluten-free diet and the medical conditions that benefit from it. She has been featured in People Magazine, on ABC's 20-20, and dozens of other national media outlets. Connie Sarros is a nationally recognized advocate for healthy eating and nutrition whose work has appeared in Cooking Light, the Chicago Tribune, and other publications.
See More