E-book
Running a Marathon For Dummies
ISBN: 978-1-118-43210-5
360 pages
October 2012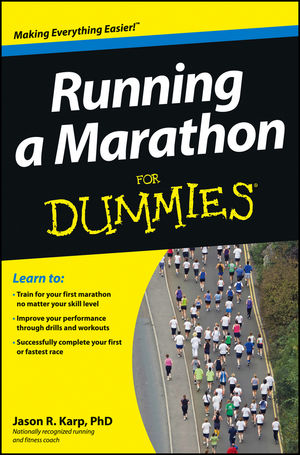 Get ready to run the race of your life
Marathons in the U.S. have seen record increases in participation during the past few years. Running a Marathon For Dummies helps aspiring marathon runners prepare to successfully complete their first race, and shows experienced runners how to take their game to the next level.
Running a Marathon For Dummies gives you exercises, programs, and tips to improve your running stamina, speed, and overall health. It takes you from sitting on the couch through running your first 26.2 mile marathon—and beyond. For seasoned runners, Running a Marathon For Dummies offers tips and advice for how to continue improving performance through drills, exercises, and other techniques.
Provides a timed training promise for runners of all skill levels, from non-runners, first marathoners, and mid-race runners to more experienced runners
Includes information on how running increases heart strength, keeps illnesses away, keeps arteries clear, and improves a person's mood
Gives you drills, exercises, and techniques to improve your endurance
Whether you're a couch potato or a regularly hit the asphalt, Running a Marathon For Dummies gives you everything you need to run the race of your life.
See More
Introduction 1
Part I: The Basics of Running a Marathon 7
Chapter 1: Training for the Big Race: An Overview 9
Chapter 2: Getting a Leg Up with the Right Running Gear 25
Chapter 3: Understanding the Physiology of Marathon Running 37
Chapter 4: Starting Off with Proper Running Technique 59
Part II: Creating Your Own Marathon Training Plan 73
Chapter 5: Aerobic Training: The King of Marathon Preparation 75
Chapter 6: Running Longer, and Longer, and Longer Still 97
Chapter 7: Getting Faster with Interval Training 109
Chapter 8: Making a Plan as a Beginner Runner 121
Chapter 9: Prepping for Your Next Race as an Intermediate Runner 133
Chapter 10: Pushing Yourself as an Advanced Runner 153
Part III: Going Above and Beyond to Stay Strong and Healthy 173
Chapter 11: Producing Powerful Muscles with Strength Training 175
Chapter 12: Stretching, Cross-Training, and Recovery during Training 211
Chapter 13: Recognizing (And Avoiding) Common Running Injuries 235
Part IV: Gearing Up for Race Day (And Beyond) 257
Chapter 14: Backing Off Before You Give Your All: The Marathon Taper 259
Chapter 15: Getting a Boost with Practical and Motivational Pre-Race Strategies 267
Chapter 16: Running the Marathon: Race Strategies and Tips 277
Part V: The Part of Tens 291
Chapter 17: Ten Things to Do on Marathon Race Day 293
Chapter 18: Running Amok: Ten Common Training Errors 299
Chapter 19: Ten (Or So) Great Destination Marathons 305
Chapter 20: Ten (Okay, Eleven) Frequently Asked Questions about Running a Marathon 313
Appendix: A Marathon Directory 321
Index 329
See More
Jason R. Karp, PhD, is a nationally recognized running and fitness coach, freelance writer and author, and exercise physiologist. He is the owner of RunCoachJason.com, a running coaching and personal training company, and the 2011 IDEA Personal Trainer of the Year.
See More