E-book
Birth Plans For Dummies
ISBN: 978-1-118-43213-6
360 pages
October 2012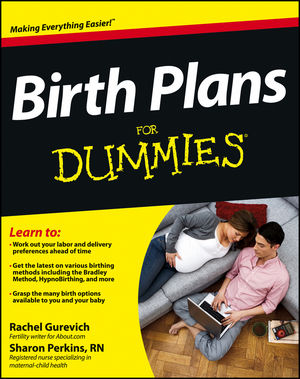 The easy, trusted way to develop a birth plan
As an expectant mother and parent, navigating all of the information and options for labor and delivery can be cumbersome and confusing. Birth Plans For Dummies, is the ultimate resource guide to help you understand, develop, and implement a plan for the birth of your baby.
A birth plan is a communication tool for expectant mothers and those involved in the delivery of a child. The plan explains the mother's preferences for labor and delivery and eliminates any confusion. There are a wide variety of methods, strategies, and techniques available to pregnant women preparing for delivery—and this hands-on, friendly guide covers them all.
Covers choosing the setting and method that best fits the mothers needs and wishes
Informs expectant parents about the numerous pain management and labor intervention options
Provides instruction on developing and writing a birth plan and putting it into action
If you are an expectant mother or parent looking for a guide to help develop a plan for the birth of your child, then Birth Plans For Dummies is the perfect book for you.
See More
Introduction  1
Part I: Labor and Birth-Plan Basics  5
Chapter 1: Creating a Birth Plan: What It's All About 7
Chapter 2: The Ins and Outs of Labor and Delivery 17
Part II: Choosing Your Birth Team, Birth Place, and Guests  39
Chapter 3: OB-GYN, Family Practitioners, Midwives, Oh My! 41
Chapter 4: Leaving Home for a Hospital or Birth Center 53
Chapter 5: Home Sweet Home Birth 65
Chapter 6: Including Family and Friends in Your Birth Plan 79
Part III: Planning Childbirth Options for a Normal Birth  89
Chapter 7: Getting an Education 91
Chapter 8: Natural Methods for Soothing Your Mind and Body 103
Chapter 9: Movement and Positions for Labor and Birth 127
Chapter 10: Nourishing Your Laboring Body 151
Part IV: Knowing Your Options for Interventions and Medications  161
Chapter 11: Ouch! It Hurts! Medications for Pain 163
Chapter 12: Tuning In: Monitoring Labor and the Baby 177
Chapter 13: Helping the Baby Out: Interventions for Vaginal Birth 189
Chapter 14: Cesarean Section: Yes, You Have Options 205
Part V: It's All About the Baby  225
Chapter 15: Welcoming Your Baby to the World 227
Chapter 16: Making Decisions about Shots, Drops, Snips, and Newborn Tests 239
Chapter 17: Nourishing Your Baby 247
Part VI: Putting Your Plan in Writing and into Action 265
Chapter 18: Writing Your Birth Plan 267
Chapter 19: Advocating for Your Plan and Working with Your Team 287
Chapter 20: Allowing for Flexibility in Your Birth Plan and Recovery 299
Part VII: The Part of Tens  313
Chapter 21: Ten Tips for Creating a Workable Birth Plan 315
Chapter 22: Ten Ways to Preserve Birth Memories 319
Index  323
See More
Rachel Gurevich is the author of The Doula Advantage and The FabJob Guide to Become a Doula, both considered required reading for doula training programs around the world. Sharon Perkins, RN, coauthor of Infertility For Dummies, has more than two decades of experience in maternal/child health.
See More